We'll take a look at Bitsgap today in our review guide, which is a one-stop crypto trading platform for Bitcoins and other cryptocurrencies. A platform that caters to the interests of both rookie and experienced traders, with cutting-edge features that assist you in identifying the finest market chances and maximising your profits.

Trading, portfolio management, arbitrage, trading bots, extensive charting features, and many other features are all available through a single interface on this cross-exchange platform. Bitsgap is establishing a new industry standard.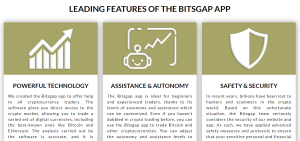 So, let's take a closer look at the platform's capabilities and services.
What essentially is Bitsgap?
Bitsgap is a multi-exchange platform based in Estonia that was founded in 2017 and launched in February 2018. It specialises in trading bots, arbitrage possibilities, and using algorithms to generate trade signals with the most potential.
Bitsgap presently offers over 30 crypto exchanges in one platform, including well-known brands like Binance, Bitfinex, OKEx, Bittrex, Kucoin, Kraken, CEX.io, and bithumb.
The platform, which combines all exchanges, offers trading options in over 10,000 crypto pairs, allowing users to enter the world of cryptocurrency.
Unique features of Bitsgap
The Bitsgap platform provides a number of services aimed at making cryptocurrency trading as easy as possible. The following is a list of the services available on the platform:
Bots for Cryptocurrency Trading
Professional and high-frequency traders benefit greatly from trading bots since they can profit from every market change. SBot, Scalper Bot, and Trailing Bot are three trading bots offered by Bitsgap to its consumers.

SBot Trading is a high-efficiency grid trading bot that is the newest addition to the Bitsgap family of trading bots. It is based on the grid investment distribution logic, which is proportionate capital allocation through a large number of limit orders. The rationale aids in maximising returns on bull and sideways market patterns while reducing losses on downturn market trends. Using a genuine deposit account, the average weekly profit achieved during the Sbot beta testing was 3%.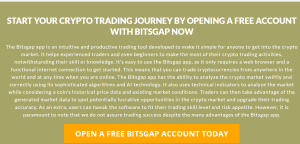 The scalper bot is a high-frequency trading tool that allows you to profit from very minor price changes. The bot works on the premise of a trailing stop-loss feature, in which it tries to maximise gains in a bullish market trend while compensating for losses in a downtrend via automatic trailing.

Trailing Bot: The trailing bot is based on the scalper bot premise. This bot performs effectively in a sideways market, where the price of a coin pair moves within a narrow range. The bot buys and sells cryptocurrencies on the trader's behalf, within the higher and lower price restrictions defined by the trader.
Trading Tool for Arbitrage
The arbitrage trading tool assists you in profiting from price disparities across exchanges. The arbitrage feature on Bitsgap is connected with all of the platform's exchanges. The trades can also be completed in a single click thanks to Bitsgap's automated and AI-powered technologies.
For Trading Crypto Signals
Bitsgap algorithms evaluate 10,000+ crypto pairs every second and identify every profit-making opportunity in the market. The algorithm can also check on the chart whether you want to use the signal by listing the coins with the biggest growth potential. You can also use smart orders to reduce the risks associated with such trades.
The trial trading environment allows you to get vital experience trading real-time market data while also allowing you to test all trade methods, trading bots, arbitrage, and crypto trade signals. You can experiment on virtual funds worth 5BTC and connect to up to 5 of the most popular exchanges.
BASIC, ADVANCED, and PRO are the three price tiers offered by Bitsgap. A 14-day free trial period is included with all account types.
Is Bitsgap trustworthy?
It's worth noting that Bitsgap has progressed significantly since its inception. The platform's first objective is to make sure that its features are up to current with, if not ahead of, industry standards.
Its API was developed to bridge the technology gap between exchanges while also increasing efficiency and security. Its resource department is where it falls short.
Even though there is a Knowledge Base dedicated to the product, it does not provide a full description of how to utilise it. However, if you truly want to try the platform, the free trial should provide you with a better knowledge of how its features operate.

You'll need to open up accounts at each exchange separately, which means you'll have to deposit money into each one. Please keep in mind that Bitsgap is not licenced by any regulatory body.
How to get started with Bitsgap?
You must first create an account with the Bitsgap  trading system in order to begin your bitcoin trading journey. And, because the process is so simple, you may be up and running with your trading account in minutes.
Step 1: Making a User Account
You only need to submit basic information like your name, email address, and phone number. After that, you'll need to go through a simple verification process. An account manager will contact you after your application has been approved. Below is the link to the registration form:
Step 2: Make a Financial Investment
A minimum deposit of 250 EUR is required to join Bitsgap . Because it will be used to place your initial transactions on the crypto market, this is considered your first capital investment. You will have full access to the Bitsgap  dashboard once your deposit is received. Please keep in mind that this is not a registration fee or a commission cost.
Step 3: Bitsgap  Trading (Demo or Live) 
You have a fantastic opportunity to practise trading with Bitsgap  before entering the real trading room. While beginner traders will most likely begin by practising on demo accounts, more experienced traders would almost certainly jump right into a live trading room.
Conclusion
Bitsgap is a very outstanding platform, and it is one of the best in the industry. Trading tools, advanced charting styles, signals, and trading algorithms, among other features, allow customers earn a steady stream of profits regardless of market conditions. It should be mentioned, however, that Bitsgap does not guarantee profits to its users.
FAQs
Is there a Bitsgap app on mobile?
For the time being, Bitsgap does not have a mobile app for iOS or Android. Bitsgap, on the other hand, provides a completely responsive website that you can view on mobile browsers.
Does Bitsgap charge any commissions on trades?
No, there aren't any trade fees. You only have to pay a monthly subscription fee to utilise the platform's beneficial tools for more efficient crypto trading and management.