Hocus Pocus Part 2 Release Date, Plot & Everything We Know Yet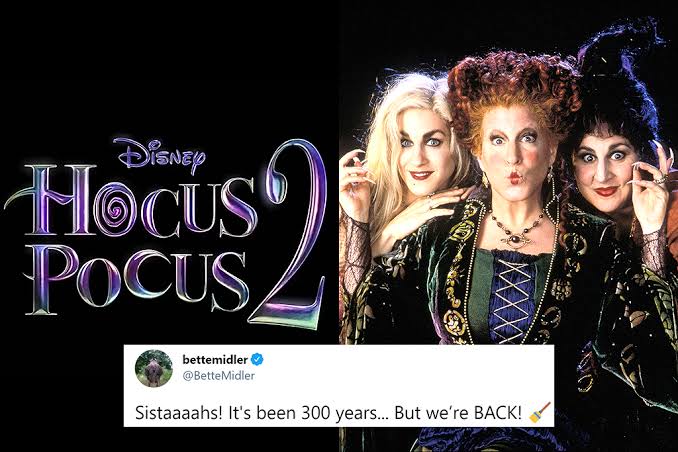 Hocus Pocus 2 is on the way, so hold on to your broomsticks because we're going back in for another round. The news of a Hocus Pocus sequel initially broke in 2019, and now Kathy Najimy, Bette Midler, and Sarah Jessica Parker have been verified to reprise their roles as the three witches who won the hearts of the movie's fans nearly 30 years ago.
When is Hocus Pocus 2 Airing?
Hocus Pocus 2 will premiere on Disney Plus in the year 2022, but no particular release date has been announced yet by the creators. The film is set to begin shooting this fall, so a release date around Halloween or October next year looks likely.
Plot and Trailer of Hocus Pocus Part 2
Details about the plot of Hocus Pocus 2 have been kept a tight secret to keep the fans interested in the movie. However, according to a press release, the storyline may show 3 young women unwittingly summoning the Sanderson Sisters back to modern-day Salem. The trio should figure out how to prevent the child-hungry witches from spreading a new type of havoc on the globe.
Unfortunately, a trailer for Hocus Pocus 2 is far too early to expect. Given the production timelines, we'd anticipate one arriving in the summer of 2022. Perhaps a teaser in the fall of 2022, giving fans a glimpse of Hocus Pocus 2.
Cast Members of Hocus Pocus 2
Here is good news for fans! The new picture will reunite the original cast members as this isn't a remake or reboot, but rather a real sequel. In May 2022, it was confirmed that Middler, Sarah Jessica Parker, and Kathy Najimy would re-appear for their roles as our favorite "Sanderson sisters".
Moreover, it's unknown whether their co-star Doug Jones will return, but he appears to be on the standby list of additional cast members. There hasn't been any further casting news released yet, so we can only wait until official further notice from the creators.