Why do priests wear pink this Sunday of Lent?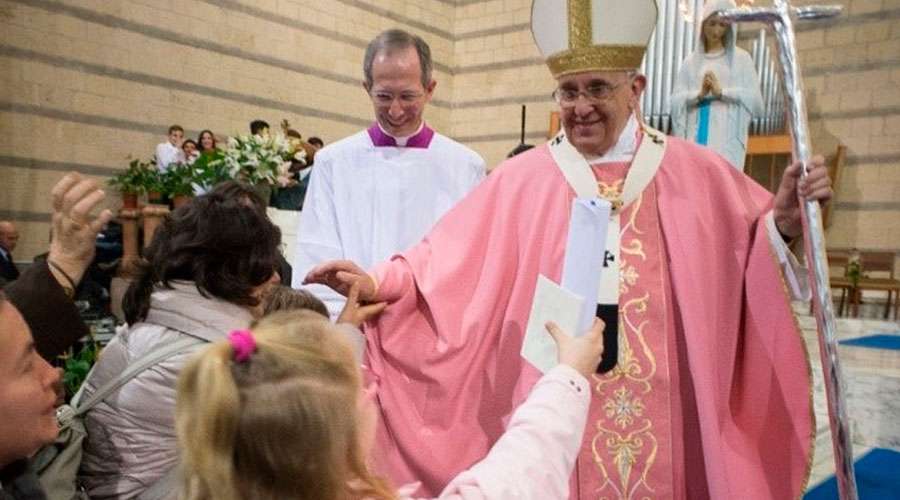 This March 27 is the Fourth Sunday of Lent, also known as Laetare Sunday or Sunday of Joy, and is marked by some characteristic features such as the fact that the priest wears a pink or pink chasuble.
Laetare or Joy Sunday is named after the first words of the Introit of the Mass: "Laetare Jerusalem", which means "Rejoice, O Jerusalem".
The Catholic Encyclopedia (CE) explains that the Introit or Introitus of the Mass is the fragment of a psalm with its antiphon that is sung while the celebrant and the ministers enter the church and approach the altar.
Strictly speaking, the Thursday before Laetare Sunday is the one that marks the middle of Lent, which is transferred to this day with a series of signs that seek to encourage the faithful in the penitential season of Lent.
These signs – like those of Gaudete Sunday in Advent – ​​are the use of flowers on the altar, the possibility of using the organ at Mass and the celebrant wearing a pink chasuble instead of the purple one used in Lent.
This, explains the EC, highlights "the contrast between the other Sundays and Laetare Sunday, which is emblematic of the joys of this life, measured joy mixed with a certain trace of sadness."
The Catholic Encyclopedia also recalls that this day is also known as "Rose Sunday" because on this day it was customary in Rome to bless the golden rose that the Pope sent to the Catholic kings.
In Peru, another date on which priests can wear pink is August 30, on the feast of Santa Rosa de Lima, the first saint in America whose feast the universal Church celebrates on August 23.