Why did a young Catholic and pro-life senator from Peru, Nebraska go viral?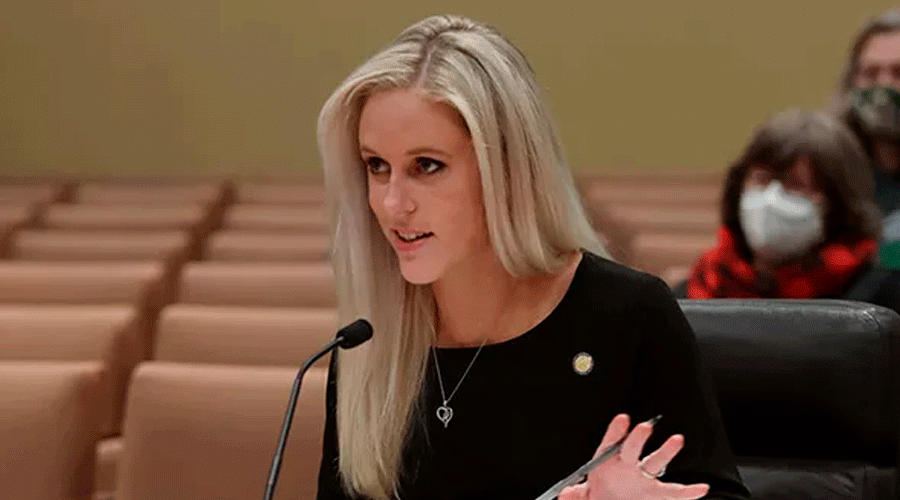 Julie Slama, 25, a Catholic and the youngest woman to serve in the Nebraska (United States) Senate for 10 years, went viral on the Internet in early April when she emphatically defended the Protection of Human Life Act (LB 933).
"As the only young woman under the age of 35 in this legislature, I am proud to stand with women, both born and unborn, by supporting Sen. [Joni] Albrecht," Slama, who hails from the Nebraska town of Peru, said on April 6.
"Look, I'm 25 years old. I am 10 years younger than any other woman in this place, and I am proud to be provident. My generation, which has suffered the greatest losses from abortion, is the pro-life generation," added the Republican lawmaker.
I'm 25 and the youngest woman in our Nebraska Legislature by a decade.

More importantly, I'm Pro-Life. 💜

The abortion lobby has tried continuously to silence me.

Their threats won't bring me down, and I'll keep standing strong for women, both born and [email protected] pic.twitter.com/1Mkfebfjmv

— Senator Julie Slama (@SenatorSlama) April 7, 2022
Slama, who recently converted to Catholicism, told CNA, the ACI Group's English agency, that she draws inspiration from Saint Joan of Arc.
"My patron saint is Saint Joan of Arc. She was able to do amazing things when she was young, without fear," she commented.
Slama recommended the example of her patron saint to anyone considering a mission in the pro-life movement.
"If you feel called, whether you're sitting in Maine or Florida or you're 19 or 25 and you're not sure how to do it, pray about it. Look for ways to get involved and have your voice heard, and just be open to the opportunities that God puts in front of you," he said.
Pioneer in pro-life issues since the age of 22
Appointed in 2019 at age 22, becoming the youngest state senator in history, she won reelection in 2020 and has already served four years in the state senate. She is noted for her ironclad stance in defense of life.
Earlier this year, Slama introduced the "heartbeat" bill, which seeks to ban abortion after a baby's heartbeat is detected. As a result of her sponsorship of the bill, Slama received threats of death and had to receive protection from the police.
"No public official, nor any person, regardless of their position, deserves to have their human dignity degraded or disrespected in such a way," local organizations Nebraska Family Alliance, Nebraska Catholic Conference and Nebraska said in a joint statement. Right to Life.
"It's threats like that that just have a chilling effect on pro-life senators," Slama said, stating she won't be silenced.
It is not the first time that Slama strongly defends his beliefs. As a student at Yale University, she recounted that she had to learn to defend his pro-life views.
"If you are a conservative student, you have three options. You can: one, choose to be indoctrinated and follow the crowd; two, sit in the back of the classroom, or three, stand up and stand up for your beliefs…and understand why you believe in the things you do," he said.
Her time at Yale helped her champion the pro-life stance she had embraced since she was four years old, when a public debate about late-term abortion made the news and sparked an emotional reaction from her mother.
"I just remember my mom just as we were getting ready for dinner, bursting into tears and saying 'that's a baby.' So that's the first thing I can remember, and since then it's been a core value of the sacredness of life," she recalled.
Now, when Slama has to defend his pro-life views, he begins with a simple question: "If we as a government cannot protect the most innocent among us, then what is the point of the government in the first place?" .
It also criticizes pro-abortion arguments, such as the one that says there is no point in banning this practice because it will always exist, or the denial that life begins at conception.
Slama's passion and tenacity have impressed his pro-life colleagues in the Nebraska legislature.
In an interview with CNA, Sen. Joni Albrecht, a fellow Republican who sits next to Slama, called her a "pioneer" on pro-life issues.
"She is a very bright young woman who is very resourceful and just does an excellent job," said Albrecht, who has been in the Nebraska unicameral legislature since 2017.
"She is always on top of her game and always on top of every issue and definitely has a burning desire for [defender a] the unborn, just like me. And I can see that I can easily pass the torch to him to take after I leave. No doubt about it. She would be my choice," she added.
While Slama and other pro-life senators failed by two votes to break the filibuster against the Protection of Human Life Act, one of several pro-life defeats this legislative session, she says there is much to be encouraged about in the pro-life movement.
Slama is hopeful that the June ruling in Dobbs v. Jackson Women's Health – Supreme Court case that could limit abortion to 15 weeks or overturn Roe v. Wade entirely and moving abortion policy to the state level – will push through a special session to pass pro-life legislation.
"62 million babies have died in abortions since Roe v. Wade. We cannot bring back those 62 million lives, not even the tens of thousands of lives that have been lost to abortion here in Nebraska," Slama said on the Senate floor on April 6.
"But here in 2022," he continued, "heaven have mercy on us if we know science decisively proves that life begins at conception and we take no action."
Translated and adapted by Diego López Marina. Originally posted on CNA.