VIDEO: Pope Francis donates and blesses ambulance for Ukraine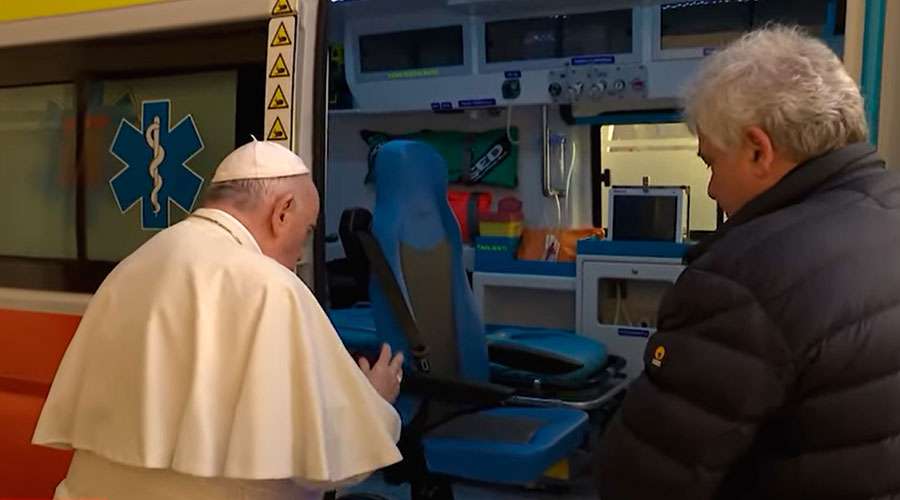 Pope Francis blessed an ambulance that Cardinal Konrad Krajewski, Pontifical Almoner, will personally take to the city of Lviv in Ukraine, on the second trip that the Cardinal makes to this nation, which is suffering the ravages of war after the invasion of Russia.
According to Vatican News, Cardinal Krajewski will travel to Ukraine after yesterday presiding over the consecration of Russia and Ukraine to the Immaculate Heart of Mary at the Mass he celebrated at the Sanctuary of Fatima in Portugal, in which some 15,000 faithful participated, the Bishops of the country and the President of the Republic, Marcelo Nuno Duarte Rebelo de Sousa
The director of the Vatican Press Office, Matteo Bruni, told reporters that the Cardinal will go to Ukraine "with an ambulance donated and blessed by Pope Francis in recent days."
Cardinal Krajewski said about the consecration that "before the Virgin of Fatima I asked protection for Ukraine, a victim of war, but also for the mission that I am about to carry out, at the request of the Pope, by returning to the country."
On March 8, the Cardinal began his first trip to Ukraine, in which he brought spiritual and material help to the population in the name of the Holy Father.
Now, the Cardinal said, "I will go with a heart full of hope."
Regarding the consecration to Mary in Portugal, the Pontifical Almoner said that "since everyone had the text in their hands, a cry of peace was raised from Fatima to ask for the miracle of the end of the war in Ukraine."
"With faith the war stops and with all my faith I am going to Ukraine to see the concrete consequences of the act of entrusting it to Mary", he concluded.