Vatican signs important agreement in favor of Catholics in Kazakhstan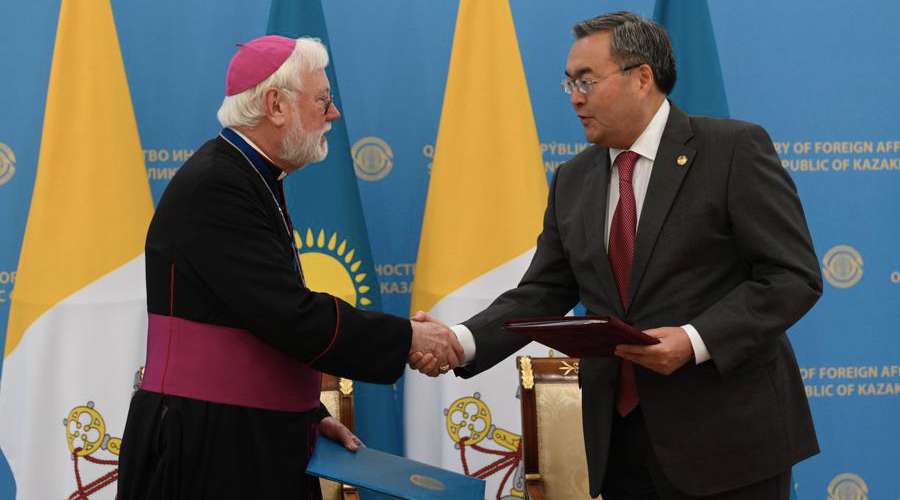 On the occasion of the apostolic trip of Pope Francis to the Republic of Kazakhstan, the Holy See signed an important agreement on September 14 in favor of Catholics living in this Central Asian country.
According to a Vatican statement, the new "Agreement between the Holy See and the Republic of Kazakhstan" was signed on September 14 at the headquarters of the Ministry of Foreign Affairs in the capital Nur-Sultan.
Signing for the Holy See was Bishop Paul Richard Gallagher, Secretary for Vatican Relations with States and International Organizations, and for the Republic of Kazakhstan, Mukhtar Tileuberdi, Deputy Prime Minister and Minister of Foreign Affairs.
The new agreement "seeks to give a broader application to Art. 2 of the Bilateral Agreement of 1998" to facilitate "the granting of visas and residence permits to ecclesiastical and religious personnel from abroad engaged in the pastoral care of the Catholic faithful in Kazakhstan".
"The document, which consists of a preamble and eight paragraphs, further consolidates the ties of friendship and cooperation already existing between both parties," the official note said.
This important agreement will enter into force when "the instruments of ratification" are exchanged.
For his part, the president of the Episcopal Conference of Kazakhstan, Bishop José Luis Mumbiela Sierra, said in a recent interview with ACI Prensa https://www.aciprensa.com/noticias/catolicos-en-kazajistan-reciben-con- joy-news-for-the-next-trip-of-pope-francisco-48207 that "when a good base of coexistence is created, it is a precious field for to be able to carry out the most explicit evangelization of the Gospel, but we must create those bonds of peace, those desires for unity, for brotherhood. That is the prelude to opening the heart to Christ. See the other as a brother and not as an enemy.
Then, Bishop José Luis explained that some of the main challenges facing the Church in this small country of the former Soviet Union is precisely the evangelization of the people who stay in the country, who do not emigrate, as well as "the evangelization of the traditionally non-Catholic.
The Prelate pointed out that it is "bring the Gospel to those who have not had it in their childhood, in their familynot to impose it or to proselytize in a negative sense, but in the sense that it is our conviction that it is the best message that can be heard in this world without a doubt, it is the message of salvation for all.
"That is our great challenge: knowing how to transmit it to everyone, to all those who do not know the Gospel well, so that they discover the great wealth that is to know and love Christ, to know and be loved by Christ", said the Bishop of Kazakhstan.