When we started Two-point campuswe thought we had a crazy school-themed management software in our hands, made up of clowns, robots sent into space and unlikely pop stars.
Two-point campus

Platform: PC, PS4, PS5, SWITCH, XONE, XSX Genre: management Release date: August 9, 2022 Developer: Two Point Studios Distributor: SEGA
Don't worry, all this actually is there, we just didn't know that next to the more over the top side we would also find it a perfect Keynesian economics simulator.
In short, the latest creature born from the crazy minds of Two Point Studios hides a decidedly more functional side under that absurd cartoon-style patina, a more managerial nature in a suit and tie to be taken into account calculator in hand because, apparently, even a medieval joust has its important maintenance costs.
Let the bell ring
As the name itself clearly says, Two Point Campus (you can also find it on Game Pass) is a sort of sequel / spin-off of the previous – and very interesting – Two Point Hospital, of which it largely incorporates the game mechanics and in the which the experts of the series will not struggle to find the same game loops and the same points of reference.
The main course is therefore once again the long campaign, which takes us one goal at a time to discover the twelve campuses present in the county, each with its specificities, with its courses and con a progressive level of challenge that we found well balanced and that progressively grows up to make the player a real university rector without scruples and dedicated to the god of money.
The Two Point Campus approach is anything but philanthropic and the only thing that really matters is having the coffers full, a budget in green which however requires special attention and which is not at all easy to pursue.
Cheeseball is a sport taken very seriously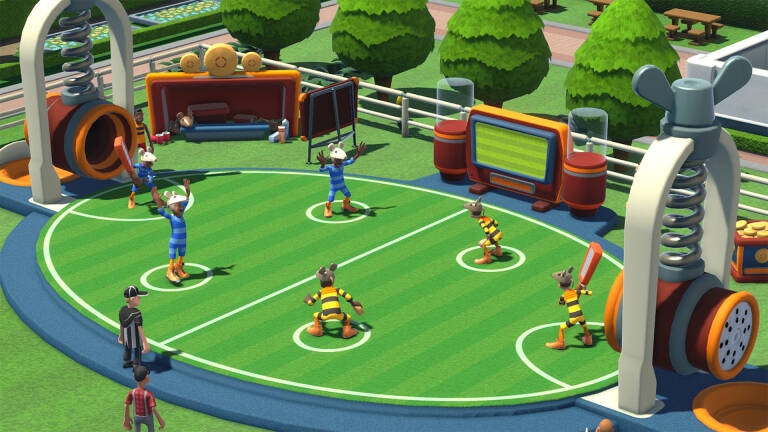 It all begins in the quiet Freshleigh Meadows, a level that works as a perfect tutorial and in which the basic schemes are learned and on which all the academies that will be managed in the future will rest.
Starting from a bare plot of landFirst of all, it is necessary to build structures such as dormitories for students and bathrooms, but also the auditoriums where lessons are held, libraries and above all the laboratories where courses are held which, not even to say it, would be an understatement to describe as bizarre. All this happens in a few clicks and with systems that are almost self-explanatory.
Once the work is done, you can start the actual school yearbut paying attention to the school staff, divided between professors, assistants and attendants, each with their roles, skills and, of course, a salary to pay.
Summing up to the extreme, our task is to make ends meet, a variable on which numerous factors act, all perfectly framed thanks to some heat maps and interfaces that immediately make it clear where to act.
For example, by selecting the appropriate menu, it turns out that the corridors are sad and bare and a few more decorations would raise the morale of the boys, who would also like a nice cabin – including the legendary Crazy Taxi – to pass their free time and a rich sandwich kiosk where you can gorge yourself and, of course, make us earn some change.
Who wouldn't want to study in a castle?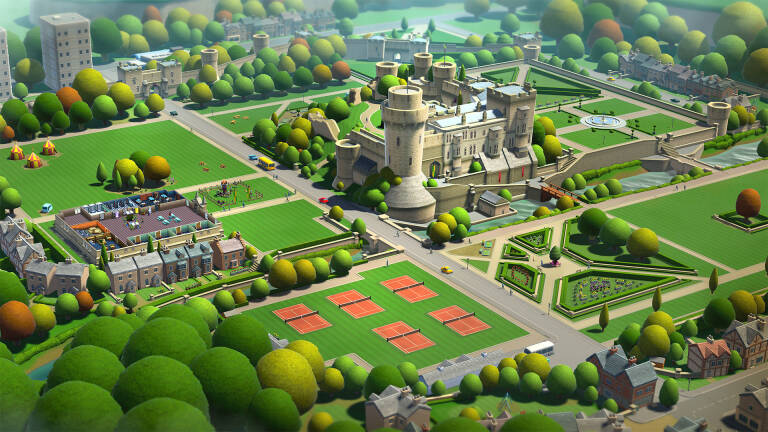 Although it exists a micro-management levelmade from the individual cards of the students and teachers with the various statistics and where the needs are expressed, all these singular elements are summarized in a few menus and thanks to the use of clear and intuitive icons the causes of the various problems are immediately discovered.
Furthermore, we point out the translation of the texts into Italiana help that I appreciated when we took our first steps within universities. Already from the first levels, however, a long list of mnemonic tasks can be glimpsed on the horizon, a series of fairly repetitive actions that we will carry with us up to Two Point University, the final chapter of the title.
Making and unpacking is always a good job
In the first universities it is quite easy to stay afloat economically and the taxes collected by the students, the maintenance costs, the salaries and the newly positioned structures live in a perfect balance that guarantees a slow but steady growth.
For unlock new campuses it is necessary to accomplish certain objectives, such as maintaining high school hygiene, having excellent grades for one's students or, again, managing a campus with a certain level of overall prestige. Thanks to these tasks, stars are obtained and access to other academies, which will have different requirements, new courses, other professors to be enrolled and above all will add new variables to the formula.
For example, at some point we had to carry out marketing campaigns to advertise our university, we placed brain-bending machines to improve teacher training and the desire to party could only be extinguished thanks to new clubs, table football and above all. from rock nights in the student organization.
Little by little the demands start to rise, you realize you have a healthy budget is a tall order and every new sound of the bell needs another auditorium, another gym or, again, yet another music room in which to arrange pedal instruments or strange pianos.
There is always time for a party on Two Point Campus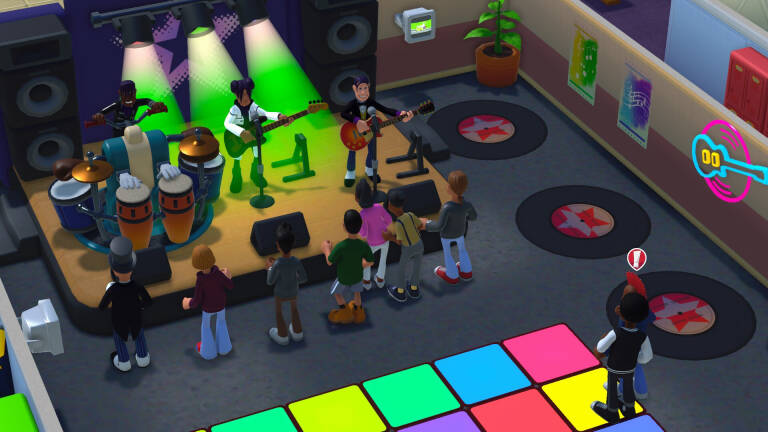 At some point in our career, as suggested by a campus itself, we realized how the only way to survive the continuous outlay was to resort to debt, thanks to which to improve the institution, get new income, balance the budget and inflate the crates, to the new breaking point. The solution? Another debt and a new loop identical to the previous one.
However, each unlocked academy has its own peculiarities and problematic, at least in appearance, always different, appeared before our eyes.
For example, at Pebberly Ruins we sold the archaeological finds to have some breathing space, in the Spiffinmoore school of magic we found ourselves in the presence of meteoric rains and in that Upper Etching money press we exploited the artistic skills of the students to have a gain, since we could not count on the canonical taxes.
Nerdy chefs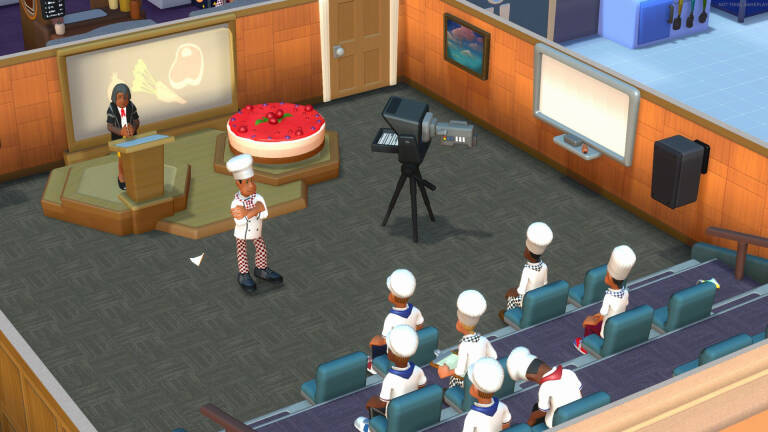 Beyond these variations, however, our actions have always remained the sameas well as the solutions adopted to achieve the objectives which, moreover, were often disconnected from the unique context of the various campuses and only required more time and attention given the growing difficulty.
An aesthetic that leaves room for functionality
It is then necessary to make a separate discussion for the courses. Whether it's gastronomy, virtual normality or the most advanced espionage, all of these matters actually have only aesthetic differencesmade of larger rooms, different machinery, a few shelves in the library and students dressed in an increasingly improbable way.
However, giving life to a music or magic lesson has no difference, except for the new instruments blocked behind research to be done or new objects to be activated thanks to the special credits – the Kudos – collected by completing some kinds of missions. secondary.
A classic gastronomy lesson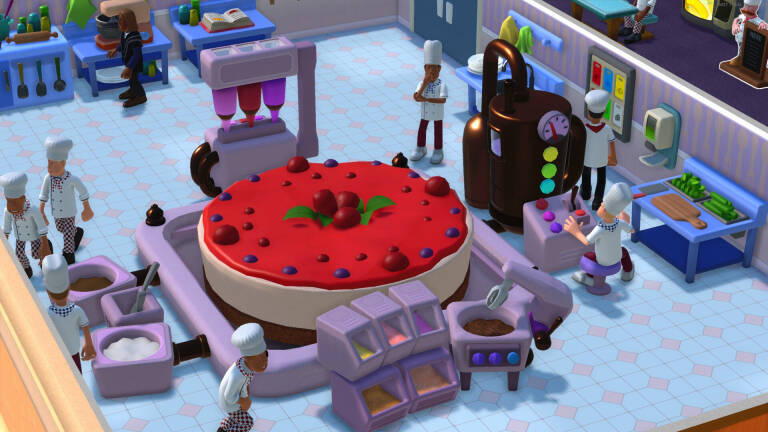 The real problem of Two Point Campus is therefore a cyclicality of actions difficult to break, further aggravated by problems created ad hoc only to slow down the pacelike the invasions of the students of the rival school or the classic earthquake.
Do you need to increase the attractiveness of your institution? Place the same poster a hundred times in every corner of all the rooms and you will magically see the red change to green in the heat maps. Do we need to make room for new dormitories for recruits? Add for the umpteenth time – clearly after signing a new loan – a few boxes to the central building and place another room with beds, wardrobes and an owl-shaped clothes rack.
The requests from the students themselves break this loop very little and only add demands on a new hot dog stand with which to beautify the garden or on a hedge in the shape of a duck. However, Two Point Campus is not a trivial management software.
In the countryside, given the constant economic constraint, a lot of acumen is needed to avoid wasting the few resources made available, you need to plan your future rooms in the best possible way to avoid having a meaningless Tetris of doors and dead ends and you need the right patience to avoid running into in unsustainable rapid growth – all challenges that have very similar solutions.
The campus can be customized in every detail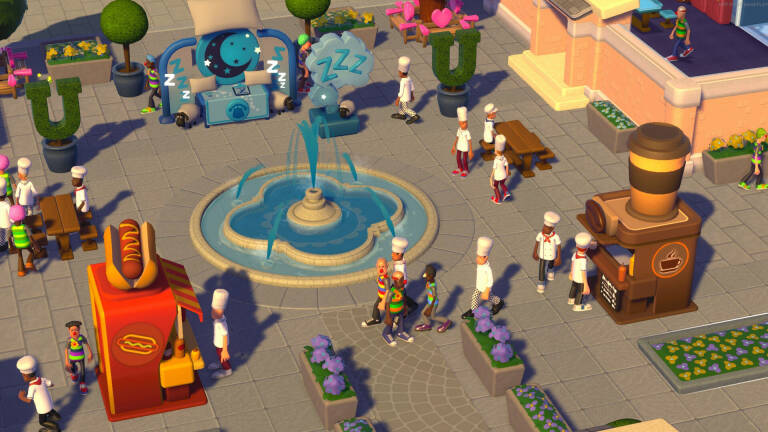 The university of my dreams
Precisely because of these similarities, we especially liked the freer game mode. Free of cost, budget and pressing demands, we have indulged ourselves in creating a university of dreams, where they now study side by side knight pushers – the quote is really taken from the game – and mad scientists, while yet another muscle-bound student and no brains went to the doctor after a gym exercise gone wrong.
Unlike its predecessor, campuses can also be landscaped on the outside, with a long list of benches, planters, statues and bubble-shooting machines to be placed in gardens. Furthermore, every single object can be customized from an aesthetic point of view, for example by changing the colors and thus expanding the variety of classrooms and corridors, a freedom that we appreciated when we were not forced to reach yet another goal imposed by an invisible director. .
The doubts related to the basic repetitiveness and a challenge created in an artificial way are however mitigated by a sense of humor in front of which it is difficult to remain indifferent. Just like its predecessor, Two Point Campus also spares no shortage of nonsense, satirical radio messages and comic skits, perfectly wedged into a cartoonish art direction that never takes a moment seriously.
Version reviewed: PC