Today we remember Santa Casilda de Toledo, Arab princess converted to Christianity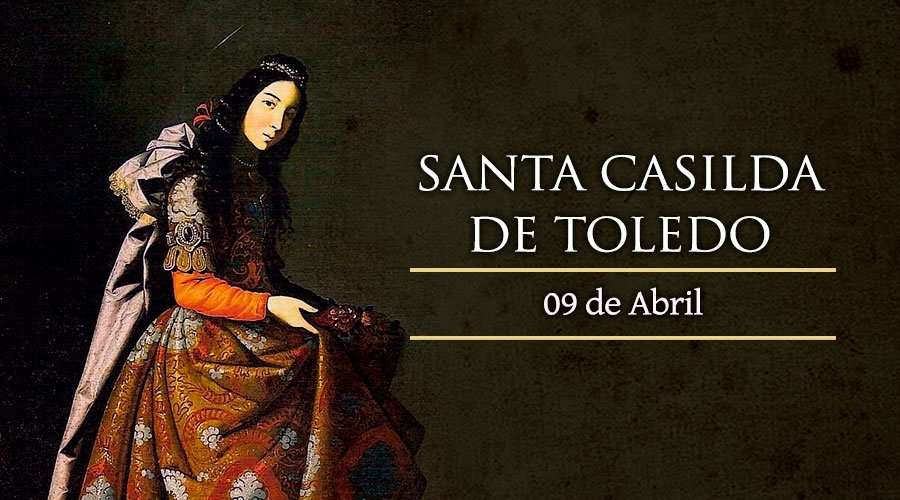 Today, April 9, the Arab princess who converted from Islam to Christianity and achieved sainthood is remembered, moved by the ideal of Christian charity. This is Santa Casilda de Toledo, whose name, "Casilda", means "poetry" or "art" in Arabic. She was precisely an artist, the great Spanish painter Francisco de Zurbarán, who immortalized her beauty in one of her paintings.
Santa Casilda was born at the beginning of the s. XI in the territories of the old Hispania -today Spain- at that time invaded by the Arabs from North Africa. She was the daughter of Al-Mamún, emir (likely a Muslim prince) of Toledo, a man known for his cruelty against Christians and for having made his domain one of the main cultural centers of al-Andalus (the name the Arabs gave to the Iberian Peninsula during the centuries of occupation).
From the Koran to the Bible
Casilda was a woman of strong character, of immense courage and generosity. According to the Roman Martyrology, she "mercifully helped the Christians detained in prison and later, already a Christian, she lived as a hermit." There is no complete certainty about the year of her birth. She is believed to have been born in the year 1007, while others date it to 1025. At the age of five she began to learn the Koran by heart, with which every Muslim child learned to read and write.
However, it is very likely that her mother was a Christian and that her education was entrusted to wise men, knowledgeable about ancient cultures, a situation that caused her doubts and internal conflicts. It is also feasible that these questions were resolved under the protection of her mother's faith.
Convert visiting jail
Before her final conversion, Casilda had already shown signs of being a pious princess who sought to bring material and spiritual comfort to the prisoners in the dungeons of her father, Al-Mamun. She casilda visited the cells and dungeons carrying food and medicine hidden in her clothes. Many of the prisoners were priests and monks, so through them she was able to meet Christ. Surely, she received baptism from one of them.
The bouquet of roses
According to tradition, when rumors reached her father that Casilda was visiting the dungeons -which was absolutely forbidden to her-, he decided to surprise her and prove her fault. One day Al-Mamun intercepted her daughter on the road carrying something in her clothes -Casilda had food for the prisoners-, and asked her what that bundle was. She replied: "They are Roses!" Immediately, the emir asked to be shown them, and she, by spreading her skirt, miraculously dropped a bundle of red roses, causing her father's confusion.
The cure for all evil
Some time later, the princess began to suffer from blood flows, a condition that the doctors could not cure. In her dungeons, one of the prisoners made an unusual suggestion: bathe in the lakes near the monastery of San Vicente, in the lands of La Bureba, in Briviesca (Kingdom of Castile). Al-Mamun, on his side, had been convinced that his daughter's illness had no cure. Even so, he agreed to prepare the trip for his daughter, who would leave accompanied by the royal entourage, among whom there were secret Christians.
When Casilda reached the lakes and bathed in them, she was immediately healed. And, right there, he asked for baptism, was confirmed and received the Holy Eucharist for the first time.
After what happened, the princess decided to give her life to Christ, preserve herself a virgin and spend the rest of her days in prayer and penance. In addition, she gave her dowry to the Church and the poor.
Casilda died as a hermit in 1075, in San Vicente, Castile region. She was already an old woman. Her remains were buried in the hermitage that she herself built and today they are preserved in the sanctuary that bears her name, located in Burgos (Spain).
Countless miracles have been attributed to Santa Casilda de Toledo, many of them related to cases of sterility or gynecological conditions.