Today we remember Saints Jonas and Baraquicio, witnesses of Christ, the 'King of Kings'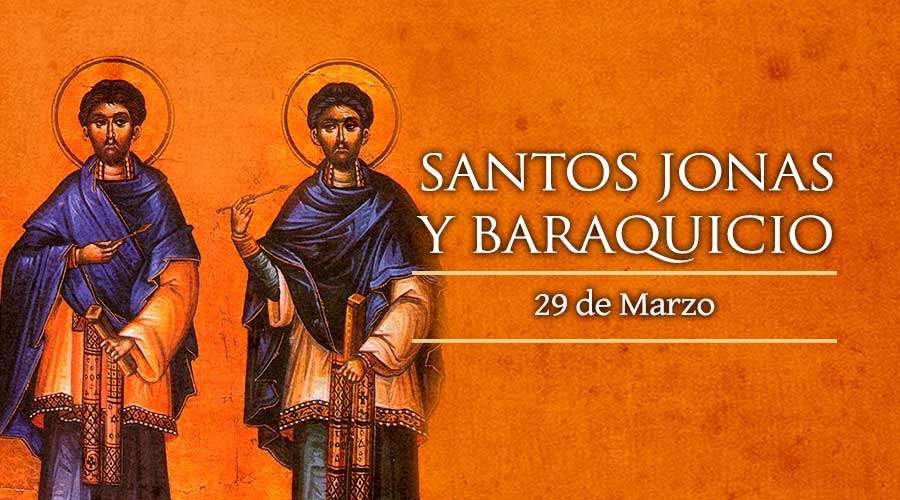 Today, March 29, the Church commemorates Saints Jonas and Baraquicio, martyrs. They are two brothers born in Beth-Asa, Persia (today the territory of Iran), who gave their lives in martyrdom in the year 327.
The breath of the martyrs
In the eighteenth year of the reign of Shapur II, king of Persia, a cruel persecution against the Christians in the East began. By royal orders, monasteries and temples were razed or burned; while any Christian who professed his faith in public was under threat.
It happened that a group of Christians was captured and sentenced to death. Then, while they remained in the dungeons waiting for the final moment, two brave monks from Beth-Iasa approached the place to give them food and water. Later, when the prisoners were led to the place where they would be tortured, the monks followed them, encouraging them with prayers and harangues as they suffered the punishments. That day none of those sentenced to death abdicated their faith in him. Those monks were the brothers Jonás and Baraquicio.
There is only one 'King of Kings'
When it was all over, a group of Persian soldiers rushed at the brothers and took them prisoner. Then, the person in charge of presiding over the massacre urged them to worship the sun, the moon, the earth and the water. He also asked them to pay homage to the 'king of kings', referring to Sapor, to which the monks responded with a negative, because for them the only king of kings was Christ who, unlike Sapor, will never die.
This caused a scandal among the Persian judges, who called Sapor 'immortal'. In retaliation, Baraquicio was thrown into a narrow dungeon, while Jonas was flogged and then thrown into a pool of icy water. Both spent the night in those conditions, to later be subjected to a cruel game, quite common among the sayones (executioners). As the brothers had been separated, the executioners began to "play" cruelly with them. Baraquicio was told that Jonas had denied Christ with the purpose of making him surrender. The monk ignored such lies and reaffirmed his faith. Immediately afterwards, for having reacted in this way, the judges determined that he be beaten with cattle sticks, just like his brother Jonás.
Persia, land of martyrs
Finally, Jonas ended up crushed by a vine press, and Baraquicio had hot pitch and lead poured through his mouth. A man named Abdisotas ransomed both bodies by paying five hundred daries (the Persian currency of the time) to the soldiery. Then he gave the brothers a Christian burial.
The impressive story of Jonah and Baraquicio, as well as that of the other Persia martyrs, occurred at a time when the Edict of Milan was already in force in the West, and the persecutions had stopped. In the East, however, the situation was very different.