Today we commemorate Blessed Sandra Sabatinni, the first bride to be beatified in the Church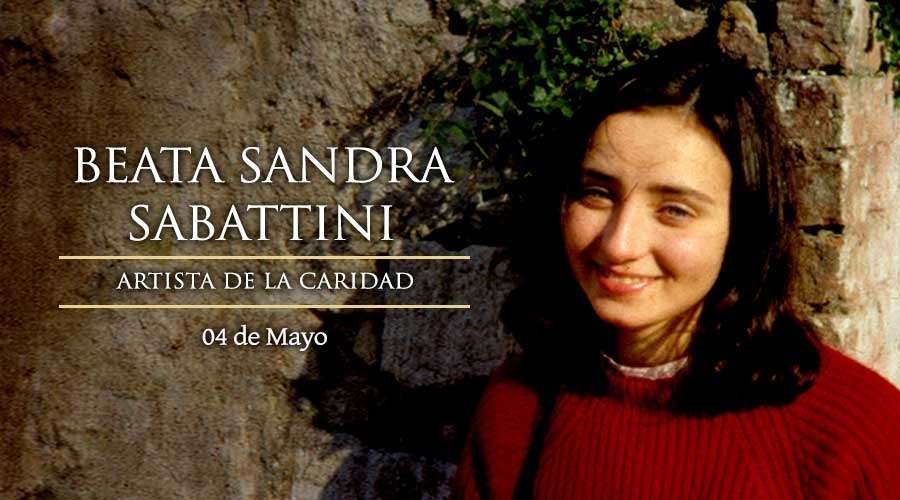 Today, May 4, Blessed Sandra Sabattini, an Italian university student who belonged to the Pope John XXIII Community, is commemorated for the first time. Sandra was beatified in October last year in a ceremony presided over by the prefect of the Congregation for the Causes of Saints, Cardinal Marcello Semeraro, who called her an "artist of charity."
And that is what Sandra was: a girl with a very special ingenuity and creativity, conditions that she put at the service of those she called "the last", those who will always be "the first" for God.
A Catholic family like any other
Sandra Sabattini was born on August 19, 1961 in Rimini (Italy) as the first of two children of Don Giuseppe Sabattini and Doña Agnese Bonini, both pious Catholics. Today her brother, Raffaele Sabattini, works as a doctor at the Ceccarini Hospital in Riccione.
Sandra lived her early years in the parish house of San Girolamo where her uncle, who was the parish priest, had taken her family in after they moved from the Misano Adriatico.​
God does not abandon anyone
In 1972, little Sandra began to write a spiritual diary, where she captured her thoughts inspired by the love for God that was growing within her. The following year she met the Servant of God Oreste Benzi, founder of the Pope John XXIII Community, at one of the meetings organized by her uncle in the parish.
In the summer of 1974, encouraged by the Community, she participated in a program to help disabled people. That experience of hers transformed her, filled her with enthusiasm and brought forth from her heart those famous inspirational words: "We have broken our bones, but they are people I will never abandon."
Those weren't words that were blown away. Around 1980, the young woman began her studies at the Faculty of Medicine of the University of Bologna; she wanted to make her profession a channel through which the love of God would reach the abandoned. Then two more summers would come (1982-1983) in which Sandra was committed to her community in assisting and accompanying people with drug addictions.
There were days when he got up at dawn to pray in front of the Blessed Sacrament and then attend the Eucharist. Her youthful spirit also led her to join a choir and learn some piano.
a bride in heaven
At the age of 20, in the middle of the carnival festivities, she met Guido Rossi, who shortly after would be her boyfriend. The friendship between the two and the love of Christ they shared filled their minds with dreams: they planned to marry, form a holy family and embark on the adventure of medical missions in Africa.
Unfortunately those dreams did not come true. On April 29, 1984, Sandra Sabatinni suffered a serious accident: she was hit by a vehicle that was coming in the opposite direction, at the precise moment in which she was getting out of the car she was in and was preparing to attend a meeting of the Community. Pope John XXIII.
That morning she was accompanied by Guido, her boyfriend, and Elio, one of her friends, who was also injured. Sandra fell into a coma and died a few days later, on May 2. She was only 22 years old.
Every minute counts when it comes to love
Blessed Sandra Sabatinni has been defined as "everyday saint". There were no "great events" that have surrounded her life, unless her greatness is measured by the love given. In a prayer written in 1982, Blessed Ella wrote: "Lord, make every action of mine determined by wanting the good of young people, every minute is an occasion of love to be seized."
Her biographer, Laila Lucci, highlighted this aspect of the Blessed's life in her extensive work entitled "The Saint Next Door"; what is extraordinary is in making one's own life something full of meaning, because at every moment she can love and love herself.
On March 6, 2018, Pope Francis approved the decree that recognized the heroic virtues of Sandra Sabattini. On October 24, 2021, her beatification ceremony was held.
That day there was a procession of a relic of the new blessed, carried to the altar by Stefano Vitali, former president of the Rimini community, miraculously healed through the intercession of the blessed: a bit of hair kept by her boyfriend, Guido, placed in a candy box that Sandra herself once decorated.