Today we celebrate San Juan de Dios, patron saint of hospitals and health centers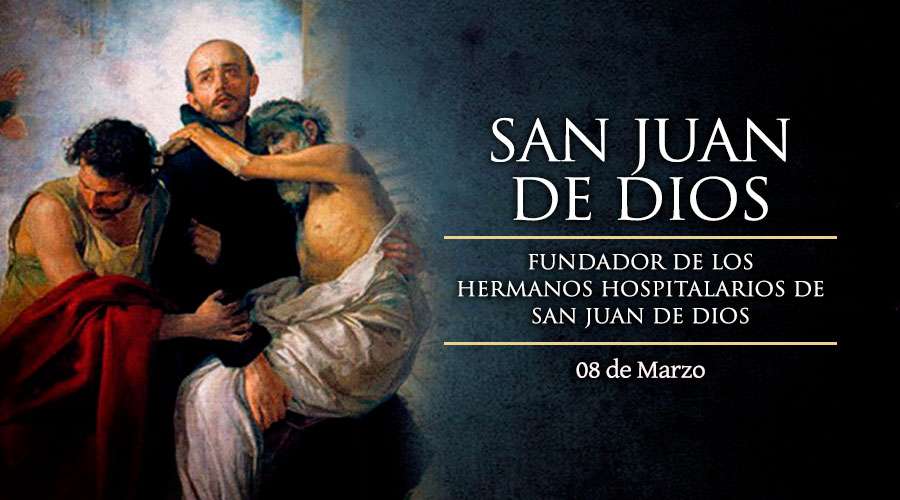 Today, March 8, the Catholic Church celebrates the feast of Saint John of God, founder of the Order of Hospitaller Brothers, which would later be called the "Hospital Order of Saint John of God" in his honor. Saint John is a symbol of the Church's charity towards those who suffer in body, but also in spirit.
The call to serve those who suffer
Saint John of God, OH was born in Montemor-o-Novo ("Montemayor"), Portugal, on March 8, 1495 and, coincidentally, he was called to the Father's House also on March 8, but from 1550 in Granada, Spain. His given name was João Cidade Duarte, although the world has known him as "John of the Sick."
After having participated in the military, he began to work as a nurse out of vocation and conviction, discovering that love for those suffering from illness was what moved his heart. John found in each sick Christ suffering, vulnerable, waiting to be cared for and comforted.
Hospital
The saint founded a hospital in Granada (Spain) and, later, together with his group of companions, constituted what would become the Hospitaller Order, dedicated to the pastoral care of health. The members of the Order were entirely dedicated to caring for the poor and needy.
In that hospital Brother Juan worked almost non-stop for ten years. They were hard years, with many tribulations and pains, which became more bearable and even beautiful thanks to prayer. Without Christ, nothing would have been possible: "There are so many poor people who come here, that I myself am often scared how they can support themselves, but Jesus Christ provides everything and feeds them," wrote Saint John once.
The Christ who heals
Juan, whenever he could, put himself in the presence of God or gave up something that pleased him to keep the Lord happy and keep his patients smiling. They, abandoned and hurt, thought many times that God had abandoned them, until Juan's serene smile, and his care, relieved their soul. Loving the one who suffers was reason enough for vigilance and sacrifice. Even when his own health betrayed him-he used to catch cold constantly-he sought neither his safety nor his comfort, but the well-being of the one in front of him.
On one occasion, a fire broke out in the hospital and the saint, putting his life at risk, took it upon himself to rescue the patients. It is considered miraculous how Saint John went through the burning place again and again without suffering any burn. That day not one of the patients suffered any harm.
In times of pandemic
Saint John of God is Patron Saint of those who work in hospitals and of those who distribute religious books. Today, when a pandemic is hitting humanity, his life and example of dedication and sacrifice for the suffering take on a special meaning. Let us ask his intercession for all those who risk their lives in hospitals and health services around the world. Let us also pray for those who suffer the pain of bodily deterioration and loneliness.
Currently, the Hospitaller religious of San Juan de Dios continue to work for the sick in hundreds of health centers around the world.
More information: