Today we celebrate Saint John of Egypt, the man who found God in silence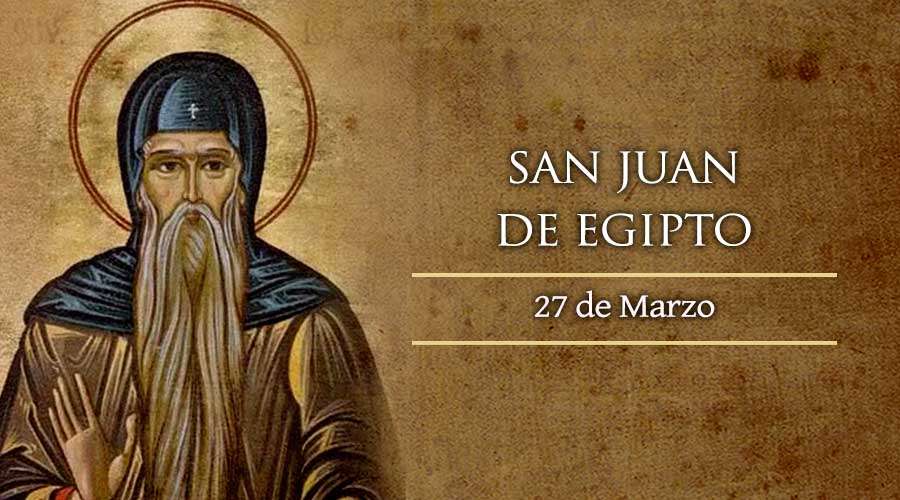 Today, March 27, we remember Saint John of Egypt, also known as John the Anchorite or John the Hermit. This saint lived in the fourth century, most of the time, in the desert of Nitria. This place, located on a hill a few kilometers south of Alexandria, is recognized as one of the first Christian monastic centers in Egypt, abundant in the fruits of holiness.
God gave John the gift of prophecy, advice, and the power to cure diseases. He enjoyed great fame in life and, therefore, was consulted by emperors -it is said that he prophesied a victory to Theodosius the Great-, political and religious figures; Some of the Fathers of the Church, such as Saint Jerome and Saint Augustine, even attended him. The latter wrote about him and is one of the safest sources to know him.
Bloom in the middle of the desert
Saint John the Hermit was born around the year 305 in Tebaida, Lycopolis -which is why he is also called 'John of Lycopolis'-. There he learned the carpenter's trade, to which he dedicated himself during his youth. At only 25 years old, he decided to renounce all worldly life to dedicate himself to prayer and meditation, far from the temptations of the city. He then placed himself under the guidance of an old anchorite from the desert of Nitria who, for ten years, trained him in obedience and self-denial.
A voice from the past that resonates today
The saint thus learned to obey, without complaint, with humility, even when many of the orders he received seemed irrational. In ancient times sobering stories were repeated around him, many of them very striking as well as disconcerting: it is said, for example, that he cultivated a garden full of dead trees or wooden sticks.
The exemplary character of these stories is centered on their patience and attitude of obedience -two virtues that today we appreciate very little and do not understand correctly-. Whatever task was imposed on him, Saint John of Egypt responded with constancy and firmness. When his teacher died, Juan retired to the top of a steep hill, where he built his cell. There he remained until the end of his days, living almost in total isolation. He only received some people to give them advice or spiritual assistance.
A life made incessant conversation with God
It is said that he managed to remain in prayer during all the waking hours. Tradition especially emphasizes this aspect, because it constitutes an excellent inspiration for every Christian who wishes to make of his time something always done in the face of God, an authentic offering of love.
On the other hand, John inspired many other later monks and mystics. He ate only nuts and vegetables for almost 50 years; In addition, he inhabited three cells that he built himself: one to sleep, another with only one window to attend to occasional visitors, and another to pray.
Saint John of Egypt passed away at the age of 90. When they found his body, it was rigid, in a prayer position. He is today regarded as the 'Father of all ascetics'.
Did you know that not every form of asceticism leads to God? Do you want to know more about anchorites or hermits? We suggest you read these articles from the Catholic Encyclopedia:
https://ec.aciprensa.com/wiki/Anacoretas
https://ec.aciprensa.com/wiki/Ascetismo