Today we celebrate Saint John Baptist de La Salle, patron saint of educators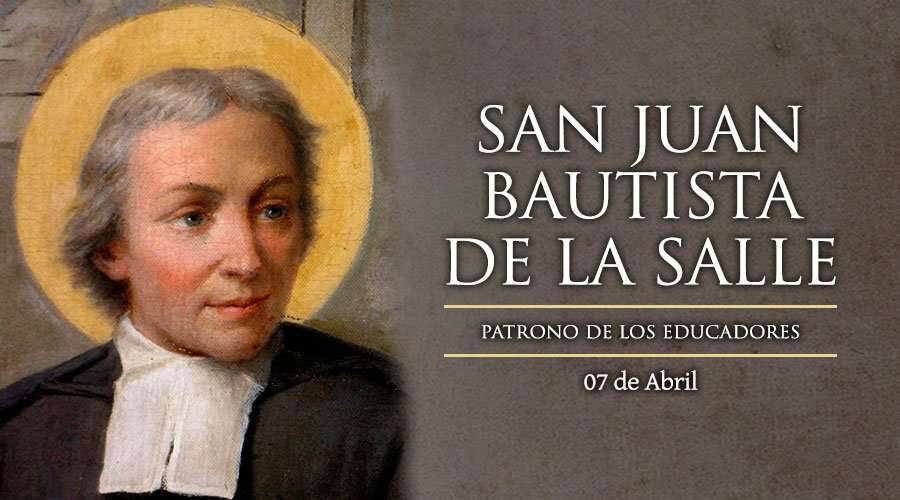 Like every April 7, today the Catholic Church celebrates the feast of Saint John Baptist de la Salle, priest, visionary of Catholic school education and pedagogue of great influence; he is the patron saint of educators.
Saint John Baptist de la Salle was the founder of the Brothers of the Christian Schools (Lasallians or Lasallians), a religious order dedicated to the task of training new generations.
"You received it freely, freely give it" (Mt 10, 8)
Juan Bautista de la Salle was born in Reims (France) in 1651. His family enjoyed a certain economic solvency, which allowed him to enjoy a good education -which was not accessible to the common French children of that time-.
It was through his studies that Juan Bautista began to learn more about his Catholic faith and became interested in knowledge and science in general. After completing his first academic efforts, he graduated as a Master of Arts. Juan Bautista, at the same time, would discover during those years that God was calling him to serve him through the priesthood. This is how he presented himself at the Saint Sulpice seminary in Paris, where he would be admitted when he was 18.
God would entrust an unexpected mission to his short 19 years: after the death of his parents, he would have to take care of his younger siblings, dividing his time between training in the seminary and the responsibility of watching over and ensuring the well-being of his own. With aplomb, the youngster became the 'brother-teacher', a figure that he would embody and that would be very influential in his educational style.
Vocation of priest and teacher
The years passed quickly and John the Baptist was ready to be ordained a priest. The saint received holy orders at the age of 27. The new priest, by virtue of his charisma and intelligence, presaged a promising ecclesiastical career. However, deep in his heart, he felt called to something very different. The Lord had been showing him the path of service to the poorest, as well as the multiple needs and shortages they suffer, especially those who are the smallest. Moved by this reality, Fr. Juan Bautista came up with the idea of ​​bringing together a group of lay teachers and providing them with human, pedagogical and Christian formation, so that they would be better prepared to teach. The priest was convinced that through good education, human beings can flourish more easily and please God while transforming society. For that it is essential to have good teachers.
The call to be a teacher, like Jesus, John the Baptist summed up in these words: "The grace that has been granted to you to teach children, to announce the Gospel to them and to educate their religious spirit is a great gift from God"
The first steps of a great community
On June 24, 1681, Juan Bautista de La Salle and some of his teachers most committed to his ideal began the adventure of sharing life around God. The future religious met to live together in a rented house. This fact marked the beginning of what we know today as the Congregation of Brothers of the Christian Schools (Institutum Fratrum Scholarum Christianarum) or, simply, 'de la Salle brothers'.
Fr. Juan Bautista and his new community began a series of educational reforms considered milestones in the history of pedagogy. The saint, for example, introduced group teaching for children – at that time each child was taught separately – founded a free school in Paris for poor boys and opened two universities dedicated to the training of teachers: one in Reims and the other in Saint-Denis.
In 1686, in the context of a terrible famine in France, eight of his followers took their first vows at his religious institute and on August 15, the day of the Assumption of the Virgin, the saint consecrated his community to the Mother of God.
Teaching is an apostolate
Saint John the Baptist used to travel long distances on foot to visit different towns and cities, calling to love Christ and the Church more fervently, while organizing or supporting different initiatives dedicated to the formation of the Christian people. People in gratitude for his dedication provided him with lodging and food. The saint worked so hard that, it is said, his cassock and his cloak became perfect proof of it: both were worn and faded. However, these gave a bright glimpse of a novel figure: that of the "education worker" who was at the same time a saint, that is, someone who made Christ present, in his simplicity, to Christ.
Jesus Christ is the teacher
Although the evangelizing work could be arduous, Fr. Juan Bautista did not stop giving time to prayer; Quite the contrary, he spent long hours in the chapel. He constantly insisted to his brothers that educational success is only achieved with prayer and more prayer. He used to say that the task of an educator is to pray, set a good example and treat everyone as Christ recommended in the Gospel: "Do to others all the good that we want others to do to us."
On April 7, 1719, Good Friday, Saint John Baptist de La Salle left for the Father's House. His last words were recorded in the memory of those who were able to accompany him: "I adore God's will for me in everything."
Saint John the Baptist was canonized on May 24, 1900, the day of the Virgin; and half a century later, on May 15, 1950, he was named Patron Saint of educators.
If you want to know more about Saint John the Baptist, we recommend this article from the Catholic Encyclopedia: https://ec.aciprensa.com/wiki/San_Juan_Bautista_de_la_Salle.
More information: