Today we celebrate Saint Dionysius, Bishop of Corinth and builder of Catholic doctrine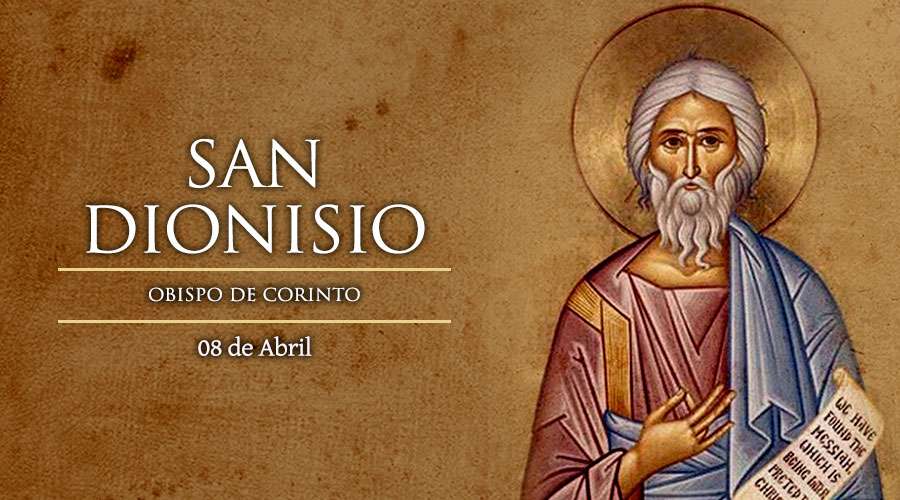 According to the writings of Eusebius of Caesarea, Saint Dionysius lived for much of the second century. It is said that he was born around the eleventh year of the reign of the Roman emperor Marcus Aurelius, in the city of Corinth, Greece, becoming bishop of that metropolis, as he is recorded in the Roman Martyrology.
Dionysus had an admirable knowledge of the Word of God, and he not only took charge of instructing and guiding the ecclesial community of Corinth, but also watched over his brother bishops from other cities and provinces. Proof of this is his epistolary work.
Eusebius of Caesarea, in his ecclesiastical history, lists seven letters written by Saint Dionysius to the churches of Lacedaemon, Athens, Knossos, Nicomedia, Gortyna, Amastris, and Rome. Only a few fragments remain of the latter.
The letter addressed to the Lacedaemonians deals with the need for Orthodoxy as a requirement to live in peace and unity. The letter to the Athenians is a call to live the faith and to move away from apostasy. Thirdly, there is the letter sent to the bishop of Knossos, Pinito, in which he makes recommendations so that he should not be too hard on his brothers, who were continually prey to carnal pleasures. The letter to the Nicodemus is a defense of Christianity against the Marcionite heresy (Marcionism). The fifth letter was addressed to Bishop Philip of Gortyna, praising his steadfastness against heresy. The sixth was addressed to the Christians of Amastris, and deals with marriage, continence and gives recommendations on charitable treatment towards those who had fallen into sin or heresy.
Finally, the seventh letter, and probably the most important of all, is addressed to Rome, to Pope Sotero. This is the only one of which some brief passages have been preserved and deals with a praise to the Supreme Pontiff, in which he also exhorts the Romans to practice charity and solidarity with those Christian communities that needed it most.
Saint Dionysius is recognized for his great contribution in revealing the philosophical errors, originating from paganism, which gave rise to the different heresies of the first centuries.
Greek tradition states that he was martyred in 178; however, there is no certainty about it.