Today the Catholic Church celebrates the "Angel Monday"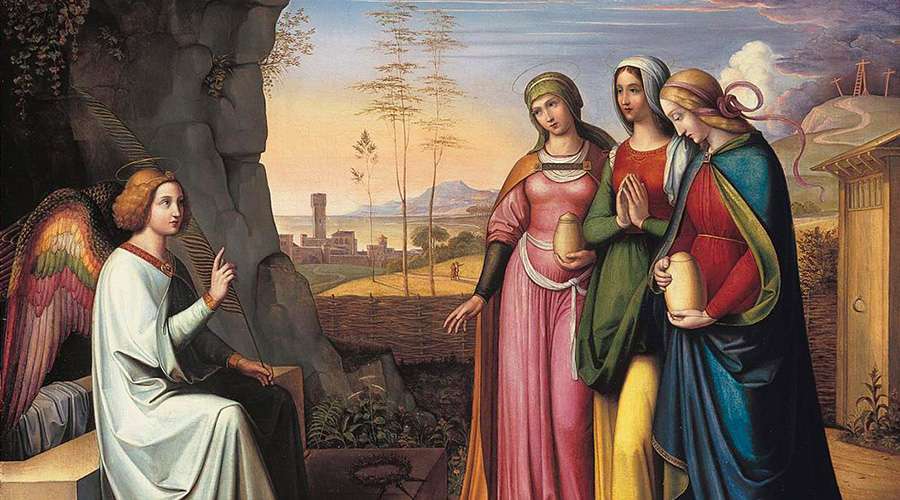 Today, April 18, the first Monday of Easter, the Church celebrates "Angel Monday", so called to emphasize that it was precisely an angel who announced to the women who went to the tomb that Christ had risen. Since every detail around the Resurrection of the Lord is full of meaning, we cannot but give thanks to God who, in his loving providence, sends his angels – his messengers from him – from him to announce the greatness of his saving work.
Why "Angel Monday"?
Today is also a propitious occasion to remember dear Saint John Paul II, who on April 4, 1994, Monday of the Octave of Easter of that year, reflected on the meaning of this day. In his speech after the recitation of the Regina Coeli, the Holy Pope affirmed:
"Why is it called that way? I think that name is correct: Angel Monday. It is convenient to leave a little space for this angel, who said from the depths of the tomb: "He has risen"… These words —He has risen— were very difficult for a human person to pronounce, to express. Also the women who went to the tomb found it empty, but they could not say: He is risen, they only affirmed that the tomb was empty. The angel says more: "he is not here, he has risen" ».
This is how the Gospel according to Saint Matthew narrates it: «The angel spoke and said to the women: "You women do not be afraid; I know that you are looking for Jesus, the crucified one. He is not here, because he has risen as he had said. Come see the place where he was standing. Go at once and tell his disciples that he has risen from the dead; he will go ahead of you to Galilee: there you will see him. Look, I told you"» (Mt 28, 5-7).
messengers of salvation
It is important to remember that angels are servants and messengers of God. As purely spiritual creatures, they have intelligence and will. They are personal and immortal beings; they lack corporeality and, being in the presence of God eternally, surpass in perfection all visible creatures.
Christ is the center and head of the angels and they obey him, because they love the will of God. Therefore, God made them messengers of his salvation plans.
Mary, Queen of Heaven, source of our joy
From today, until the end of Easter at Pentecost, the Regina Coeli prayer is recited instead of the Angelus.
In 2009, Pope Emeritus Benedict XVI pointed out that the "Rejoice, Mary" pronounced by the angel resounds in an invitation to joy: "Gaude et laetare, Virgo Maria, alleluia, quia surrexit Dominus vere, alleluia", that is to say "Rejoice and rejoice, Virgin Mary, alleluia, because truly the Lord has risen, alleluia".