Today is the Solemnity of Saint Joseph, Husband of the Virgin Mary and custodian of the Catholic Church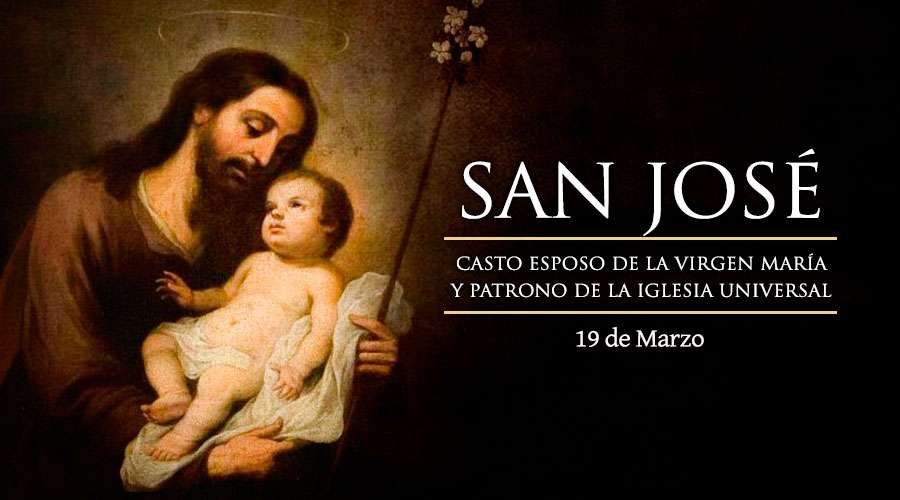 Today, March 19, the Catholic Church celebrates the Solemnity of 'Saint Joseph, husband of the Virgin Mary'. Joseph is a central character of our Catholic faith by divine design, since God granted him the incomparable privilege and blessing of being at Mary's side, and of raising her own Son with her. In the plan of infinite love, God entrusted him with the most important 'job', the mission of being head of the Holy Family.
Likewise, Saint Joseph is the patron saint of the Universal Church; and he is also, in particular, of many religious communities, institutions and even nations; he is also known as the 'patron saint of good death', as will be explained later.
A mission
God wanted the love of the heart of Joseph of Nazareth to be poured out on Mary, to the point of choosing her as his wife. That love that God inspired was perfected little by little throughout her adult life, even in difficult moments, full of uncertainty. The Scripture says that the angel spoke to Joseph, a righteous man, in a dream: "Joseph, son of David, do not be afraid to receive Mary, your wife, because what has been conceived in her is the work of the Holy Spirit. She will give birth a son, and you shall name him Jesus, because he will save his people from their sins" (Mt. 1, 20-21).
To be the shadow of the Father
The mission entrusted to Saint Joseph was immense, capable of overflowing any human calculation. Facing her, José responded with courage and simplicity; he made no fuss or sought recognition. Quite the contrary, he trusted in God and got down to work – It cost him! There was effort, no doubt! At the same time, his was not to occupy a leading role, his position is reminiscent of the contemplative, which is why he is known as the "saint of silence." However, he will always draw attention to the contrast between everything that was required of him and the 'little' that appears in the biblical story; no word is known that has come out of his mouth -we know that the Gospels do not collect anything-. Of course, his works, his faith and his love remain pristine; the ones that influenced Jesus and forged his character, the ones that cemented his holy matrimony.
Husband and custodian
Together with Santa María, San José suffered the vicissitudes that surrounded the birth of the Messiah. It is enough to remember that he accompanied her pregnant, shortly after giving birth, with the anguish that they did not want to receive them in Bethlehem, just on that cold night in which the Savior of men was born.
It is enough to contemplate the mystery by which the Son of God, entrusted to their care, came into the world in a stable and, a few days later, was taken out of the country to Egypt. It was Joseph who had to organize the flight, as if he had committed a crime, struggling to think only of his goal: to put Jesus in a safe place, away from the murderous hand of Herod. What a joy he must have felt to see how Providence crowned his efforts by keeping his family safe.
Real and exercised paternity
As Joseph was a carpenter, he could not give Jesus luxuries and had to make him live with poverty. Of course, that was no limit to his love: José dedicated all the time he could to take care of his son and teach him his profession. Surely, the attentions of the holy carpenter were more than enough for the Lord to know the affection and guidance of a father. José would not keep anything for himself and would give everything for his son. He knew how to understand Jesus when his mission pressed him, like that time he lost his way and found him teaching in the temple. Even in that José was selfless and generous.
The home in Nazareth was thus an authentic cenacle of love, lived in the perfect presence of God. José spent his best years there, in direct contact with the source of all love. God living with him under the same roof! How many times must Joseph's gaze have crossed that of Jesus! How many times must he have been contemplating the greatness of God present in Jesus as a child, or as an adolescent, or while he became a man! How many times must they have spoken from father to son and shared experiences! And it is that God, in his infinite humility, wanted to allow himself to be educated meekly by Saint Joseph, while he allowed himself to be educated by his own son through his words and his gestures.
Saint Joseph, reason for veneration
There is much wonderful and exemplary in San José for any father who wants to love as God intended. However, for now, it will be worth highlighting one last aspect: San José has been called 'patron saint of good death'. The reason is profound and is not without mystery; The carpenter from Nazareth had the joy of dying accompanied and comforted by Jesus, God made man, and Mary, his wife and Mother of God. On the other hand, the Catholic Church has always had him as 'patron saint' and protector. This special mission was officially made explicit by Pope Pius IX in 1847.
Saint Teresa of Ávila had already deepened and spread the devotion to Saint Joseph as a result of the miracle of the recovery of her health, obtained through her intercession. Teresa used to say: "Other saints seem to have special power to solve certain problems. But God has granted Saint Joseph great power to help with everything."
At another point the saint continues: "For 40 years, every year on the feast of Saint Joseph I have asked him for some grace or special favor, and he has not failed me even once. I tell those who listen to me to try to pray with faith to this great saint, and they will see what great fruits they will achieve".
Saint Joseph's wand
A popular tradition tells that twelve young men tried to marry Mary and presented themselves before her, each with a wooden cane in hand, in the manner of the time. Suddenly, when the Virgin had to choose among all of them, Joseph's staff miraculously blossomed. Maria's eyes, then, fixed on him. It is said that this is the reason why the saint is usually represented with a 'flowered rod' in his hands.
Do you want to delve into the figure of Saint Joseph and increase your devotion to him? You can read this article from the Catholic Encyclopedia: https://ec.aciprensa.com/wiki/San_José