Today Benedict XVI turns 95!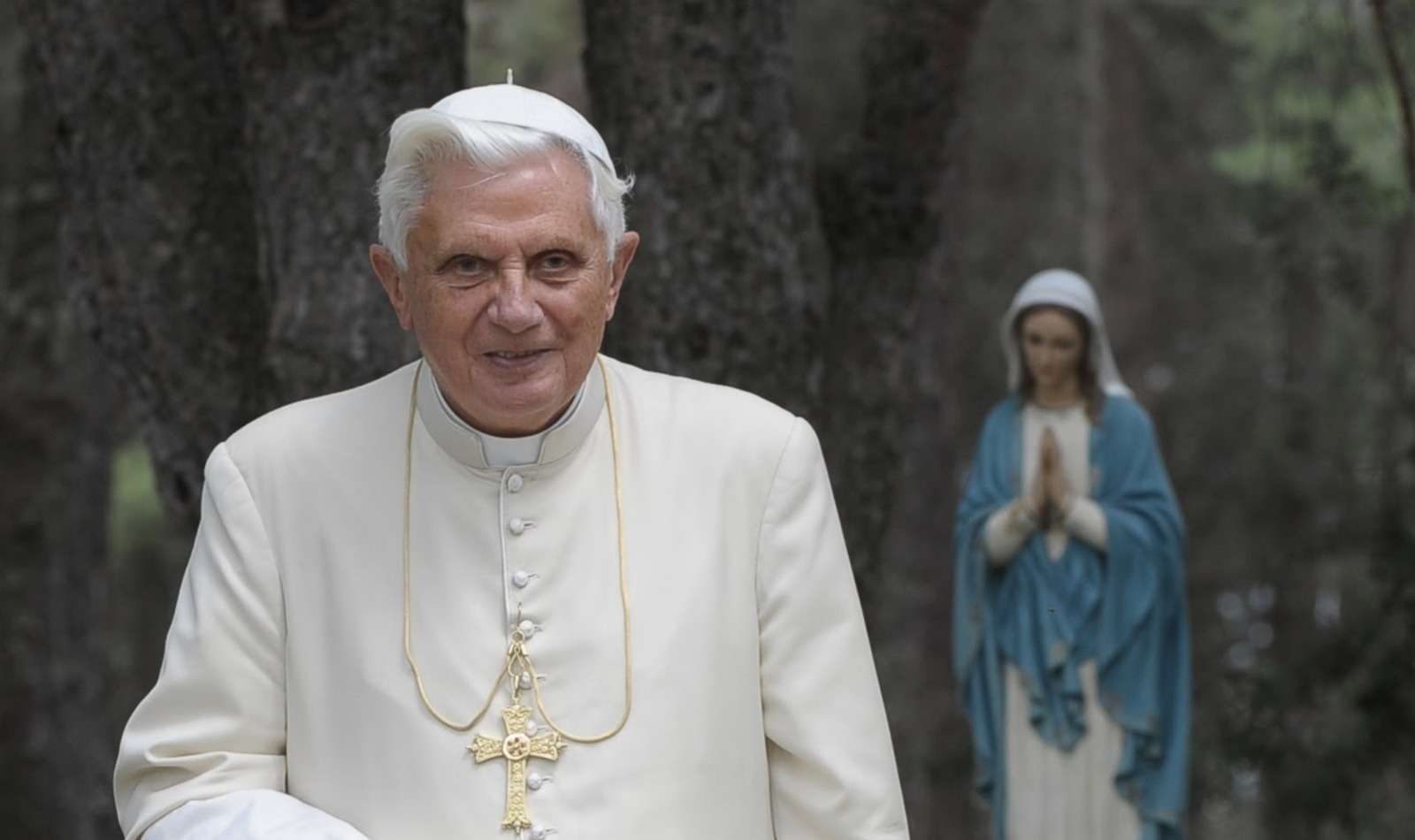 Today, April 16, Holy Saturday, Pope Emeritus Benedict XVI turns 95, and in three days the anniversary of his election in 2005 as the successor of Saint Peter will also be remembered.
Benedict XVI, whose baptismal name is Joseph Ratzinger, was born in Marktl am Inn, in the Diocese of Passau (Germany), on April 16, 1927.
In 1962 he participated in the Second Vatican Council as a theological consultant to the then Archbishop of Cologne (Germany), Cardinal Joseph Frings.
For more than 20 years he served as prefect of the Congregation for the Doctrine of the Faith, during the pontificate of Pope Saint John Paul II.
He was also president of the Pontifical Biblical Commission and president of the Pontifical International Theological Commission. He was also dean of the College of Cardinals.
On February 11, 2013, he announced his resignation from the pontificate, which became effective on Thursday the 28th of that same month. Since then he resides in the Mater Ecclesiae monastery, in the Vatican, where he dedicates himself to study, reading and prayer.
In the documentary "Benedict XVI, the Pope Emeritus", which was released on April 16, 2021, his personal secretary, Msgr. Georg Gänswein, revealed that he tried to dissuade him from resigning the pontificate.
His relationship with Pope Francis
Benedict XVI maintains a close relationship with Pope Francis. Thus, one of the most remembered appearances of him after resigning occurred during the canonization of Saint John Paul II and Saint John XXIII, considered by the press as "the day of the four Popes".
In addition, on February 14, 2015, Benedict XVI attended the creation of 20 new cardinals by Pope Francis, and on December 8 of the same year he was the first pilgrim to cross the Holy Door of Saint Peter's Basilica at the inauguration. of the Year of Mercy.
For his part, Pope Francis has had words of appreciation for his predecessor.
In the General Audience on Wednesday, April 4, 2018, after Holy Week, Francis wanted to remember Benedict XVI in a special way.
"I would also like us to wish a Happy Easter -because he was Bishop of Rome- to dear Pope Benedict, who sees us on television. To Pope Benedict, we all wish a Happy Easter. (All: Happy Easter!). And a loud round of applause," Francis said.
A few days earlier, on March 27, the Vatican reported that Pope Francis visited Benedict XVI to personally convey his Easter greetings.
"The Holy Father, as he does on various occasions, went in the afternoon to visit Benedict XVI to give him his Easter greetings," the Holy See Press Office reported.
In February 2018, Benedict XVI sent a letter to the editor of the Italian newspaper Il Corriere della Sera. He wrote the following: "So many readers of your newspaper want to know how I am spending this last period of my life. I can only say in this regard that, in the slow decline of my physical strength, internally I am on a pilgrimage towards Home".
For Christmas of the same year, Pope Francis visited Benedict XVI; and he did it again on April 15, 2019 the day before his birthday.
Likewise, in an interview published on April 1, 2021 by the German Catholic newspaper Die Tagespost, Benedict XVI expressed his satisfaction with the Year of Saint Joseph proclaimed by Pope Francis and encouraged Catholics to read the apostolic letter Patris corde (Heart of father), a text that he considered "comes from the heart and the heart goes with great depth".
On Wednesday, April 13, Pope Francis visited Benedict XVI to greet him for his 95th birthday. They briefly talked and prayed together, the Vatican Press Office reported that day.
The next day, April 14, the content of Pope Francis' dialogue with the Jesuits on his recent trip to Malta was released. The Holy Father said that "Pope Benedict was a prophet of this Church of the future, a Church that will become smaller, will lose many privileges, will be more humble and authentic, and will find energy for what is essential."
"It will be a more spiritual, poorer and less political Church: a Church of the little ones. As bishop, Benedict had said: let us prepare to be a smaller Church. This is one of his richest insights," he added.