The sympathy and spontaneity of Princess Leonor despite the nerves in her solo act: selfies and confidences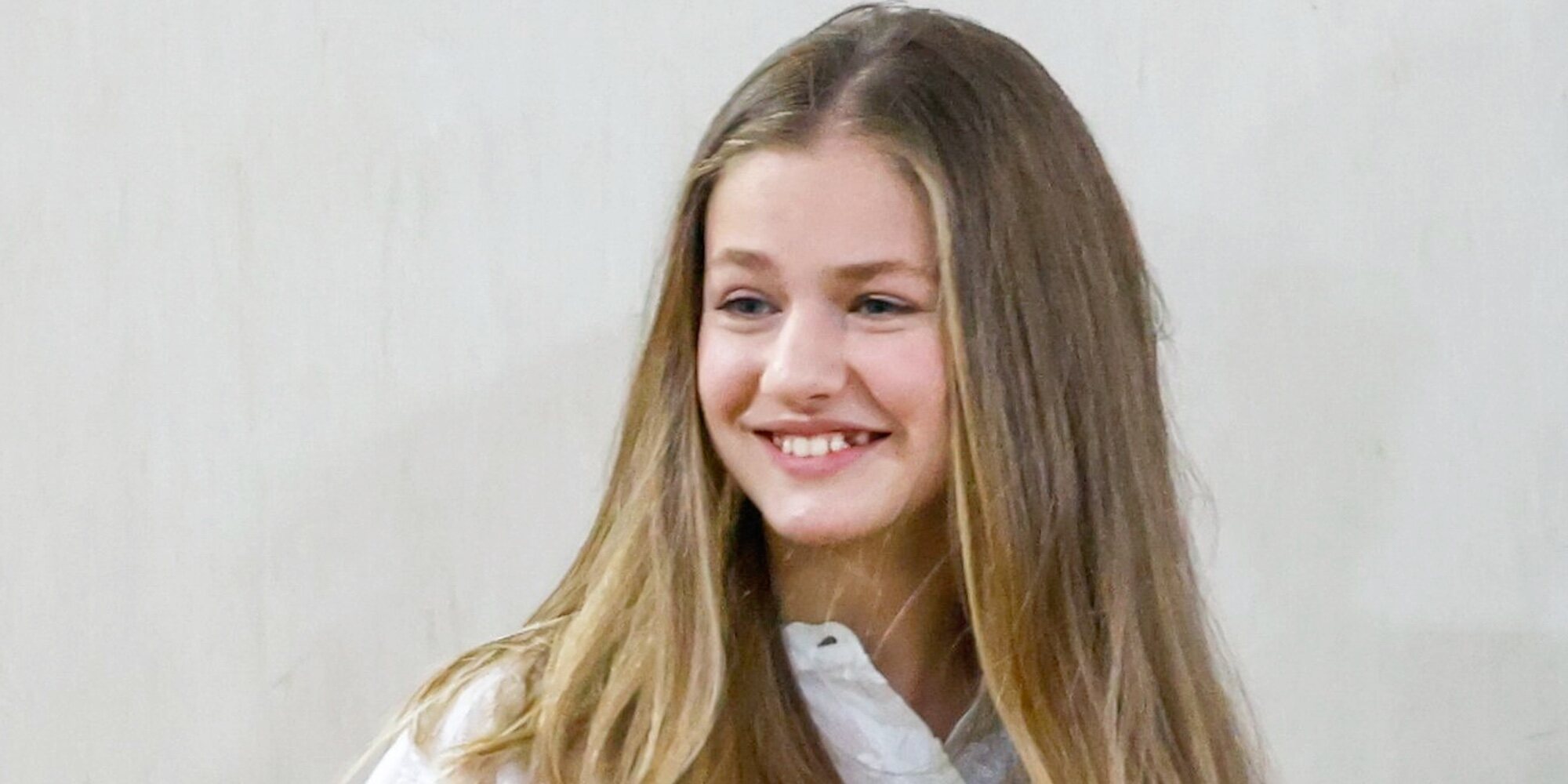 Princess Leonor was nervous during her time in Leganés and it was not for less. Her big debut was on her 13th birthday, when she read Article I of the Constitution. A year later, not only did she attend the 2019 Princess of Asturias Awards, but she also gave her first speech. She would be nervous, clearly, but she had the support and company of Kings Felipe and Letizia and Infanta Sofía. Already in 2021, specifically on March 24, she performed her first official solo act by participating in the celebration of the XXX anniversary of the Cervantes Institute at its headquarters in Madrid. There she even took the opportunity to ask questions in public. She would be nervous, but not too nervous.
However, her second solo act was to make her more nervous. Not only did she not have the presence of anyone from her family, but she was going to be surrounded by many other students, boys and girls her age, which for a more or less shy person could be intimidating, at least at first. To this was added the expectation to see Princess Leonor, who had been in Spain for six days on the occasion of her spring vacation and who had only appeared on a visit to the Ukrainian refugee center in Pozuelo de Alarcón with her parents and her sister, and see her without a mask.
It is true that in the 2021 Christmas inn he had removed it, as well as in his speeches at the 2021 Princess of Asturias and at the Exemplary Town, but this act was the first time without a mask in a long time. This was the way to see how the Princess of Asturias has changed, whose face has experienced the variations typical of her age. Although what caught her attention the most was her different smile when she was missing her two fangs, which seems to have to do with dental treatment to improve her smile and her oral health.
Princess Leonor listens to a young woman at a Conference on Youth and Cybersecurity in Leganés
And so, Princess Leonor appeared at the Julio Verne Secondary Education Institute (IES), Leganés, to attend the Conference on Youth and Cybersecurity: 'Enjoy the Internet with Security', organized by the National Institute of Cybersecurity (INCIBE) . She did it both smiling and nervous, she took a seat in the front row, between two girls, and tried to keep a low profile while the speakers asked questions. She was aware that all her eyes were on her, that her flashes were for her and that her look and her actions could be analyzed.
A massive farewell
Little by little he relaxed and did not hesitate to chat with the people around him. After a round table he was in a debate with 4 students of 1st Bachiller, 5 students of Vocational Training and 1 teacher. Later, he entered the gym with another 500 students, where the conclusions of the day were presented by the general director of INCIBE. Was Princess Eleanor intimidated? Not so much anymore. Little by little, she let go, showing more spontaneous and spoke with some and with others.
Princess Leonor with students from the Julio Verne Institute in Leganés at a Conference on Youth and Cybersecurity
In addition to that, he took photos and selfies with students, with whom he asked. This is how two students told Informalia, emphasizing that she was "very polite and very nice. She told us not to be nervous. That she is one more. She was also a little nervous because there were many people looking at her." And what if there were people. There is more to see the massive photo that she took before leaving. Likewise, Princess Leonor received a lot of applause, shared confidences and even kissed, at least with Pilar Alegría, Minister of Education and Vocational Training. And thus ended this official act of Princess Leonor.