The Practitioner: Ending Explained! What happened to Angel?, he keeps reading and knows the explanation of the ending! – "The Paramedic", is a Spanish suspense film. Directed by Carles Torras and starring Mario Casas, Déborah François and Celso Bugallo. Premiering on Netflix on July 1, 2020.
What is your synopsis? After suffering a serious accident, the life of a paramedic begins to fall apart. Obsessed with the idea that her girlfriend is unfaithful to him, he decides to kidnap her to prevent her from leaving him permanently.
Attention! SPOILERS AHEAD for The Practitioner!
WHAT IS "THE PRACTITIONER" ABOUT?
The story begins with Ángel, a paramedic who suffers an accident while helping an injured person and is left in a wheelchair. Although his girlfriend Vanesa does everything possible to stay by his side, she gets tired of his sick jealousy and leaves him to make your own life.
However, Ángel is not willing to let her go so easily. Months after the separation she finds out that her ex goes out with Ricardo, the companion who was driving the ambulance when the accident occurred, but what drives him crazy is knowing that they will have a child. If you have any questions about the end of The Practitionerwe tell you everything!
EXPLAINED ENDING OF "THE PRACTITIONER"
He manages to summon Vanesa to her apartment to supposedly say goodbye and give them their belongings, but he takes advantage of this to drug her and kidnap her. To prevent her from trying to escape decides to sedate her and tie her to the bed. In addition, he plays music so that the neighbors do not hear the screams of his ex.
With his ex kidnapped, Angel unleashed his killer instinct. Although he had already killed his neighbor's dog because he wouldn't let him sleep peacefully. This time he took it upon himself to kill his neighbor because he heard Vanesa's screams and threatened to call the police.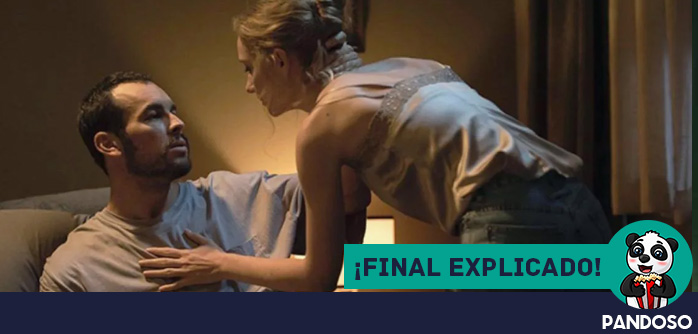 After several months, Vanesa's pregnancy begins to show. Due to Ricardo's constant calls, Ángel finally decides to kill him: so he goes to his apartment, injects him with a sedative and manipulates the scene to make it look like he overdosed from drug abuse.
Time after, Vanesa begins to obey Angel's orders to protect her son and to gain her ex's trust. The plan works for her and one day while her psycho ex is going to the pharmacy, she manages to drag herself out of the apartment.
But before she can ask for help, Angel appears and catches up with her, however, she does not give up, she fights with the little strength she has left and drags herself down the stairs. When Ángel catches her she pushes him down the stairs. Although he survives the fall, he is left a quadriplegic. The practitioner: What does its unexpected ending mean? knows the final explanation of the film.
WHAT DOES THE END OF "THE PRACTITIONER" MEAN?
What happened to Angel? The film ends with a pregnant Vanesa taking Ángel away in a wheelchair. This ending opens the door for her revenge against her captor. Although she decides to take care of him, it is evident that it is not out of compassion, but because she will make him go through the same suffering.
Although they do not show what happens after they leave the hospital, it is clear that Vanesa has not denounced Ángel. On the contrary, she has become obsessed with what happened and she herself will make him pay for her crimes.
It is summed up, the end of this movie has an unexpected twistsince Vanesa, instead of continuing with her life, decided to torture Ángel, who, by the way, was able to have a normal life after the accident, but his obsession led him to end up in worse conditions.
Let's hope that Vanesa's decision to keep Ángel close, do not bring tragic consequences neither for her nor for her son, since although her ex is in a very complicated condition, he knows how to manipulate very well.

MORE INFORMATION: Explanation of the end of "Disomnia" Rate post
The entry The Practitioner: Ending Explained! What happened to Angel? was first published in Pandoso.