The Pope will meet with indigenous Canadian delegations at the Vatican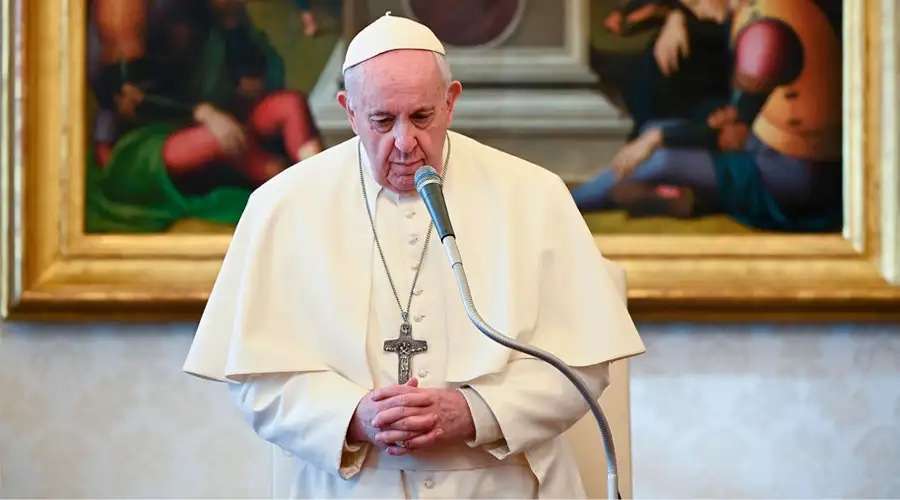 As reported by the Holy See Press Office, Pope Francis will meet on March 28 and 31 with the delegations of Canadian indigenous peoples and their bishops, to listen to the different testimonies.
Likewise, as specified by the director of the Press Office, Matteo Bruni, an audience with the Pope will be held in the Sala Clementina of the Apostolic Palacein which these delegations and the Canadian Episcopal Conference will participate.
This meeting was scheduled to take place in December 2021, however it had to be postponed due to covid measures that prevented delegations from traveling from Canada to Rome.
A small group of Canadian bishops, together with leaders of Canada's First Nations, the Inuit and the Métis, will have private audiences with the Holy Father.
In Canada, indigenous peoples are known as "First Nations". Currently, there are 634 First Nations communities in the country and, according to the 2016 census, it comprises a population of more than 975 thousand people.
First Nations communities are indigenous peoples who lived south of the arctic region of present-day Canada, while the Inuit resided in the arctic region. For their part, Métis communities share both indigenous and European heritage.
The closeness of Pope Francis
The event is part of the pastoral process of reconciliation with the indigenous peoples of Canada, to whom the Holy Father has shown his closeness on numerous occasions.
In fact, this meeting, originally organized for December 2021, was little announced after the graves of 215 indigenous children were found at a former residential school in the province of British Columbia.
Although the schools were of a different nature and were managed by different educational organizations, some of them belonged to the Catholic Church and other Christian denominations.
As a result of what happened, it was the leaders of the delegations of the indigenous peoples who planned a visit to the Vatican to request a formal apology from Pope Francis for the role that the Church played in this school system.
At the Angelus on June 6, 2021, Pope Francis said he joined "the Canadian bishops and the entire Catholic Church of Canada to express my closeness to the Canadian people, who have been traumatized by this shocking news."
In addition, he stressed that this discovery, which he defined as "terrifying" and "sad", "increases our awareness of the pain and suffering of the past." "May the political and religious authorities of Canada continue to work together with determination to shed light on this sad event and humbly commit themselves to a path of reconciliation and healing," he added.
Pope's trip to Canada
Likewise, on October 27, 2021, the Vatican announced that the Pope would soon travel to Canada to promote this reconciliation.
Although the date of this trip has not yet been made officialPope Francis accepted the invitation of the Episcopal Conference of Canada, which invited the Holy Father to make an apostolic visit "in the context of the long-standing pastoral process of reconciliation with indigenous peoples."