The Pope invites the Queen of Peace to pray for the end of the war in Ukraine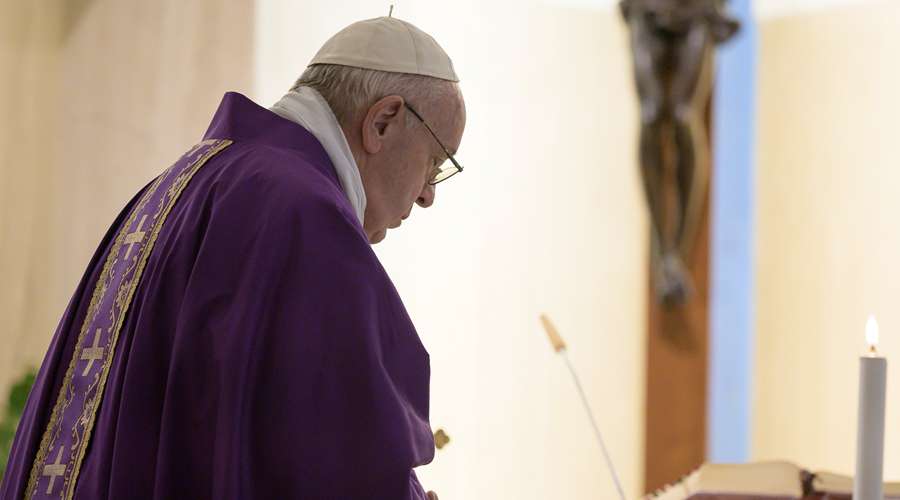 Pope Francis invited the Queen of Peace to be invoked to "spread her mantle over us" and grant peace to Ukraine, which has been invaded by Russian military forces since February 24.
The Holy Father said this on March 5 in a message that he shared through his official Twitter account @Pontifex_es.
The Pontiff has requested on several occasions to pray for peace in the world and has encouraged people to pray and fast for this intention.
Here is the prayer proposed by Pope Francis:
"Let us ask the Queen of Peace to
spread your mantle over us:
Under your shelter we welcome,
Holy Mother of God;
do not despise the pleas that
we direct you in our needs,
Rather, deliver us from all danger,
Oh ever Virgin, glorious and blessed!
#PrayTogether #Ukraine #Peace pic.twitter.com/0WZtBTcpBw

– Pope Francis (@Pontifex_es) March 5, 2022
Day of fasting and prayer for peace
On February 23, Pope Francis lamented the "worsening of the situation in Ukraine" and called on everyone to hold an extraordinary day of fasting and prayer for peace this March 2, Ash Wednesday.
At the end of the General Audience that took place in the Paul VI Hall of the Vatican, the Pope said: "I have great pain in my heart because of the worsening of the situation in Ukraine."
"Despite the diplomatic efforts of recent weeks, increasingly alarming scenarios are opening up. Like me, many people around the world feel anguish and concern. Once again, the peace of all is threatened by partisan interests," the Pope said.
In this line, the Pontiff launched a call "to political leaders so that seriously examine your conscience before God, who is the God of peace and not of war; that he is the Father of all, not just of some, that he wants us to be brothers and not enemies."
"I pray that all parties involved refrain from carrying out any action that could cause even more suffering to the population, destabilizing coexistence between nations and discrediting international law," the Holy Father said then.
In addition, Pope Francis made a call "to all, believers and non-believers" because "Jesus taught us that the diabolical senselessness of violence is answered with the weapons of Godwith prayer and fasting".