The Pope entrusts himself to the Virgin of Saint Mary Major before his trip to Malta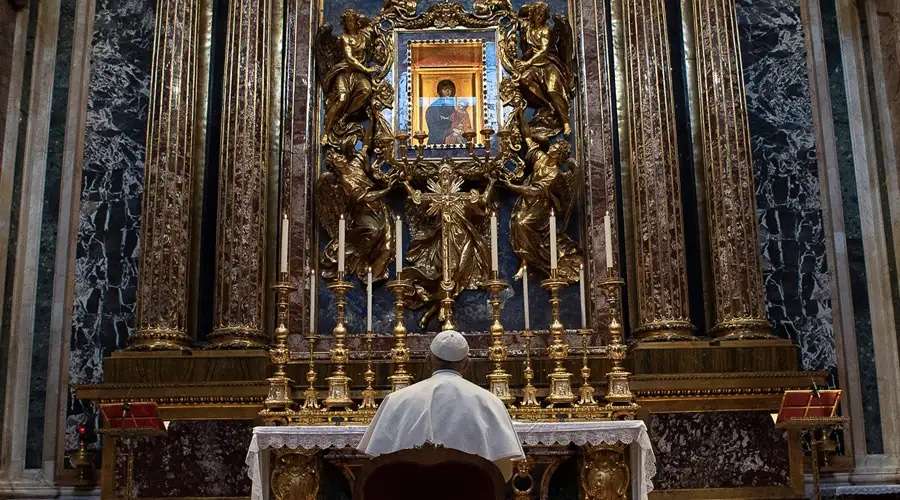 On the afternoon of this Friday, April 1, a few hours after beginning his trip to Malta, Pope Francis went to the Basilica of Santa Maria Maggiore in Rome to pray before the Virgin Salus populi romani.
This afternoon, Friday, April 1, Pope Francis went to the Basilica of Santa Maria Maggiore to pray before the icon of the Virgin Salus Populi Romani and to entrust his next trip to Malta. #PopeinMalta
📷 Press Office of the Holy See pic.twitter.com/lepL2e8Kry

– ACI Press (@aciprensa) April 1, 2022
The Holy Father usually go to this basilica before and after each international apostolic trip to pray before this ancient Marian icon dedicated to the patronage of Mary Protector of the Roman People.
The image of this Virgin is found in one of the four basilicas of the Italian capital, located a few meters from the Termini train station, where hundreds of people undertake their journeys every day.
The Holy See confirmed the Pope's trip to Malta on February 10, and It will be tomorrow, Saturday April 2when the Pontiff lands on this Mediterranean island at 10 am
During this visit, the Pope will meet with the President of the Republic, George William Vella, and also with the Prime Minister, Robert Abela.
He will also receive the authorities and the diplomatic corps, before whom he will deliver his first speech. Shortly before 4:00 pm, he will go by catamaran from the Grand Harbor of Valletta to the Port of Mgarr.
At 5:30 pm he will participate in a prayer meeting at the Ta' Pinu National Shrine in Gozo, where he will give a homily and then depart from the Port of Mgarr for Malta.
His return to Rome is scheduled for Sunday, April 3 at 7:40 p.m., after having presided over Holy Mass in Piazzale dei Granai, in Floriana, and meeting with migrants at the "Giovanni XXIII Peace Lab" Center in Hal Far.
During the General Audience on Wednesday, March 30, Pope Francis stressed that he will travel to Malta as "pilgrim in the footsteps of the apostle Paul."
The Pope pointed out that Malta is a "luminous land" and on his next international visit he will be "a pilgrim in the footsteps of the apostle Paul, who was welcomed there with great humanity after being shipwrecked at sea while on his way to Rome".
In addition, the Holy Father said that "this apostolic journey will be the opportunity to go to the sources of the proclamation of the Gospel, to meet personally a Christian community with a millenary and lively history, to meet the inhabitants of a country that is in the center of the Mediterranean and in the south of the European continent, today even more committed to welcoming so many brothers and sisters who seek refuge".