The Pope encourages nuns to renew their commitment to "evangelize by educating"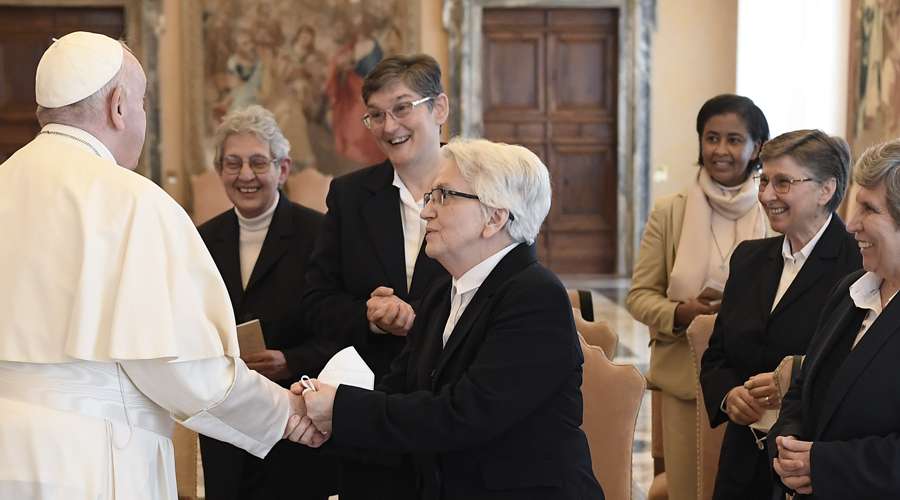 Pope Francis encouraged this March 18 to "evangelize by educating and educate by evangelizing" because "there is no work more generating than that of education."
This is what the Holy Father said on March 18 when receiving a group of nuns from the Congregation of the Sisters of Santa Dorotea, a female religious institution of pontifical right founded in 1834 by Santa Dorotea de Paola Frassinetti.
In his speech, the Pontiff quoted a phrase from Santa Paola to encourage the nuns in their mission.
The Pope stressed that the mission that God entrusted to its foundress and that has become her mission consists of "evangelizing by educating and educating by evangelizing."
"To the extent that they are faithful to this mission, they will be a generating presence in the Church. That's right, we all know from experience, because we have all had the experience of being educated, in the family, in the school, in the parish… In a certain sense, there is no more generating work than that of education", he warned. Pope.
Along these lines, the Holy Father stressed that this charism and mission "are always relevant, but I would say that particularly today, in a cultural and social context that requires a new educational pact."
For this reason, the Pope encouraged them "to give the best of yourselves again and again to rekindle your commitment to and with the new generations", renewing their passion for an education that is "able to listen patiently, to dialogue in a constructive and mutually understanding.
In this way, the Holy Father invited to always cultivate communion, avoiding gossip, and to encourage "fraternal participation" to avoid "closing oneself in narrow circles" or "letting oneself be guided by personal or selfish interests", but rather "letting oneself be guided by the Spirit of love, with docility, confidently repeating the invocation: Show us the path to follow all together".
"Dear sisters, at this moment in history marked by a strong crisis, first with the COVID-19 pandemic and now with a war that hurts everyone, I urge you to continue on your way, carrying forward the educational method of Santa Paola: on the path of the heart and of love, so that each human being becomes the author of their own destiny", concluded the Pope.