The eight grandchildren of Queen Elizabeth, united at the vigil in her honor before the state funeral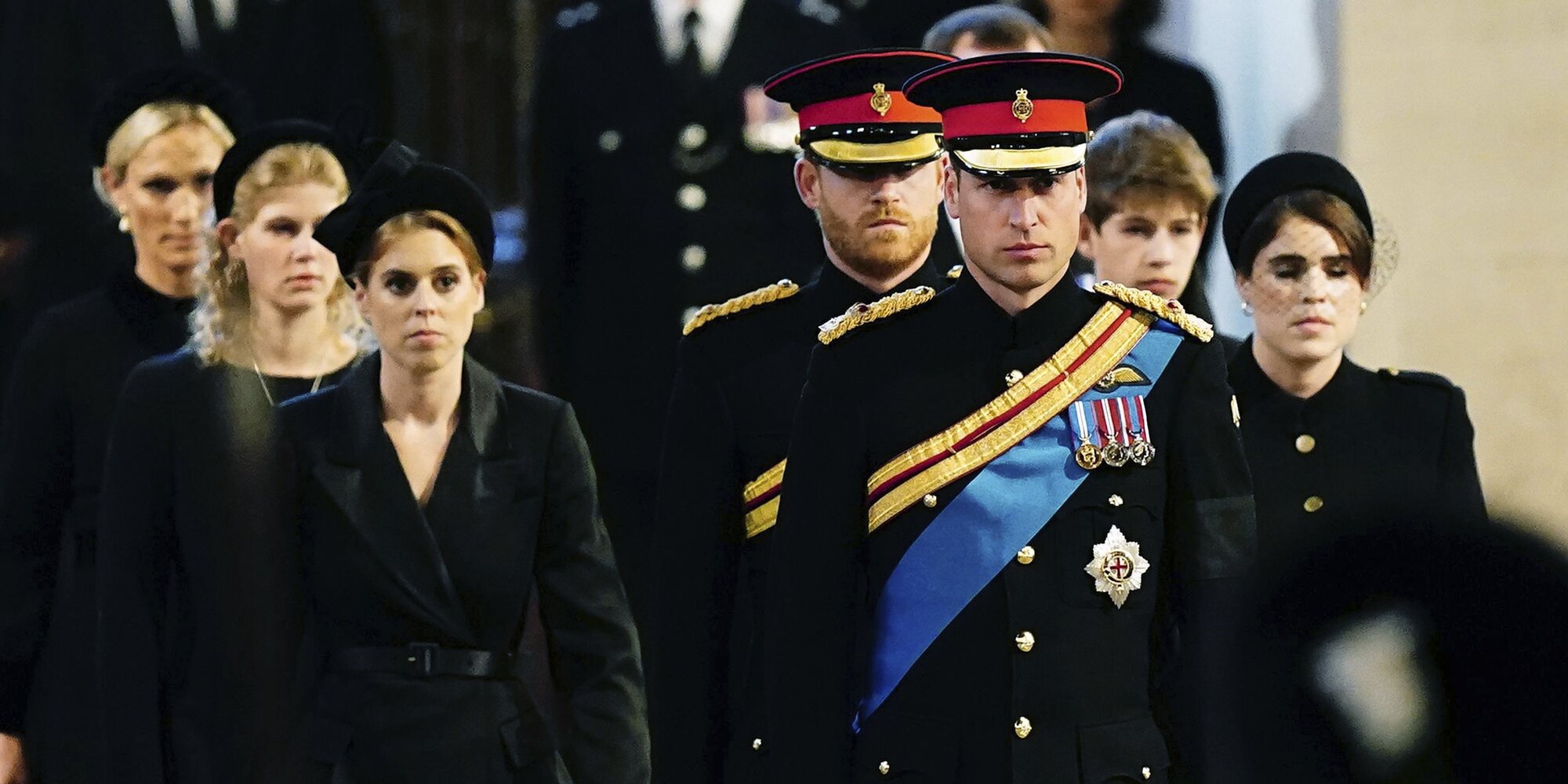 Shortly before the State funeral of Queen Elizabeth takes place, a vigil was held in which the leading role was monopolized by the eight grandchildren of the deceased. While on Friday, September 16, a mass was held in which King Carlos and his brothers met, now his children have taken the witness. Princes William and Harry, Peter and Zara Phillips, Beatriz and Eugenia de York, and the youngest, Lady Louise and James, have been the main protagonists of an image that is also already part of history.
The grandchildren of Queen Elizabeth II parading at the vigil in her honor before the state funeral
The eight grandchildren in parade mode began to descend the stairs at the same time in the midst of silence. The group was led by Prince William, who was followed by his brother Prince Harry and his cousins, the sisters Eugenia and Beatriz de York. Behind them were the children of Princess Anne, Zara and Peter Phillips, while the last were the children of Prince Edward, Louise and James, the youngest of all the grandchildren of the monarch who has shown great maturity in this act.
The cousins ​​have been placed in front of the entrance of Westminster Hall and have walked with a firm step, advancing towards the coffin where the mortal remains of Queen Elizabeth rest. Everyone has had to coordinate as if it were a military parade, moving to the beat.
Princes William and Harry at the vigil for Queen Elizabeth II before her state funeral
Later they surrounded the coffin with their backs and with their heads bowed as a sign of respect, remembering all the moments they had been able to share in life together with their grandmother, or 'granny', as they affectionately called her. The eight have remained in that position, motionless, for 15 minutes, watching over the coffin of Queen Elizabeth, who died on September 8 at the age of 96.
The detail in which his four granddaughters have agreed
Likewise, it has been possible to see a common detail between the four cousins. The granddaughters of the deceased have chosen very different outfits, always in mourning, because Eugenia de York has chosen a buttoned coat, Beatriz de York has opted for a blazer, Zara Phillips wore a velvet dress, and the youngest of the four, Lady Louise, has chosen a black jacket, however, there was a point of connection between the four, who were wearing a large black headband.