Cloud: Ending Explained! Did Virginia Manage to Survive? Keep reading and find out the explanation of the ending! – "The Swarm", is a French drama and horror film. Directed by Just Philippot and starring Suliane Brahim, Sofian Khammes and Marie Narbonne. Premiering on Netflix on August 06, 2021.
What is your synopsis? follows a single mother who raises lobsters to sell as high-protein food, but has a hard time getting them to reproduce…until she realizes how much they love blood.
⚠️Attention! SPOILERS for The Cloud Ahead!
WHAT IS "THE CLOUD" ABOUT?
The story begins with Virginie Hebrard, a single mother who he raises edible lobsters on his farm, to try to support their two children, Laura and Gaston. However, things don't turn out the way she expected and instead of making a profit he only makes a loss.
After suffering an accident, Virginie discovers that her lobsters (grasshoppers) they are not normal and have a strange taste for blood. Since, when he became unconscious, the insects were drinking from the blood that came out of one of his wounds.
EXPLAINED ENDING OF "LA CLOUD"
Time after, he notices that the insects got bigger and began to multiplyso, desperate due to economic problems and conflicts with her children, she decides to feed the creatures with what they like so much.
After this, things began to go better, sales increased, she managed to pay her debts, and also changed the conditions for her children. However, Virginie lost control of her in her attempt to get blood for your lobsters and not lose your business.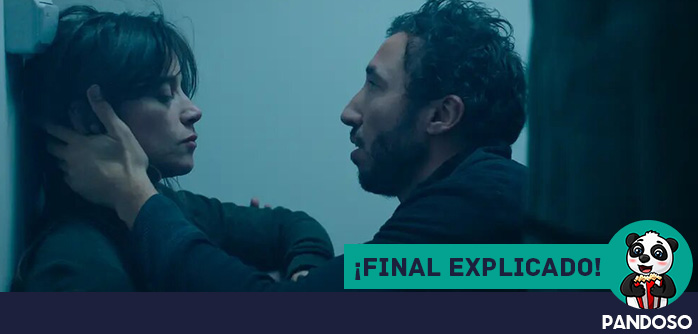 The obsession to feed her lobsters reached such a point that she herself wounded her body to give them her blood. Everything got worse when the liters of blood that she had requested did not arrive on time, so he began to sacrifice other animals to feed his insects.
When Laura returns from taking her brother to a camp, she finds her mother in the greenhouse naked and covered in insects. Horrified by the scene, she locks herself in her room and decides to ask Karim, a friend of her mother, for help.
When Karim goes to the Greenhouse, finds the dead body of the neighbor who had gone in search of his dog, which Virginie sacrificed to feed the insects. She immediately realizes that something terrifying is happening in that place, so she decides to set it on fire.
WHAT DOES THE END OF "THE CLOUD" MEAN?
Did Virginia Manage to Survive? Just then, Virginie sees that her locusts are being killed, so she tries to save her business, causing the insects to escape and attack them. Karim tries to take refuge but is killed, Laura and Virginie meanwhile, they run and hide for protection of the huge cloud of insects.
Laura reaches a lake and hides under a small boat, Virginie seeing that her daughter is in danger, she cuts off her hand to attract locusts to her. The insects after feeding on Virginie, fly away from the place.
Virginie became so obsessed with feeding the lobsters and not losing her business that she was unaware of the problem she was causing. She didn't even stop when Laura broke the greenhouse and released some of the insects, which they attacked Gaston and killed his goat.
It was not until the end that he saw his daughter in danger that he reacted and decided to face the insects. Although she fed them her blood and then they flew away, the danger has not passed since now a bunch of bloodthirsty locusts are free.