The awkward moment of the Royal Family posing after their dinner in Mallorca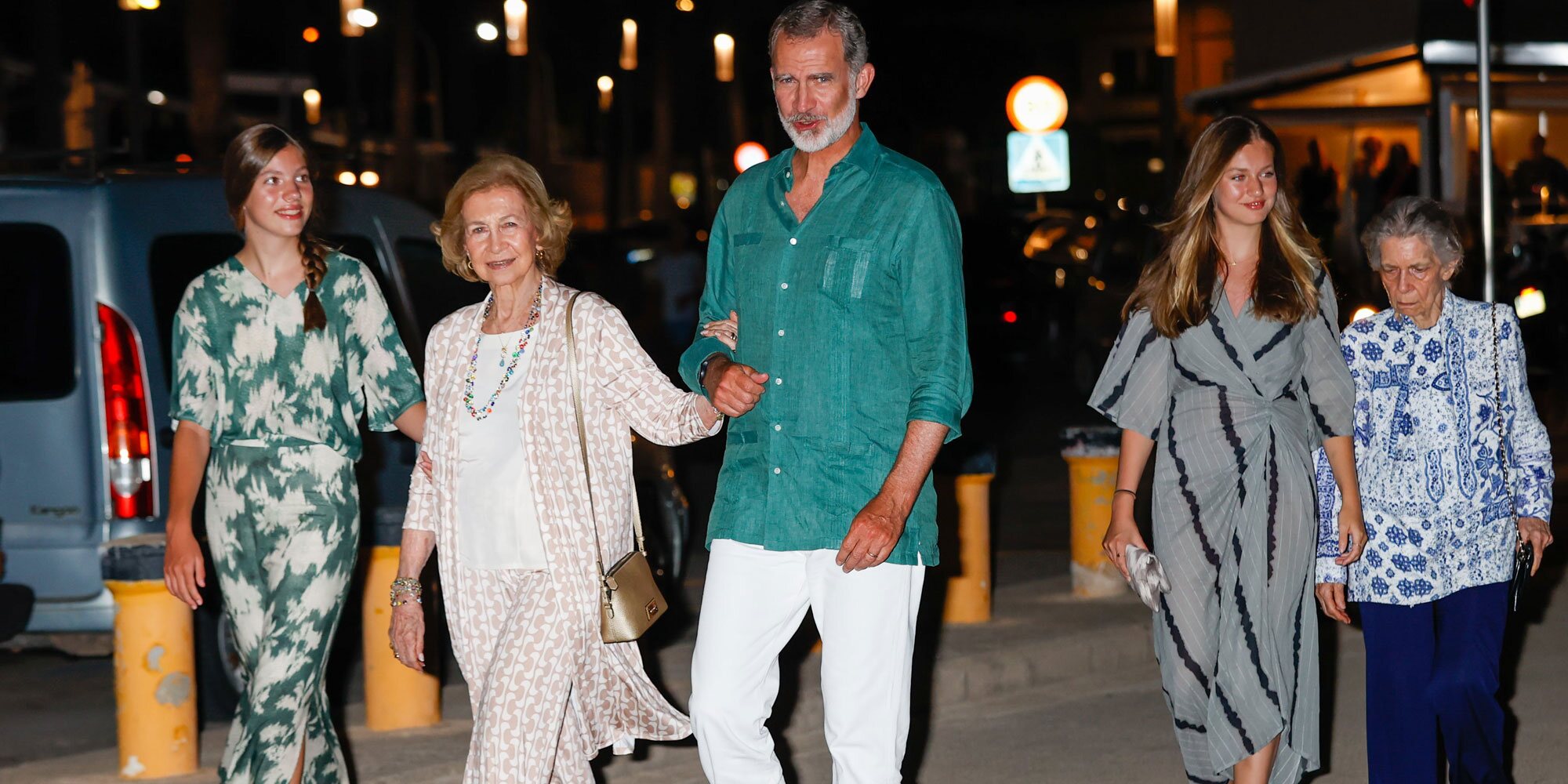 It is customary that in addition to his official appearances and being able to see King Felipe at the Palma yacht club and competing in the Copa del Rey de Vela, there are one or more outings of the Royal Family during their summer stay in Mallorca. Thus, the only thing missing was to know when the 2022 event would take place, which arrived on the night of August 5, 2022, one day after the reception of authorities and personalities from the Balearic Islands in Marivent and one day before the awarding of the trophies of the Copa del Rey de Vela.
Kings Felipe and Letizia, Princess Leonor, Infanta Sofía and Queen Sofía looking at Irene of Greece after a dinner in Palma
Don Felipe and Doña Letizia, Princess Leonor and Infanta Sofía, Queen Sofía and Princess Irene of Greece went to the Ola del Mar restaurant, located in Portixol, Palma. After enjoying a private dinner, they left the premises to head for Marivent, where they all stay during their stay in Mallorca.
It was then that images of the Royal Family and Irene of Greece could be taken, which showed how affectionate King Felipe, Infanta Sofía and Queen Sofía were, all of them arm in arm. A little later, Queen Letizia, the Princess of Asturias and Irene of Greece were walking, and there, Doña Leonor had a gesture with her great-aunt, to whom she put her hand on her shoulder as a sign of appreciation.
Queen Letizia, Princess Leonor and Irene of Greece after a dinner in Palma during their holidays in Mallorca
Already in the same line they stopped to pose so that a portrait of the six could be taken, a picture in which they all seemed to be comfortable, or rather, almost all of them, because it did not seem that Irene from Greece was enjoying the scene too much . In fact, already at the exit of the restaurant there was an awkward moment when Princess Irene fell behind behind her. The Royal Family stood up and Doña Letizia gestured for her to join them all in this unofficial pose that was obviously prepared.
Aunt Peco
Queen Sofia's sister had no choice but to join the group, and therefore the posed, but while everyone smiled and was relaxed, Princess Irene's face showed that the last thing she wanted was that rain of flashes with which immortalized this family dinner. Irene de Grecia has lived for more than four decades in La Zarzuela, although she came and went when she was younger, trying not to bother and not interfere in the life of her sister's family.
King Felipe and Queen Letizia, Princess Leonor, Infanta Sofía, Queen Sofía and Irene of Greece after a dinner in Palma
Everyone loves Aunt Pecu, as they call her in the family, and although she is grateful for the love they give her and for having offered a home to this princess who until 2013 would have been as stateless as her brother Constantine of Greece, she prefers to stay in the background and disturb as little as possible.