the appearance of things: Ending Explained! Did George Died? Keep reading and find out the explanation of the ending! – "Things Heard & Seen", is an American suspense film. Directed by Shari Springer Berman and starring Amanda Seyfried, James Norton and Karen Allen. Premiering on Netflix on April 29, 2021.
What is your synopsis? A couple from Manhattan move into an old house in the Hudson Valley, where they discover that their marriage hides a sinister darkness that is unleashed upon arrival at their new home.
⚠️Attention! SPOILERS for The Appearance of Things Ahead!
WHAT IS "THE APPEARANCE OF THINGS" ABOUT?
The story starts with Catherine and George moving with his little daughter Franny, to an old and lonely house in the middle of the forest. Although Catherine is not very happy about leaving life in Manhattan, she decides to do it for George's new job.
Shortly after her arrival, Catherine begins to witness ghostly events in her new home, and as she tries to adjust to her new life, the strange occurrences begin to upset her. So, she decides to search for more information and discovers a dark secret. If you have some questions about the end of the appearance of thingswe explain everything to you!
EXPLAINED ENDING OF "THE APPEARANCE OF THINGS"
At night Catherine begins to notice a strong smell of gasoline, She also finds a ring in the kitchen, and from that moment begins to see the shadow of a woman in the house. However, George thinks they are just hallucinations of his wife.
After this, Catherine discovers that the young people who work in her house previously lived in it, until a tragedy occurred. Well, it turns out that Calvin, the previous owner, tried to murder his family by leaving their cars running in the garage.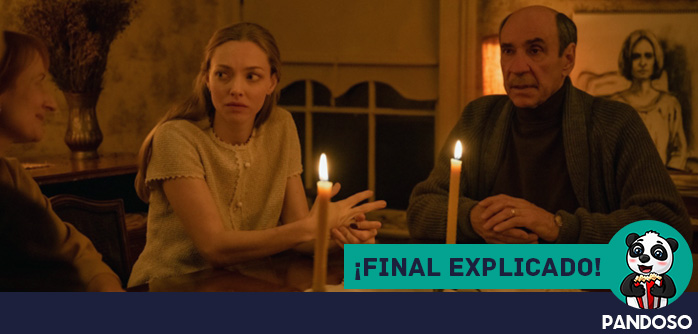 In this fact Calvin and his wife Elle, died. But his two sons Eddie and Cole survived, and they are the ones who are working on the house now. Since Catherine hired them without knowing their history. She tries to talk to George about what's going on, but he gets upset and aggressive.
Catherine decides to organize a séance, where she realizes that the spirit that inhabits the house belongs to the previous owner who tries to protect her from George. She then understands that the spirits haunting her home are former residents of the house, who were killed by their husbands.
After this, we learn George's secrets, he stole his cousin's paintings, has a mistress and forged a letter of recommendation to get a job as a teacher. Floyd found out about his lies, and to prevent him from reporting it, he took him on a boat and threw him into the sea. The Appearance of Things: What does its enigmatic ending mean? knows the final explanation of the film.
WHAT DOES THE END OF "THE APPEARANCE OF THINGS" MEAN?
George died? Floyd wasn't the only one who knew his secrets, Justine confronts him and threatens to expose him., but George causes a car accident, leaving her in a coma. The situation is out of control to the point that he begins to hear evil voices.
Catherine realizes that her husband is possessed and tries to leave him, but he sedates her and brutally murders her with an ax. She subsequently prepares an alibi so that she will not be blamed for the murder. After this, George returns to her house in Manhattan and believes that she has gotten away with it.
However, Justine is awakened from her coma by the spirits of Catherine and Elle to testify against them. The film ends with the apparent death of George, who, finding himself discovered and with no way out, decides to take a boat and flee to the sea.
But he won't get away that easily, as the spirits of Catherine and Elle come together to punish him for his actions. The photograph at the end shows that the ring apparently goes from victim to victim so that the last one tries to help the next one and save her from the curse of the house.