Splatoon 3 | Review – More and more in shrimp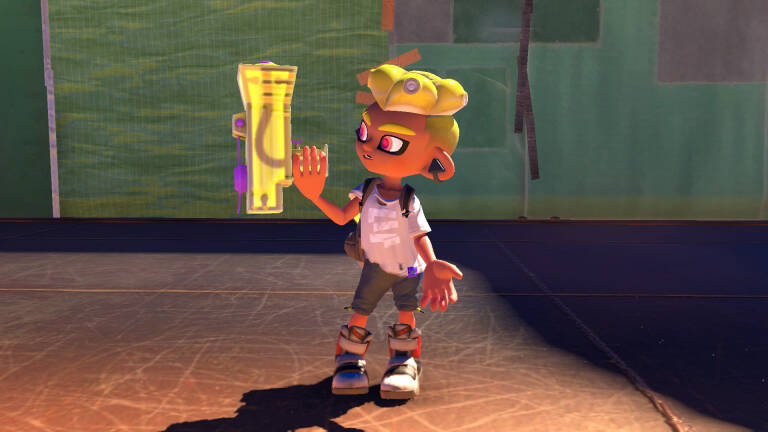 You can't start talking about Splatoon 3 in a review without rethinking the history of this fresh, but already very prolific franchise.
Splatoon 3

Platform: SWITCH Genre: Shooter Release Date: September 9, 2022 Developer: Nintendo Distributor: Nintendo
For those who have not already gone to the bottom of the article looking for a vote and a box of pros and cons, remember when the first Splatoon came out for the unfortunate Wii U? On May 28, 2015that in the world of video games seems like an eternity and a half but in reality it is only seven years.
Period in which Nintendo, company that often capitalizes enormously on existing IPsinstead launches a new one investing with three main products and a full-bodied DLC (another relatively new practice at the time) for the second chapter.
Curiously, the first Splatoon was already a complete product, without the technical backwardness of Wii U in managing the voice chat, precisely because it started from such a solid concept that it did not seem necessary to add much new.
The Nintendo splattatutto that overturned the rules of the shooters completely eliminating the need to kill opponents and in which, for the uninitiated, you win by smearing the largest surface of the map with the paint of your team's color, it was a video game that offered a few "firsts".
It was the first video game strongly oriented to online multiplayer for Nintendo, a project also rejected at the beginning by Shigeru Miyamoto who, among other things, proposed for the first time a completely free post-launch support. Dynamic, this, then also learned from many other exponents of the competition genre.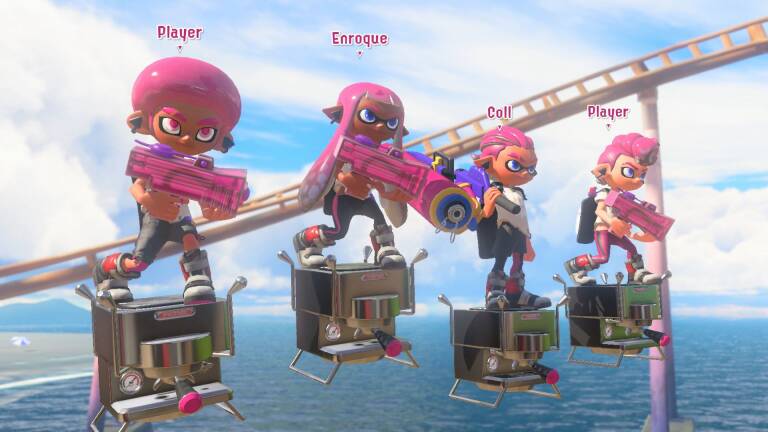 For those lucky enough to play Splatoon on the Wii U pad in 2015, the feeling was that of having in your hands something really new, fresh.
So much so that Splatoon 2 turned out to be an excellent game despite not adding so many new features, but unfortunate in the media exposure because it came out in the launch year of Nintendo Switch, in the midst of a triplet of giants: The Legend of Zelda: Breath of the Wild, Super Mario Odyssey and Mario Kart 8 Deluxe.
Splatoon 3 arrives at the propitious moment.
There is a big one moment of general tired in the world of video gamesbetween poor supplies for next-gen consoles and the many postponements of the most anticipated video games. Nintendo Switch is heading towards a turning point and slows down your breath (albeit continuing to drop bombs like Xenoblade Chronicles 3), waiting for other games that will fill the calendar of 2023.
While the shooter full of paint and squid comes to its third episodeyou even earn a limited edition of Nintendo Switch OLED (this one, which you can buy on Amazon), it's time to see if Splatoon 3 still has something to add to the franchise.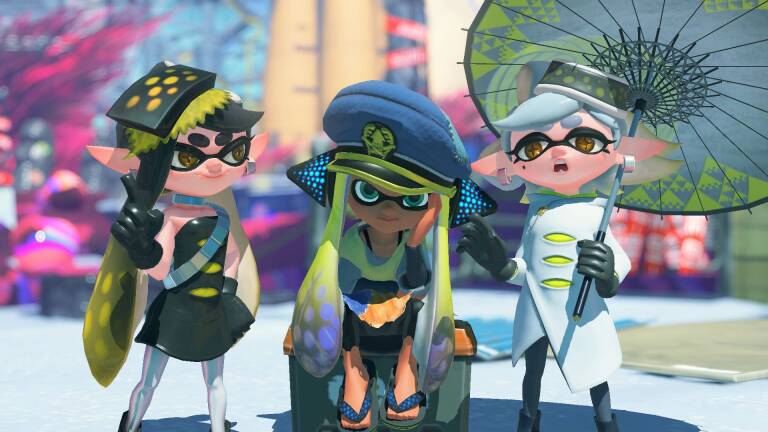 Splatoon 3, a colorful review
The most noteworthy novelty is undoubtedly the renewal single player modean evolution of what we saw in the previous chapter, made with much more care. But we must be very clear: the centerpiece of Splatoon 3 is online multiplayer.
The single player section is full-bodied, with interesting ideas and structure worthy of the namebut once completed there won't be much you can do in the game.
If you were hoping to find a complete raison d'etre in Splatoon 3 outside of online games, this it is not the splatter you are looking for.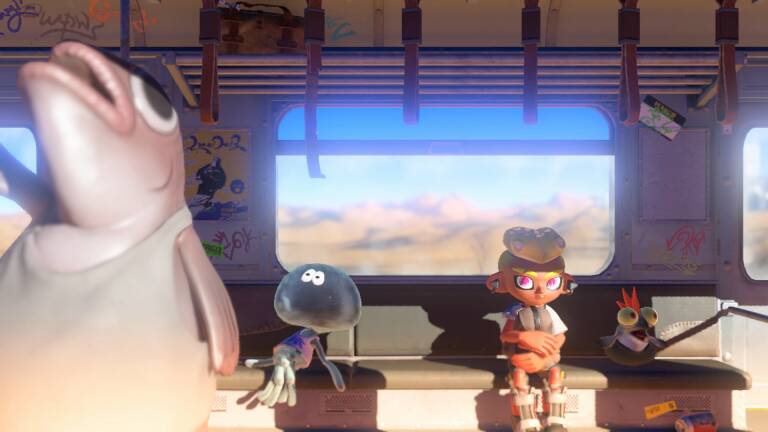 Despite this, it is interesting how the mode is able to expand the lore of Splatoon, for those who have perhaps also followed the modest but worldbuilding inspired built by Nintendo over the years.
The incipit in fact sees a mysterious one hairy mold invading the world of Alternaa sort of alternative world of Splattonia, and between old acquaintances and small twists, your inkling will have to save the situation from the perfidious machinations of a mysterious alien.
The post-apocalyptic scenario with which we learned about the game from the first trailers quickly gives way to, it must be said, an anonymous winter world.
The glance of the world of Alterna it's definitely not the strong point. You will find yourself in front of five islets very similar to each other, practically identical, in a glacier to explore with closed areas to be unlocked by collecting fish eggs, to be used to break the clusters of hairy mold that block the path.
If the aesthetics of Splatoon 3's "campaign" mode is not at all engaging, even though it has funny cutscenes and bewitching secondary characters, what is striking is the construction of challenges same.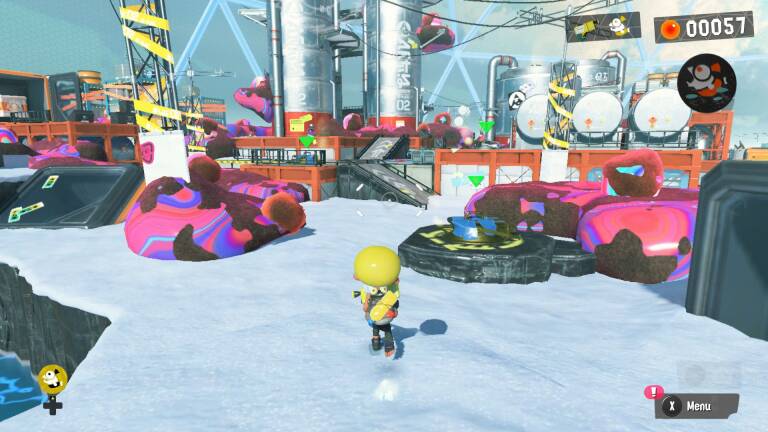 In full Nintendo platform style, each islet has one series of levels to complete, plus collectibles to unlock hidden in the areas blocked by the aforementioned hairy mold. Going straight to complete the adventure will take you around ten hours, but unlocking everything will be a much more challenging undertaking.
The levels are closed stages, each with its own precise concept. Very often you will have three sets of equipment to choose from to face the scenario, but there are also more particular solutions.
Some levels will force you to use only grenades or the Salmonello (the pet that keeps the inkling company and which can be launched to interact with the game world), or you will play without ever being able to refill the ink, you will never have to be hit or you will only have to fire a limited number of shots.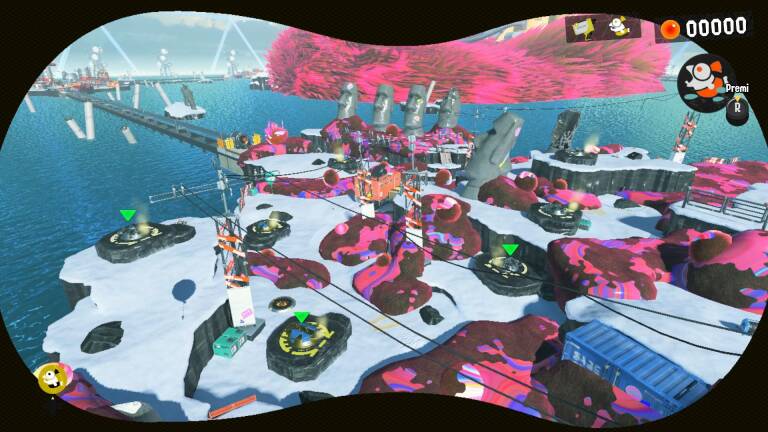 A clear improvement compared to the timid modalities present in the previous chapters. Among other things, it is not mandatory to complete all the levels, some are optional and even very demanding at times, therefore they lend themselves to being highly replayable for those who want to unlock everything.
In addition to a set of special weapons and equipment for multiplayer, successfully completing all the levels and freeing the whole map from mold guarantees you many collectibles such as objects to furnish the cabinet of your inkling, tracks from the soundtrack, items from the archive to explore the lore and some card packs to play Splattanza, the integrated card game (which unfortunately we were unable to try).
Finally, the campaign mode is definitely the best way to familiarize yourself with all weapons and equipment of Splatoon 3, which will then be the tools of the trade for the heart of the game: online multiplayer.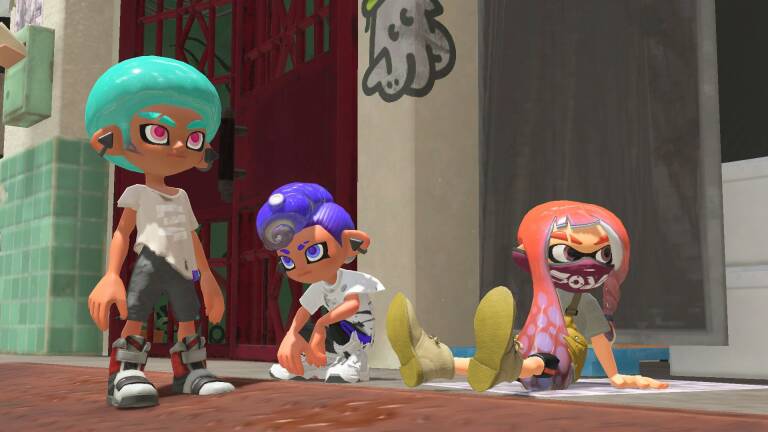 Splitting everything and everyone without restraint
As mentioned in the introduction, Splatoon had already found the square of the circle in terms of gameplay since its first appearance. Therefore, Splatoon 3 does not upset anything because it does not need it, as we had already anticipated in our preview.
First of all we find ourselves in Splatville, the gaming hub where you can navigate before joining the fray.
Once again it will be possible unlock weapons and buy clothing which, in addition to making your inkling more fashionable than ever, guarantees the possibility of unlocking benefit fundamental to the character. Each outfit (head, body, shoes) can have one to four perks, which are unlocked simply by accumulating experience points as you play.
Plus it will be possible customize some of these perksby removing or exchanging them, purchasing and unlocking skill shards to create your perfect build.
Each set of equipment consists of a main weapon, a secondary, and a special weapon which is unlocked by smearing the maps or by splatting.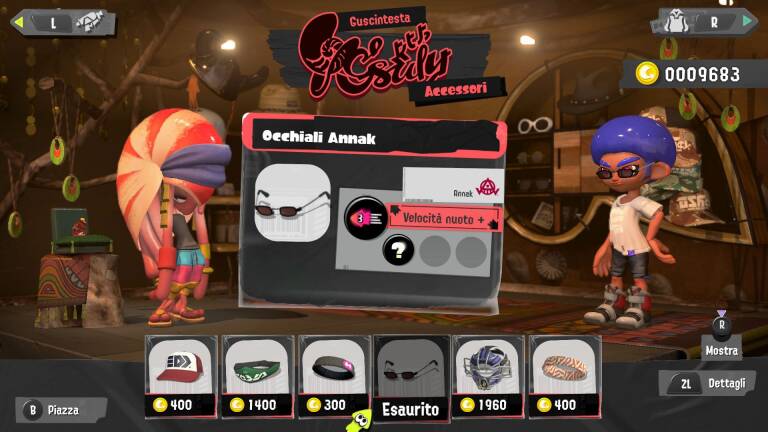 Splatoon 3 offers predefined setsmore and more powerful and important as the levels advance. In general, the players who invest more time are rewarded with the possibility of unlocking better sets, but the discriminating factor for victory and defeat always remains the skill of the players and the ability to react strategically to the progress of the game.
In this sense, the title extends the offer even more with many new weapons and skills. You'll find giant windshield wipers that act as an inking broadsword, umbrellas that allow you to parry and throw self-propelled shields, and special weapons of all kinds from giant tank-tanks to motorcycle-sharks that explode on command.
The pace of play is even faster and more dynamic. One game led to another and after our limited testing sessions we were left with the desire to play for hours and hourslike when we first discovered Splatoon in 2015, and beyond.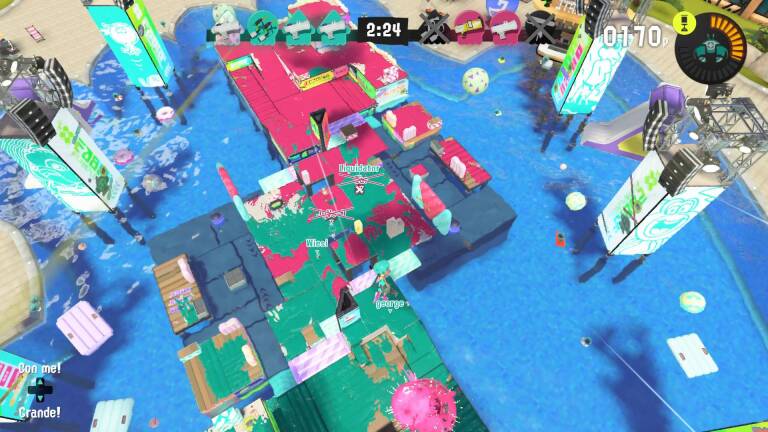 Thanks to the many offensive solutions, every type of player has bread for his teeth, whether he wants to move quickly around the map and splatter everything, or play more in defense or positioning: Splatoon 3 is fun for both champions and newbies.
Also thanks to a really great map designwhich always offers different solutions and therefore leads to always playing differently from one game to another. It should be noted that, in some extreme cases and in some maps, we found ourselves in very overwhelming situations with the opposing team in full control of the spawn, which virtually blocked any return to play after a kill.
It has happened a few times, but in some maps the risk spawnkill it's real. It must be said that Splatoon 3 offers the possibility to move even on inked walls, and to return to the game alongside a companion in the middle of the map and not from the spawn.
With full awareness of these tools it is desirable that the spawnkill risk can be eliminated, or strongly decreased.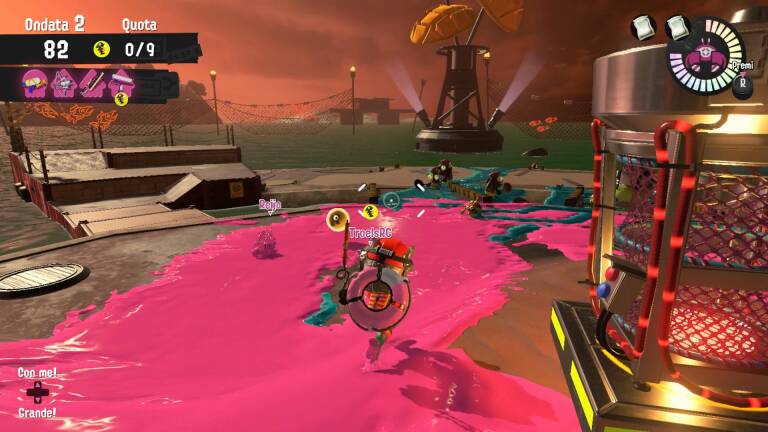 In addition, the Salmon rushthe cooperative "horde" mode, in an even deeper key.
You can select them some modifiers, ranging from the random generation of weapons turn by turn to the type of salmonoids that appear, all of which can be tackled with online matchmaking or some friends in a private match.
A fun way to complete a very generous offerthe best of the franchisewhich further evolves its formula and delivers us a Splatoon 3 which, for gameplay and art direction, it probably is one of the best expressions of that Nintendo Difference which is often taken for granted.