Shin-chan: Me and the professor on summer vacation – The endless journey of seven days | Review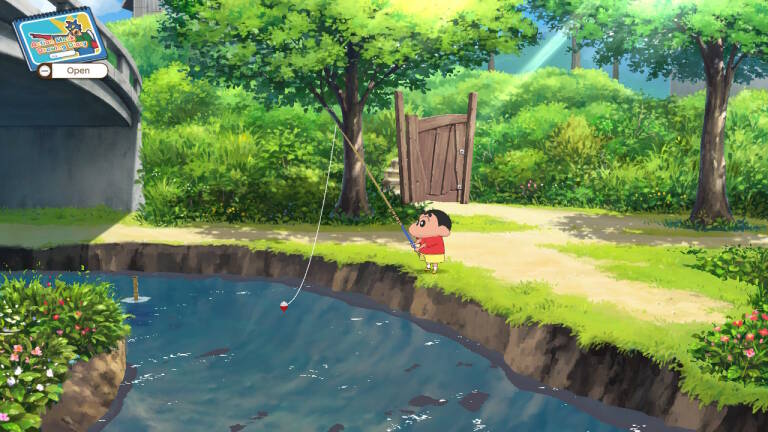 Boku no Natsuyasumi (translatable as "my summer vacation") is a name that won't say anything to most Western players. This series, quite famous in Japan, is known for being particularly relaxingas each title features a child on vacation, usually in the Japanese countryside; no objectives, no complex gameplay mechanics, only carefree days spent among swaying blades of grass and cicadas songs.
Due to its peculiar nature, the series has never been brought to the West, with one exception; In 2013, the spin-off Attack of the Friday Monsters arrived on Nintendo 3DS! In Tokyo Tale, probably one of the best titles ever released exclusively on the digital store of the Nintendo laptop.
Almost ten years later, the series finally returns to peep into our territories, with a new chapter developed by the historic Millennium Kitchen team. The only big difference is that this time the game has an unexpected license, that of Shin Chanpopular manga and anime series that also in Italy has enjoyed some success thanks to the passages on Italia Uno.
Shin-chan: Me and the professor on summer vacation – The endless seven-day journey is already available on Nintendo Switch, PlayStation 4 And PC. We couldn't miss the opportunity to cover a series that is still a big unknown for us, so we tested it for you. And we already want to give you a little spoiler: if you love relaxing games you will definitely want to play them – and we need more games in this series. Trust me.
Holidays never end
Shin-chan: Me and the professor on summer vacation – The endless seven-day journeywhich we will simply call Summer Vacation from now on, presents us with a rather simple story, which combines the daring atmosphere typical of Shin-Chan with the tradition of Boku no Natsuyasumi.
At the beginning of our adventure, the Nohara family (consisting of Shinnosuke, that is Shin-Chan, father Hiroshi, mother Misae, little sister Himawari and the family dog ​​Shiro) are in the process of leave for vacationwhile Hiroshi is on a business trip.
Their destination is Aso, a rural town in Kumamoto prefecture, where a childhood friend of Misae's is staying. Shortly after their arrival at the Kumamoto station, the family members come across a strange man, Doctor Akuno, who will give Shinnosuke a special camera.
We will soon discover that Doctor Akuno is one crazy scientistand that he too is in Aso with the intention of putting his latest device into operation, with goals that are anything but crystalline.
We will not tell you more about the history of the game. Unlike the classic titles of the series, where there is no horizontal plot of any kind, Shin-Chan's holidays offer a narrative, which breaks the rhythm of the days of pure summer relaxation.
In this aspect (and not only), Summer Vacation is very reminiscent of Attack of the Friday Monsters on Nintendo 3DS. In both cases, in fact, the light-hearted rhythm of the holidays is accompanied by a story that tells us of looming threats to the city.
It may seem paradoxical, but the two things go well together: the feeling of danger will never affect your enjoyment of the holidays and, indeed, the presence of a story will make you appreciate your stay in the Kumamoto prefecture even more.
Aso will be the destination of our holidays.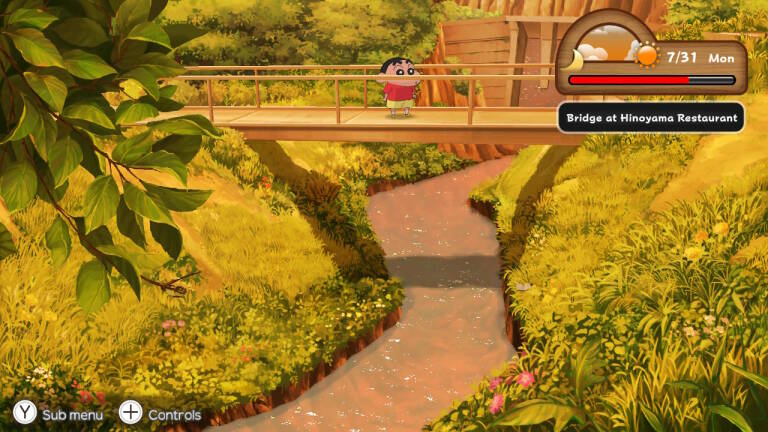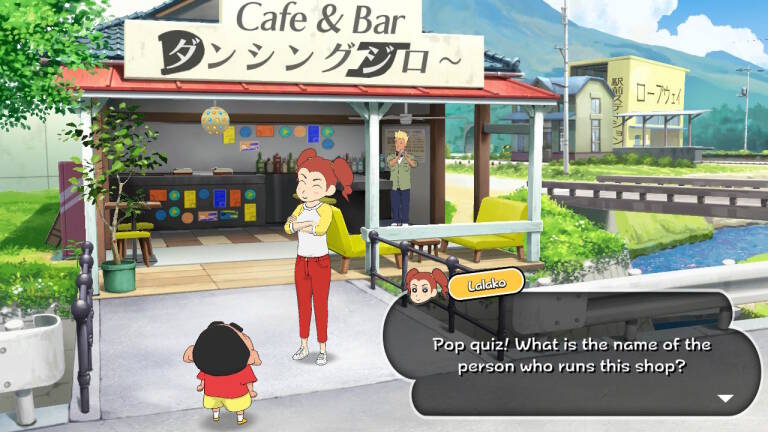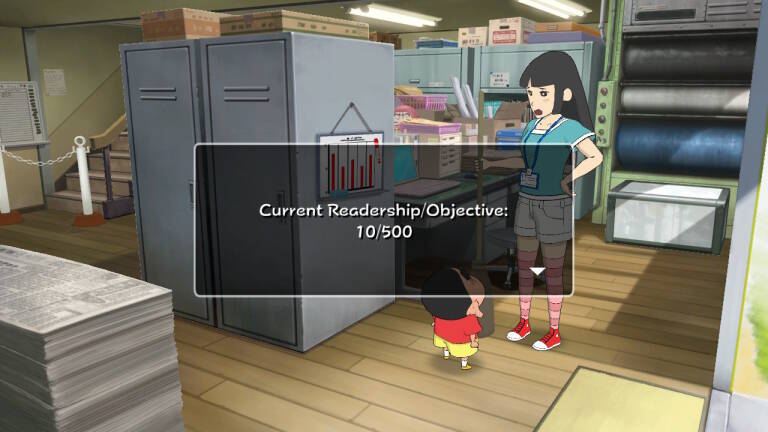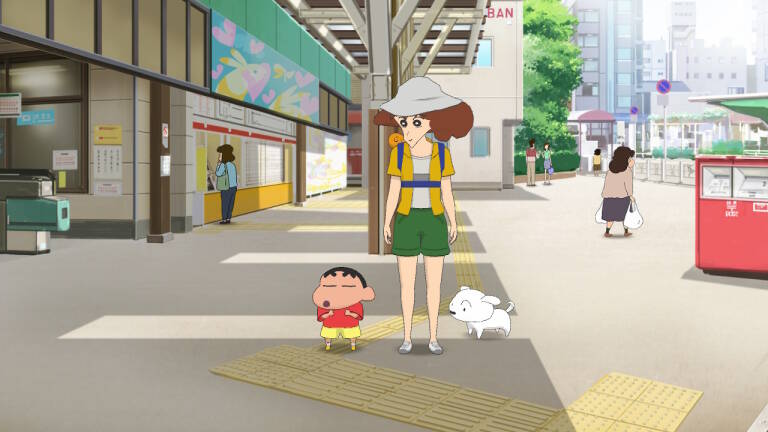 Aestheticallythe game is a real gem. The backdrops, made by hand, are all splendid to see; the colors are vibrant and bright, and everything seems to be alive in front of us. Our test took place on Nintendo Switch, and even in portable mode the game makes an impression (if you are looking for a Nintendo Switch, you can take advantage of the excellent prices on Amazon).
The most surprising part, however, is the way the characters were made, following the style of Shin-Chan's anime without distorting it. It really seems to be in front of one series of episodes of the animeonly that they are playable and that we can roam at will in beautiful rural Japan. The developers have managed not to clash the styles of the two series and to make them meet in a pleasant way without distorting either of them, thus obtaining a result that is anything but obvious.
As for the audio sector, the presence of the original cast of voice actors the anime of Shin-Chan; obviously only the Japanese voices are available, but the care taken in this sector will be appreciable even for those who do not chew the language.
The soundtrack consists mostly of environmental songs, obviously, designed to make the atmosphere of a carefree holiday in the countryside. Maybe they are not songs that will remain in your head outside the matches, due to their more "delicate" nature, but believe us: they will be able to lull you into a state of calm and serenity like few other titles can do.
Talking to the villagers will be one of our main activities (but no Italian).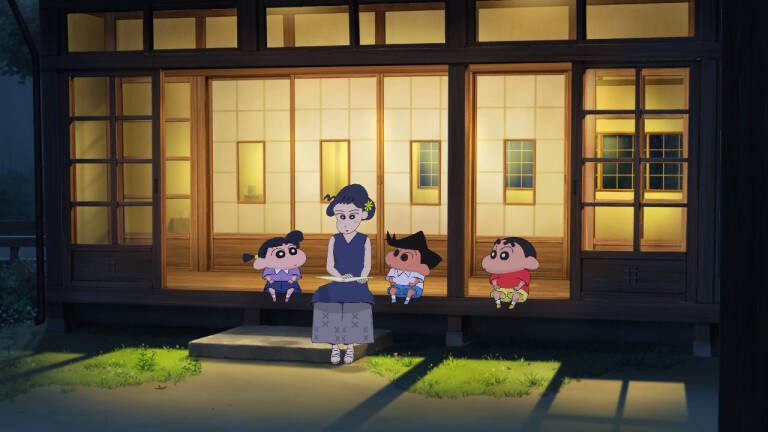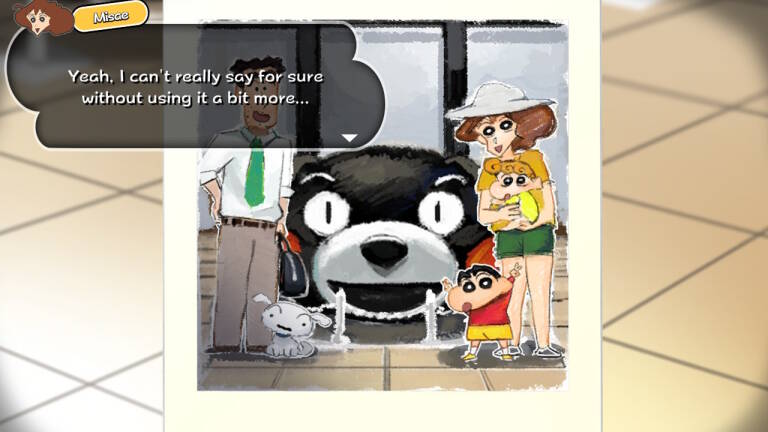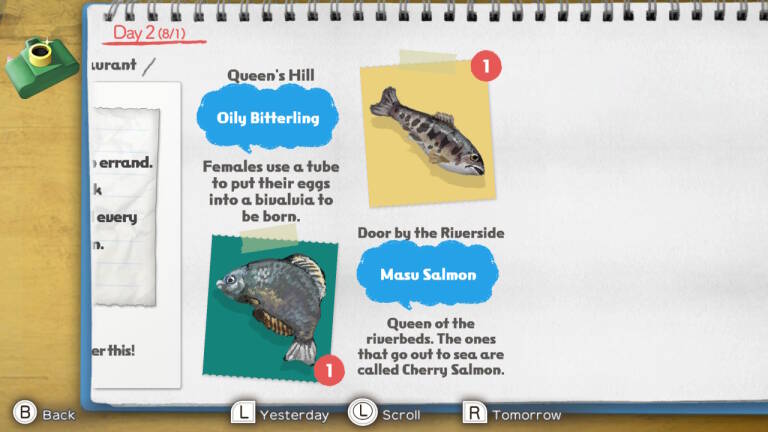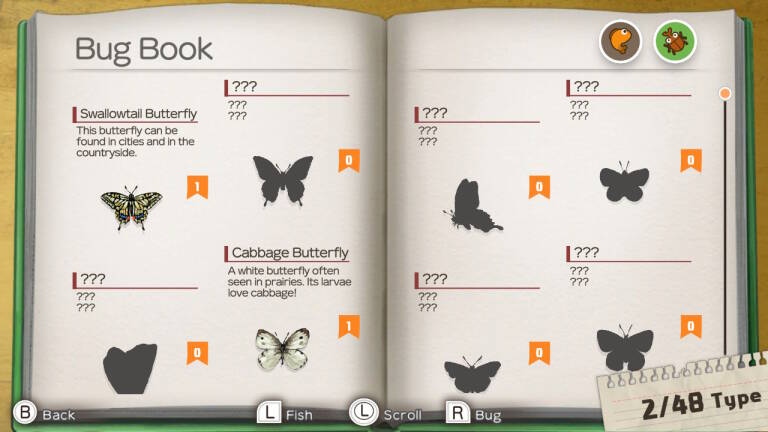 Between relaxation and mad scientists
We come then to the game of this Summer Vacation. For the few of you familiar with Attack of the Friday Monsters, the gameplay structure has remained, broadly speaking, similar to that. For those unfamiliar with the series, Summer Vacation can be compared, in a certain sense, to Animal Crossing, probably the series closest to this conceptually, at least among those popular in our area.
In fact, we will not have a specific purpose in the game: we will be able to move freely (or almost) in the city of Aso, talking to its inhabitants, running errands for them or engaging in carefree activities such as fishing and catching insects.
In some cases, certain "missions" assigned by the characters will give birth to some mini storiescalled episodes, which can be viewed in a special menu. Their presence, however, does not clash with the light-hearted rhythm of the game: our first and only goal here is to relaxas if we were really on vacation with Shin-Chan (if you want to recover some history of the character, we recommend this collection in Italian available on Amazon).
So don't expect complex gameplay mechanics: everything is assigned to the pressure of a few, simple keys. The only element we will have to pay attention to is Shin-Chan's energy bar, which will need to eat from time to time to avoid fainting and having to be brought home by her mother.
The game structure, or rather the lack of a structure, and its simplicity do not make it absolutely a title for everyone. It is an overused expression, which could apply to any game; in this case, we use it because it is a way of understanding the video game very different from what we are used toand without the right expectations you could be very disappointed with this experience.
Certainly could not miss the fishing.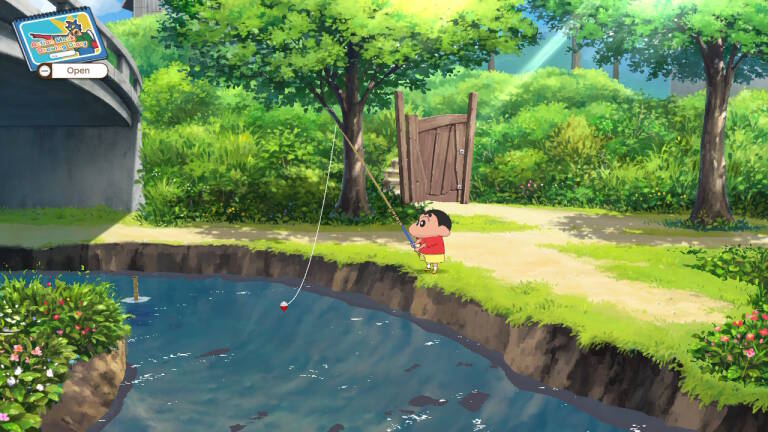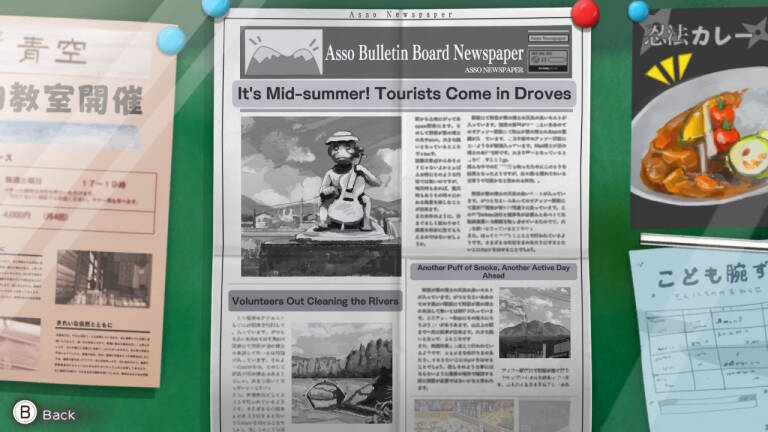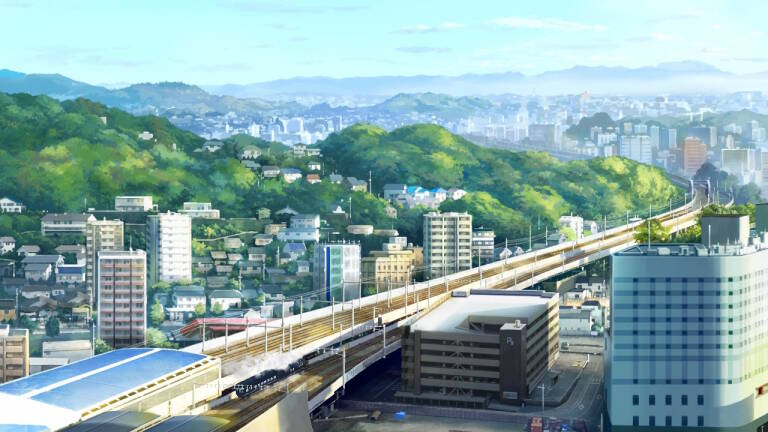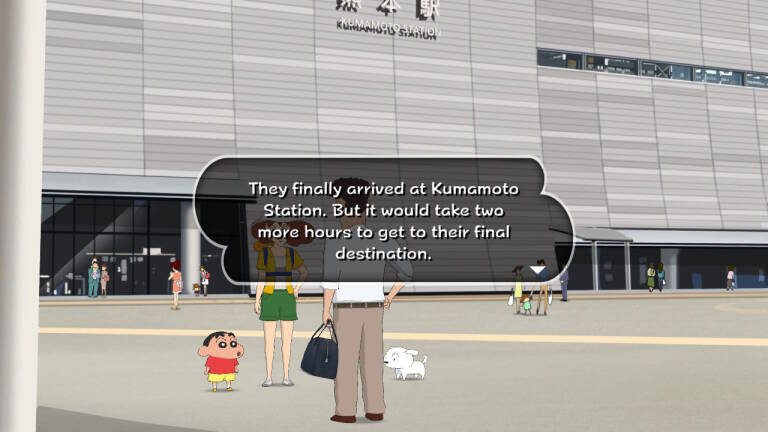 You will have limited time to do whatever you want in Aso, because the days go byas well as the days, and the holidays are not infinite; except that, as the title says, at some point they will become (we don't tell you how), and you will realize that the time to explore all of Aso is much more than you think.
Despite the absence of objectives, the game proposes some small activities to carry out and complete. In addition to the errands and story episodes we told you about, you can collect various items, as well as fish and insects, creatures for which there is a catalog to complete (again, think of Animal Crossing).
We want to emphasize once again, however, how these activities are secondary to the heart of the game. You are a child on vacation: everything that happens must be seen in this light, including the fun of a child full of imagination who runs carefree in the Japanese countryside.
We are already at the end of the summer, but Summer Vacation is really a perfect title for this season. And not only. It is the perfect title whenever you need to relax, to dream with the eyes of a child in the shade of a forest, while in the background the chirping of cicadas sets the rhythm of your fantasies.
It is a difficult game to review according to our standards, and it is also difficult to find real flaws in an experience like this. Of course, there would be something to improve. On all the camera: sometimes its positioning does not help to understand our actual position with respect to certain objects (how long it takes to catch insects, sometimes!) and other times it is positioned too high, making Shin-Chan a difficult dot to maneuver.
However, these are small things that do not affect the experience. Precisely for this reason we recommend Summer Vacation to all players in the mood to try something new, as long as knowing how to give up the frenetic pace we are used to.
Version reviewed: Nintendo Switch