Megalomaniacal explosions, breathtaking action scenes, speeding vehicles, indiscriminate punches and kicks and gunfire. Lots of shots. This all seems like an old formula and very well known in Hollywood productions, I'm sure you can name at least fifteen films like this without having to think too much.
This is also the initial formula for Trem-Bala, a feature that hits theaters in August, with a robust cast and a shocking budget. But if we are in 2022 and so many of these films have already been produced, what is it that still draws attention to bring people to the cinema?
Bullet Train / Sony Pictures (play/credits)
Trem-Bala chose Japan as his background, using and abusing aesthetic and visual references, cast, culture, fighting style — ranging from sword-wielding to reality-defying martial strikes — and photography. Even though 90% of his scenes take place, of course, inside the bullet train, Japan and its elements are constantly present.
The cast, headed by Brad Pitt, already consecrated in action films, it still manages to embrace Aaron Taylor-Johnson, Logan Lerman, Joey King, Bryan Tyree Henry, Andrew Koji, with participation of Sandra Bullock and even Bad Bunnygive more connection to the project and deliver the true essence of the feature.
not format "a story with many stories", Bullet Train plays with an almost complex script, uniting several different stories that crossed at some point, and now face each other in an almost claustrophobic environment. And it is between the wagons and the train stops that all these characters have to face each other, dialogue, flee and, of course, shoot.
Bullet Train / Sony Pictures (play/credits)
Even with several very diverse nuclei — Japanese, Mexican [elemento central da trama de El Lobo, interpretado por Bad Bunny] and the other individual plots that took the characters there — the script manages to divide the narratives very well without the main story being lost or the rhythm being diluted: the film holds the attention and entertains its audience from beginning to end.
The film's best moments, however, may be left in the hands of Aaron Johson e Bryan Tyree Henrywho play the brotherss "Lemon" and "Tangerine". They manage to present us with the best comic relief – which don't even rely on the actors' appearance or on dated and/or offensive jokes. Brad Pitt also has his good moments, and Bad Bunny brings a unique freshness to the screen, surprising with his acting and charisma and delivering action from the first to the last minute of his, unfortunately, not so long appearance.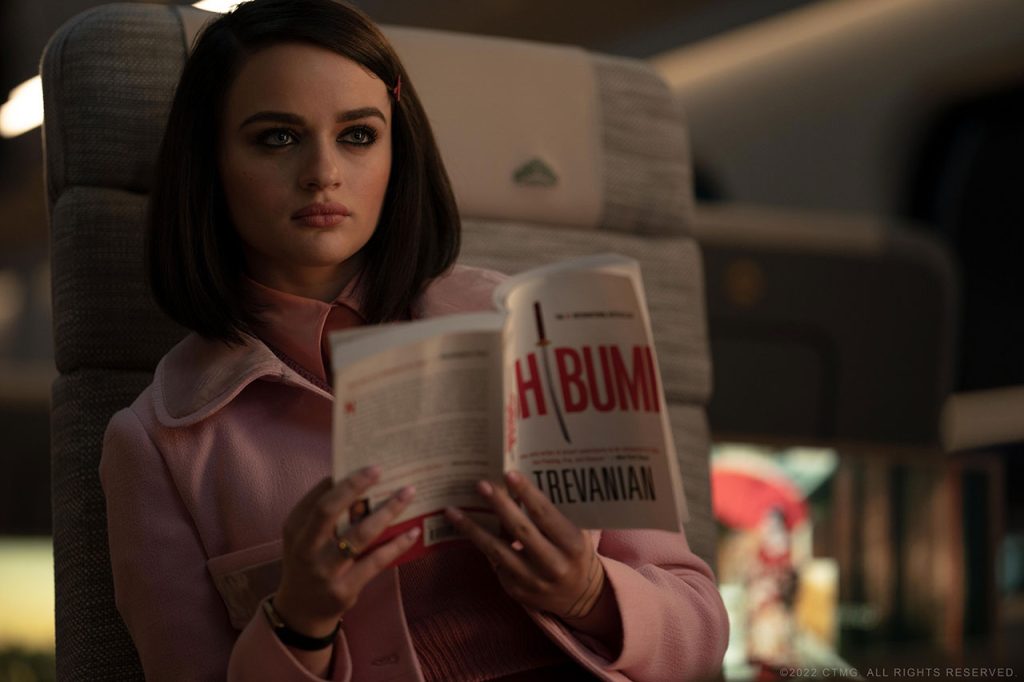 Bullet Train / Sony Pictures (play/credits)
Still in meteoric participations we have Sandra Bullock, whose voice is present in several scenes throughout the film, and appears in a brief but almost comforting moment. The role of Maria, which she plays, would have been Lady Gagabut according to the director of Trem-BalaDavid Leitch, the singer was unable to reconcile the schedule due to the production of House of Gucci. Anyway, Bullock delivers the work very well and leaves the viewer with the desire to see her in more scenes.
Anyway, Trem-Bala delivers what is proposed: action scenes, blood, gunshots and eye-popping explosions, but with a very fun and tied script, extremely charismatic characters and a delicious pace even for those who are not so fond of the genre. Worth the ticket!
Use: 88/100