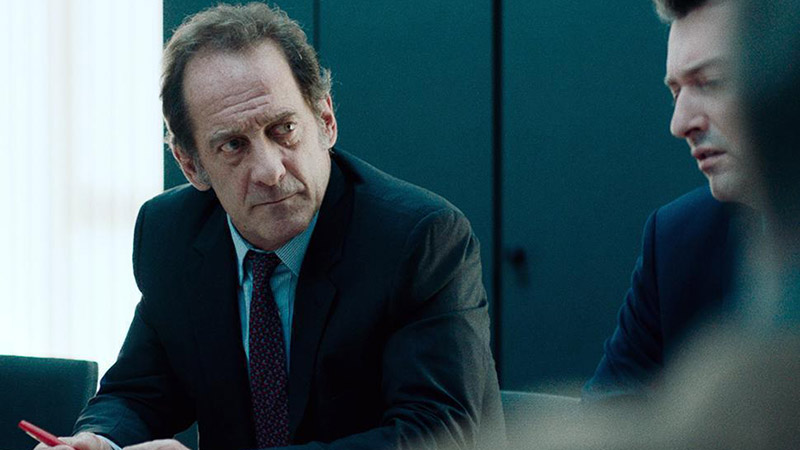 A New World by Stéphane Brizé
Title: A new world Country: France Director: Stéphane Brizé Date: 2022 Platform: Filmin
Discover more films in our special section: European and indie cinema.
Synopsis for A New World
A manager of a large company, his wife and family; at a time when his career choices affect everyone's lives. Philippe Lemesley and his wife separate, their relationship has not stood up to the pressures of work.
After decades as a senior manager in an industrial group, Philippe no longer knows how to respond to the inconsistent demands of his company. The time comes when he has to take stock, and decide the meaning of his life.
The companies that devoured dreams
the awesome manager Stephane Brize He closes his trilogy about the world of work with A New World, a drama that hypnotically traps us from the first sequence: a story that shows how a married couple about to get divorced skins each other in public, monetizing their experiences as the only way to remember everything what they had enjoyed together.
He does so accompanied by his fetish actor to date, Vicent Lindon, who has also participated in the previous ones The Law of the Market and At War.
Vincent Lindonthe weight of the film is thrown, giving a class of continuous interpretation, with a look that is lost with the events.
Long shots accompanied by the magic of the music of Camille Rocailleux, which submerges us with crescendo blows in a suffocating drama; they transport us to the psyche of the characters, overwhelmed by the circumstances that are happening.
Of course, a lifeline and reaffirmation for those of us who long ago decided to bet everything on time and not on money, because being a high-level engineer in a huge multinational seems to be anything but pleasant.
Yes, these positions fill our current account with thousands of euros, proportionally fattening the square meters of our homes, which, yes, remain empty and unchanged most of the time because there is no one who inhabits them.
Interesting, silent, long-lasting shots that tackle the two plots —family and business— as if it were a documentary. Looking for the cracks that crack the life of this couple and their son. Providing an ingredient of hyperreality that suits any French production so well.
A direct script, without subterfuge, straight to the chest. There is no need for great boasting or elaborate plots to propose a solid story, something typical of French cinema that is still determined to show that no other country surpasses it when it comes to telling human stories. I don't know what it will be like to be part of the upper echelons of a multinational, but it must be something very similar to what it proposes to us Brize.
In A new world, the camera passes in front of the faces of the protagonists, distant, like someone who does not want the thing, so that the viewer can scrutinize —without being judged— the behavior of the characters. Madness as a latent threat ready to manifest itself at any moment, as long as the characters remain willing not to digest the emotions that work prevents them from chewing slowly and healthily.
We will be the ones who will have to draw the conclusions of each one of them, foresee what will happen next or discover in terror how the events are unleashed.
This is the case of a conversation with the youngest son, in which little by little we witness the awakening of a madness that leads him to invent crazy and megalomaniac stories with the maximum representative of those heartless corporations: Mark Zuckerberg. Multinationals that could well have come out of the Mr. Robot series and its apocalyptic —but plausible— Evil Corp.
Another scene will remain in my memory: the one we observed as the protagonist Philippe Lemesley (Vincent Lindon) breaks into a thousand silent pieces when he is forced to sell the house of his dreams. A situation reminiscent of the fracture suffered by Adam Driver in the essential Marriage Story, during the tragic argument with Scarlett Johansson, who until then had been his fictional partner.
And it is that A new world tells us, not without a certain dose of morality, how after falling to the bottom of the abyss, the only thing left is to improve and reinvent oneself, a bittersweet sensation that emerges from the last scene, which gives us an open ending with a certain halo of hope.
A New World trailer