Released CCTV Footage Shows a Burglar Inside a Residence While Owner Sleeps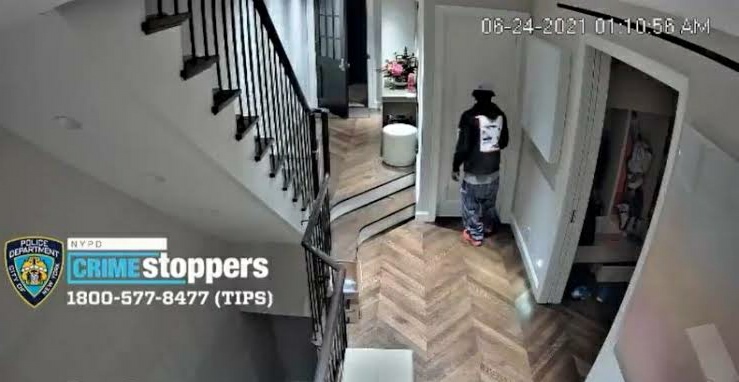 In a video released by the New York Police Department, a burglar is seen moving around a house in Manhattan just past midnight.
According to a statement released by the NYPD, the incident took place on June 24, around 1 o'clock. The house is situated in the locality of Central Park West and West 89 St. on the Upper West Side of NYC.
Released Footage Shows the Burglar Moving Around
A footage was shared by Crime Stoppers that shows the suspect, presumably a male, dressed in a black hooded top, a white baseball cap, and a mask. The suspect moved around the house, checking every single room.
Source – Crime Stoppers Twitter
According to police, the burglar managed to get in by disabling the lock on the front door with an unknown tool.
The burglar allegedly stole a MacBook Pro laptop that costs $2,400. The resident of the place, a 45-year-old woman who was in the house during the theft, said she noticed the laptop was missing from her office, went through the surveillance footage, and immediately called the police.
The woman was indeed lucky to have slept through the entire time the burglar was in the house. It has been reported that there was no interaction between the suspect and the woman.
Fall in Burglary Cases but Rise in Others
Latest data reveals that the number of burglaries this year in NYC is considerably lesser than in 2020. While a total of 5,489 reports of burglaries have been registered in 2022, about 7,244 cases were registered in the first 6 months in 2020.
However, other violent crimes like murder have increased in 2022. The overall crime index of the city has also risen.
Reward for Information
Crime Stoppers has offered a huge reward of $3,500 for anyone who could help with the case and lead to the suspect's arrest.
Anyone who can provide any information regarding the case is urged to contact the Crime Stoppers Hotline 1-800-577-TIPS (or 1-888-57-PISTA for Spanish). Tips can also be submitted at their website or via Twitter at @NYPDTips.