Queen Elizabeth receives Justin Trudeau, Prime Minister of Canada, in her first face-to-face event after overcoming the coronavirus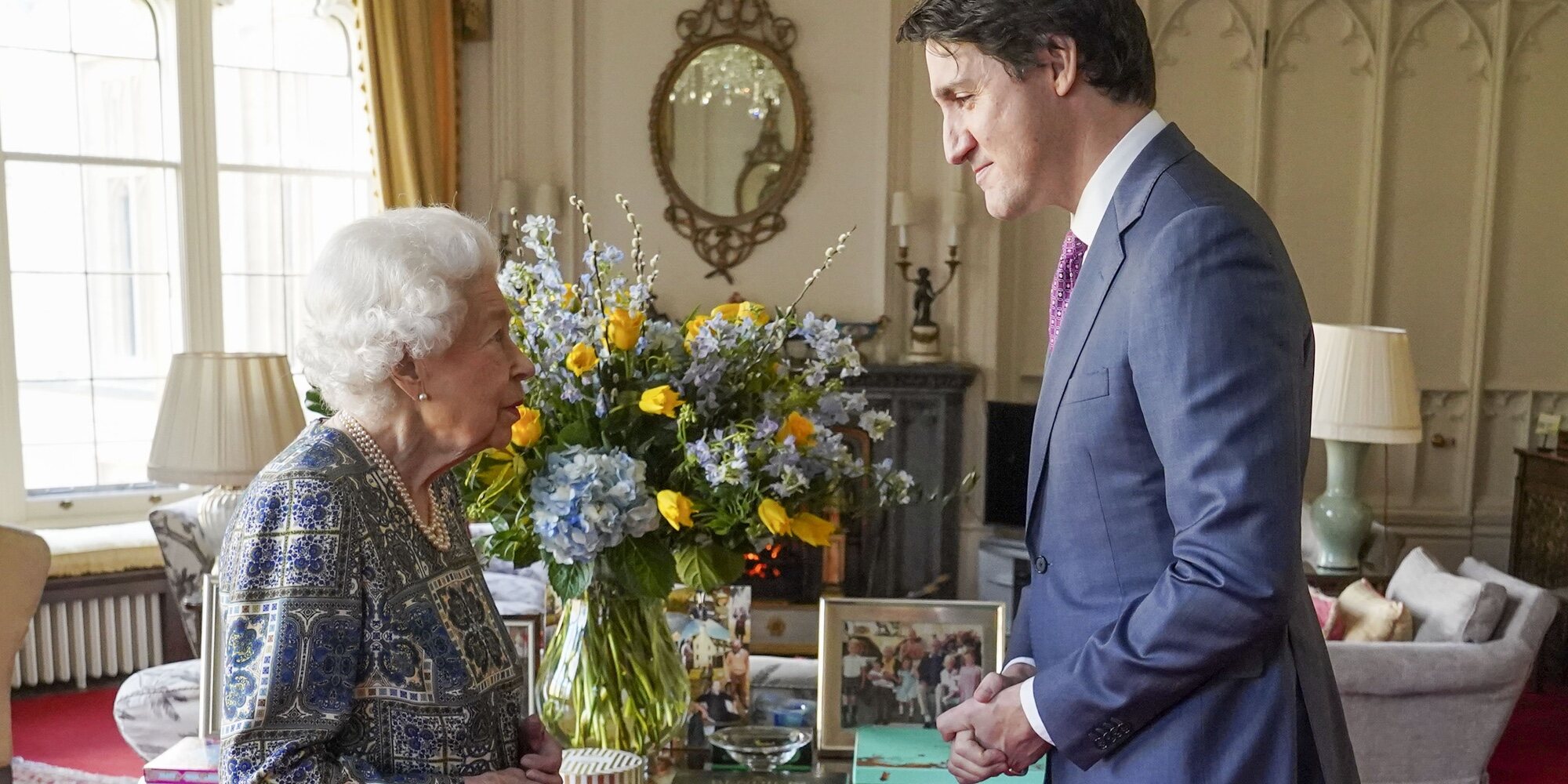 Since the British Royal House communicated Queen Elizabeth's positive on Sunday, February 20, 2022, it was made clear that the official activities of the Monarch would continue if her state of health allowed it. She was finally able to carry out what are known as light dispatch tasks from Windsor Castle, as well as her weekly call with Boris Johnson, Prime Minister of the United Kingdom, having to cancel the scheduled telematic commitments.
Queen Elizabeth with a cane on her 70th anniversary of reign
A week after her positive, and after having suffered symptoms similar to those of a cold, the Monarch was discharged and traveled to nearby Frogmore to meet with the Duke and Duchess of Cambridge and their children and with Princess Beatrice of York and her daughter Siena Elizabeth. In addition, she already recovered, she continued with her telematic agenda while regretting the cancellation of the reception to the Diplomatic Corps in Windsor Castle scheduled for March 2, 2022, and that had to be postponed due to the Russian invasion of Ukraine.
Complicity with Justin Trudeau
Precisely the war has been what has led him to what has been his first face-to-face commitment after recovering. It happened in the Oak Room of Windsor Castle, where he gave an audience to Justin Trudeau, Prime Minister of Canada. The president traveled to the United Kingdom as part of international talks on the response to the Russian invasion and to strategize how NATO should act.
Queen Elizabeth greets Justin Trudeau in an audience at Windsor Castle
Thus, after his meeting with Boris Johnson, he went to Windsor Castle to greet Queen Elizabeth, who is also his Head of State. It should not be forgotten that Canada, in addition to being a member of the Commonwealth, whose leader is Queen Elizabeth, is a Parliamentary Monarchy whose Queen is Elizabeth II, so she could not leave the United Kingdom without personally greeting the Monarch.
The Queen, in a printed dress and her three-strand pearl necklace, was in high spirits during this reception. She looked very skinny, but no thinner than her since she started losing weight as she got older. She shook hands with the Prime Minister, to whom she offered an audience in which she did not lack complicity. In addition, Queen Elizabeth is especially excited about any act or reception related to the Commonwealth or to countries outside the United Kingdom in which she serves as Head of State, such as Canada. Her bond with Trudeau, whose father also served as Prime Minister, is strong and solid, and has thus been revealed again.
Queen Elizabeth and Justin Trudeau, very complicit in an audience at Windsor Castle
The Monarch thus shows that she is well, that she has energy despite the fact that her health has been suffering deeply since 2021 and that Windsor Castle has indeed definitely become her residence and workplace. Queen Elizabeth will not return to Buckingham Palace, which will be occupied again when Prince Charles is King.