In 2020, Fr. Liam Ryan, along with two other people, saved a surfer who was bitten by a shark in Australia. Two years later, the priest makes a profound reflection on the providence of God, since he considers that it was no coincidence that he was in the place where the attack occurred.
The priest, who serves as chaplain of St. John of God Public Hospital in Midland, in the Archdiocese of Perth, rescued on July 31, 2020, with his friend Jess Woolhouse and Alex Oliver, the surfer Phil Mummert, 28, of a great white shark attack in Bunker Bay, which earned them the Australian Bravery Award.
Speaking to ACI Prensa on April 8, the priest recalled that the day after the attack he returned to the beach, where he celebrated Mass to thank God.
Ryan's altar on the beach where he celebrated Mass the day after the shark attack. Courtesy P. Liam Ryan
"The second reading of Saint Paul's Letter to the Romans that day said 'How great and profound are the knowledge and wisdom of God. Everything comes through Him and He is the cause and exists through Him. To Him be the glory forever and ever. Amen'. This made me reflect a lot," he explained.
The priest stressed that events like the one he experienced "come from God and are ultimately for the glory of God. He was clear that everything happened because God wanted it that way. It was no accident that we were there that day. It was no coincidence that the shark bite was only 2 centimeters from Phil's artery, allowing him to live and not die."
Indeed, the bite on Phil's leg did not reach the main artery, which would have caused heavy bleeding and could have caused his death.
"Everything was providential, everything comes from God. Faith gives us this perspective and that's why I don't live in fear of sharks or dying or anything. God is in control," added the priest.
Fr. Ryan also told ACI Prensa that when he spoke with his father, he told him to say "'thank God for giving you the courage you needed at that time.' It is true. Without that grace of courage, he would not have been able to help".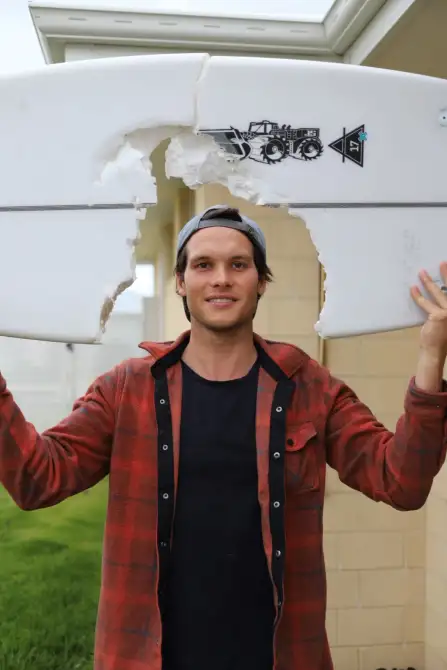 Phil Mummert with his board bitten by the shark. Courtesy P. Liam Ryan
The priest later acknowledged that he is sometimes "selfish, fearful and cowardly. However, at that moment God helped me, he helped us. To God be the glory. I am not a hero, I am a poor man who is loved by God and chosen by Him out of love.
Ryan was ordained a priest in August 2019, after finishing his studies at the Redemptoris Mater Seminary in Perth, of the Neocatechumenal Way.
The Australian priest also explained that "it has also been a gift because I am a priest who surfs. The idea that people have about Catholic priests here in Australia is usually not a good one. People were surprised to see a surfer priest and "on that occasion" the media showed one who was doing something good.
"I saw clearly that God had done something that spoke to people, Catholics and non-Catholics. In fact Phil, who was bitten, is not Catholic and came with his girlfriend once to Mass after he got out of the hospital. They both came to thank God. Amazing!"
The priest also told ACI Prensa that in morning prayer the day after the attack, "Daniel's Canticle said 'wild animals, bless the Lord. I never thought I would see a great white shark in the sea and this passage invited me to thank God for all of creation, to praise him on behalf of this wild animal as well."
"I smiled when I read that line."
When asked about what it feels like to be next to a shark, Fr. Ryan replied: "Well, it's not pretty (laughs). People ask me how big it was and experts say about 5 meters. But its size isn't what's scary, it's how wild it was!"
The priest finally commented that "in the water you feel small. I remember thinking 'if he wants to eat the four of us for lunch' (laughs). Anyway, I thank God that the shark wasn't very hungry."
The notice that was placed in Bunker Bay alerted to the shark attack that occurred on July 31, 2020. Courtesy P. Liam Ryan