Pope Francis proposes these 2 teachings of Saint Joseph to religious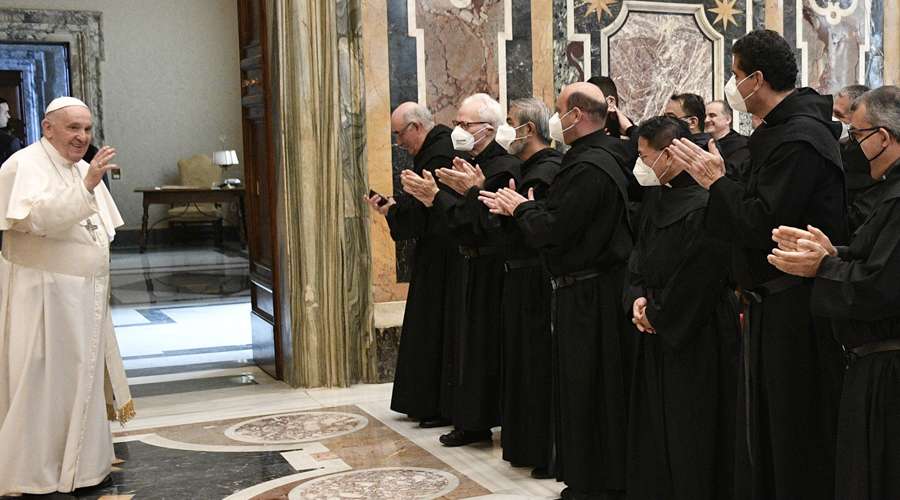 Upon receiving the General Chapter of the Augustinian Recollects at the Vatican on March 17, Pope Francis invited people to contemplate the figure of Saint Joseph and pointed out two teachings of the patron saint of the universal Church.
First of all, the Holy Father recalled that "every consecrated person, every religious, every priest is called, like Joseph, to have a father's heart".
Along these lines, the Pope explained that this means having "a restless heart that stays awake to love and care for the sons and daughters who have been entrusted to him, especially the most fragile, those who suffer, those who have not had experience of paternal love; and leads them not to rest until these brothers and sisters of ours are in the encounter with the Lord, and thus everyone can have an abundant life".
"Let us not forget that we cannot be true parents without experiencing being children, children of the heavenly Father, He knows what we need and He calls us. Let us not stop turning to Him every day with confidence. He listens to us, he listens to the desires and needs of our hearts, and he shows us the path to follow," the Pope added.
The Holy Father then indicated another characteristic to learn from St. Joseph: "creative courage."
In this sense, the Pope recognized that "these are not easy times, we know", as "they were not for Joseph either. He trusted God, trusted fully, and offered all of his abilities, his talent, his ability to serve him. And God trusted Joseph, and gave him his grace to be able to carry out the mission entrusted to him".
"Thus for us today, as on the day of our consecration, it will do us good to bring to the altar all that we are, and let the Lord transform it into a 'living, holy and pleasing offering.' And, after this oblation, to go out on the mission with confidence, with courage, with creativity. He is with us, walks by our side and helps us make decisions," the Pope said.
Likewise, the Holy Father addressed the challenge of "all dioceses, all religious congregations, but because it is so general, we cannot let it pass as if it did not happen to us, we have to take responsibility for what happens to us" that "in As for numbers, we are going down the ravine. And this is a reality that we cannot ignore.
In this regard, the Pope encouraged to prepare the laity to continue with "their spirituality that is a gift from God for them to carry forward."
"I don't dare to be a prophet and say what will happen. It worries me, it worries me. I trust in the Lord but I also have to say these things: let us prepare ourselves for what is going to happen, and let us give our charism, our gift to those who can carry it forward," the Pope said.
Finally, the Holy Father advised "let us continue with prayer, that the Lord send vocations, but that he also prepare us to give our gift when we are less, to those who can collaborate with us".
"The Lord is good, he is going to give us the necessary consolation to make those decisions. Asking for the grace to know how to take them on time and as the Lord wants, not as any sociologist or psychologist can tell us, no: what the Lord wants", concluded the Pope, and encouraged them to "go forward, with confidence in the promise of the Lord, and to carry out this mission that God entrusted to us".