Pope Francis arrives in Kazakhstan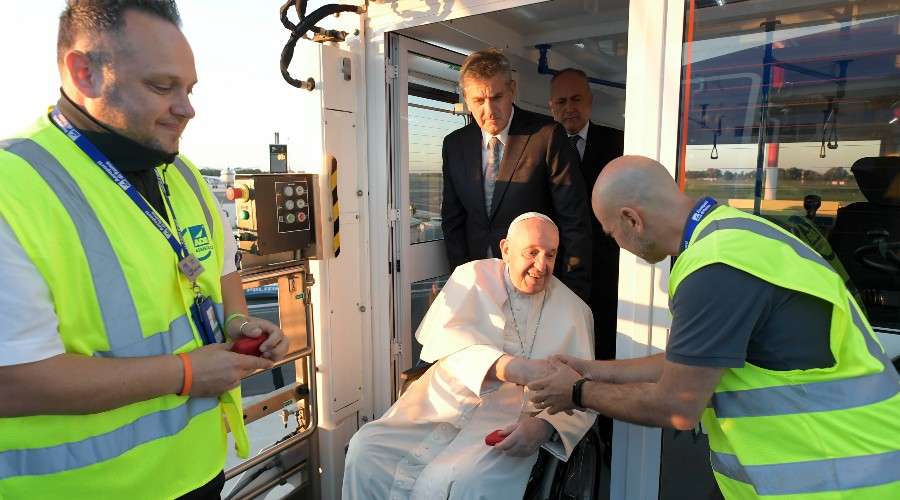 The plane carrying Pope Francis and the journalists who will cover his 38th Apostolic Journey landed at the airport in Nur Sultan, the capital of Kazakhstan, at 5:45 p.m. (local time).
Pope Francis departed from Fiumicino international airport around 7:38 am (Rome time) and after 6 and a half hours of travel he arrived in this Central Asian country, where he will participate in the "Congress of leaders of world and traditional religions".
As on the way out, the Pope did not go down the stairs of the plane, but he was transported in a wheelchair via an elevator.
The Holy Father was received by the President of the Republic of Kazakhstan, Kassym-Jomart K. Tokayev, and two young men in traditional costumes offered him flowers.
Then, after the presentation of the Delegations and the Honor Guard, the President of the Republic accompanied Pope Francis to the Airport VIP Lounge, where a brief encounter takes place.
After the official reception, the Holy Father will go at 18:45 pm (local time), to the Presidential Palace of the city for the welcoming ceremony.
Later, at 19:20 pm (local time), will have a meeting with the authorities, civil society and the Diplomatic Corps in the "Qazaq Concert Hall", where he will give the first of the five speeches he has scheduled.
This country, plagued by communism, is the ninth largest country in the world, with just 19 million inhabitants. In 1991 it became independent from the Soviet Union and only 1% of the population is Catholic.
The main reason that has led Pope Francis to undertake this Apostolic Journey is because during those days the VII Congress of Leaders of World and Traditional Religions will be held in the capital of Nur-Sultan.
Patriarch Kirill of Moscow was originally expected to attend this religious summit, an opportunity for both leaders to discuss the Russian invasion of Ukraine.
However, it was reported from Moscow on August 25 that Patriarch Kirill will not attend the summit and that a representative delegation will be sent instead.
What will possibly take place is a meeting between Pope Francis and the president of China, Xi Jinping, who will coincide with the Holy Father in Kazakhstan.