Paz Padilla tells the details about the lunch she shared with Kings Felipe and Letizia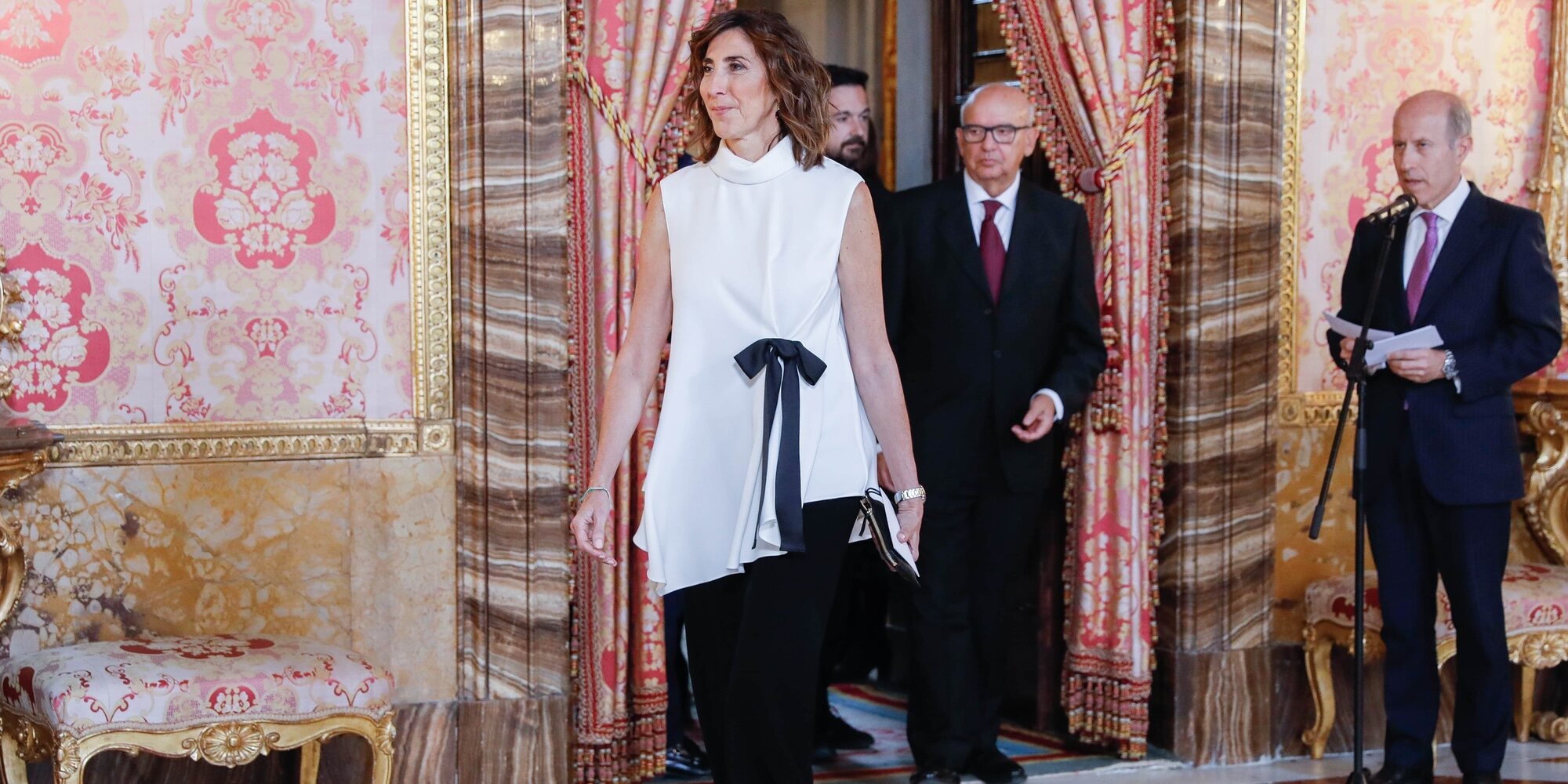 Paz Padilla was deeply moved to have received an invitation that she did not expect. Due to the success of his book 'El humor de mi vida', published by Harper Collins Ibérica, he was invited to be present at the lunch offered to a representation of the world of letters on the occasion of the delivery of the Castilian Literature Prize 'Miguel de Cervantes' 2021.
Paz Padilla greets the Kings Felipe and Letizia at the lunch for the delivery of the Cervantes Prize 2021
It is tradition that before the delivery of the most important prize for letters in Spanish, a lunch is offered at the Royal Palace presided over by the King and Queen. And since Paz Padilla was invited on this occasion, the comedian did not hesitate to accept with delight. So much so that already on the morning of Thursday, April 21, 2022, she shared some stories in which she talked about how she felt: "Today is going to be a special day, a beautiful day. They are going to come to do my makeup and do my hair. You can imagine how excited I am about that invitation to the Cervantes Prize meal at the Royal Palace. You don't know what that means to me. I'm going to enjoy it as a gift, as if it were Three Kings' Day".
In addition to that, the presenter commented on the intention she had taking advantage of her meeting with Queen Letizia: "I woke up thinking that I wanted to take my book to the people there. I have prepared several books for the girls of Casa Real Protocol, who are super affectionate, how nice and with what affection they have attended me when they have called me and I have here another one that is going to be one of the most special books I have given. I have put a dedication on it and I want to give it to Queen Letizia. I don't know yes, she will read it, but since it is a love book, where you laugh and arouse emotions, I think she may like it and it may come in handy. So I will go to the Royal Palace with the books, I hope they let me in" .
Paz Padilla shows details of the lunch in the dining room of the Royal Palace | Photo: Instagram
And it was time to go to the Royal Palace. Paz Padilla was impressed upon entering the official residence of the King of Spain. From her Instagram account, she showed the beauty of the Royal Palace staircase, and more specifically the roof that rises above it. Whoever has visited it will understand why Paz Padilla was so impressed when contemplating such beauty.
An incredible experience
Later, he showed off his elegant black and white outfit before entering the kiss with Kings Felipe and Letizia, also taking the opportunity to take selfies with authors such as Guillem Clua, Sandra Barneda, Carmen Mola, María Dueñas or Vicente Vallés. Paz Padilla shook hands with the King and Queen, to whom she made a discreet bow. During lunch she was amazed at the splendor of the gala dining room and she did not hesitate to share a couple of images of the unique moment she was experiencing.
Paz Padilla in the Plaza de la Armería after lunch with the Kings | Photo: Instagram
And to finish, he expressed in his farewell how he had lived this experience: "I am already leaving, I have stayed the last one because I have been taking photos with the Casa Real team that are wonderful and it has been an incredible experience. The truth is that I can only thank you for having invited me to this, which I believe will not happen again, but which is a gift from the universe. Thanks to all of you who have managed to get me here," said Paz Padilla.