Yesterday, the Panchayat season 2 trailer was removed by Amazon Prime Video on Youtube, and we can see all the elements of fun, musty, friends and love.
Jeetendra Kumar (Abhishek Tripathi) returns with the people of Praddhan Ji Brijbhushan Dubey (Raghuvir Yadav) village, Chandan Roy as Vikas Neena Gupta as Manju Devi, Satish Ray will also appear in Panchayat Season 2, he will play Jeetendra Kuamr's character friend .
About the series
The series Panchayat revolves around a village called Phulera in Madhya Pradesh where a new Panchayat secretary, Abhishek Tripathi (Jeetendra Kumar) is appointed and he has to move from one city to another village, the series revolves around the difficulties and routines he has to adapt there Villager's small problem.
Release Date for Panchayat Season 2
Panchayat Season 2 is scheduled to release on Amazon Prime Video only on May 20, 2022. The collection was developed by The TOTAL VIRAL FEVER.
Ban Chayat Cast
Actors who can return:
Jitendra Kumar as Abhishek Tripathi
Raghuvir Yadav to return as Brij Bhushan Dubey (Pradhan Ji)
Chandan Roy will return as Vikas (Gram Sahayak)
Akdas Hayat will return to the villagers
Neena Gupta will return as Manju Devi
Biswapati Sarkar may return as Prateek
Govind Lobhani can be reinstated as a ward member
What will happen in season 2?
According to the trailer for Panchayat season 2, Abhishek will face new problems in Phulera as the Pacnhayat building is installing CCTV cameras and building toilets, then the roads in the village have collapsed and Pradhan Ji is facing the same problems as his voters are not correct Sticks for building villages.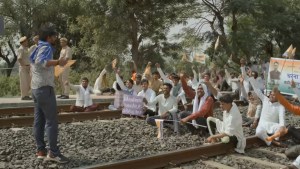 Abhishek's new friend is coming to the village to rescue him, and he may play a key role in Panchayat Season 2. The character is played by the famous youtuber Satish Ray, and we can expect a lot of chaos and fun in the new season.
The love angel between Abhishek and Pradhan Ji's daughter will also be one of the episodes of Panchayat Season 2. Because she was teased at the end of season 1 when Abhishek was about to leave the village and he stayed in the village only because of her.
continue reading