Pablo Urdangarin defines himself as a handball player and explains how Iñaki Urdangarin helps him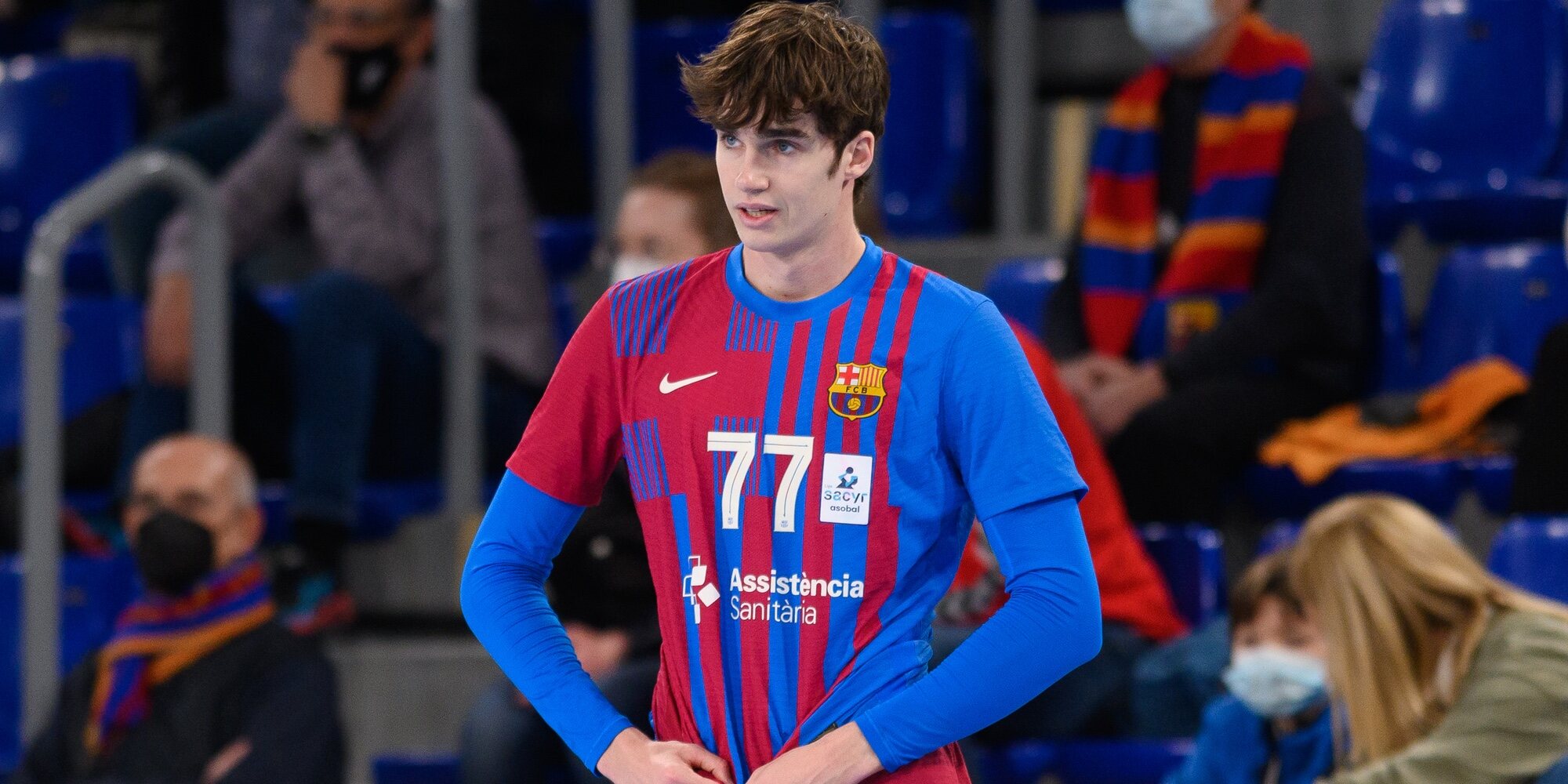 Step by step, Pablo Urdangarin continues to establish himself as a handball player. He moved from TSV Hannover-Burgdorf to HBC Nantes until he left for Barcelona to try his luck at Barça. It wasn't easy, but he managed to get Barça B to sign him and be accepted at La Masía. From then on, the successes came, such as going up to the first team to show all his potential in one of the great handball clubs in the world.
Pablo Urdangarin with Barça number 77 in a match at the Palau
The athlete was summoned again by Antonio Carlos Ortega, who wanted him to be in the match against Recoletas Atlético Valladolid, where not only did the Blaugrana win, but Pablo Urdangarin scored five goals and showed that Barça was not wrong with him. The match was played at the Palau, and after the match, he did not hesitate to offer some statements collected by Sport.
"It's a dream to play so many minutes and to be able to take advantage of the experience is incredible, also at the Palau, which is so historic. I'm delighted," he said about what playing at the Palau has meant for him. He also commented that when he was at Nantes he could not even imagine that he would come to Barça, much less that he would make his first team debut in his first year.
Pablo Urdangarin and Iñaki Urdangarin sharing confidences on the 50th anniversary of FC Barcelona handball
He also commented that Ortega, the coach, is very demanding, but it is not a problem for him, quite the opposite: "In the end, a young player who wants to improve always wants his coach to demand from him and to get all the potential he has and I am here to learn, to play and to gain as much experience as I can. He also defined himself as a player: "Motivated, eager to win and a team player". He also added that he doesn't set limits, that he wants to take advantage of "playing as much as possible, improving and as far as I can go I'll be happy. I think I can go quite far and I trust myself."
Thanks to Barça for his father
Asked about his father, Pablo Urdangarin had no qualms about showing how Iñaki Urdangarin helps him: "I have the example, he gives me a lot of advice every day, he helps me with everything and the truth is that having him there every day to ask him anything and talk about handball the whole day helps me a lot and I take advantage of it here when I'm playing". Before finishing, he implicitly thanked Barça for not having removed Urdangarin's shirt from the roof of Palau when pressure arose to do so: "Having his shirt hanging there also means a lot to me," concluded Pablo Urdangarin.