Oscar 2022 full list of winners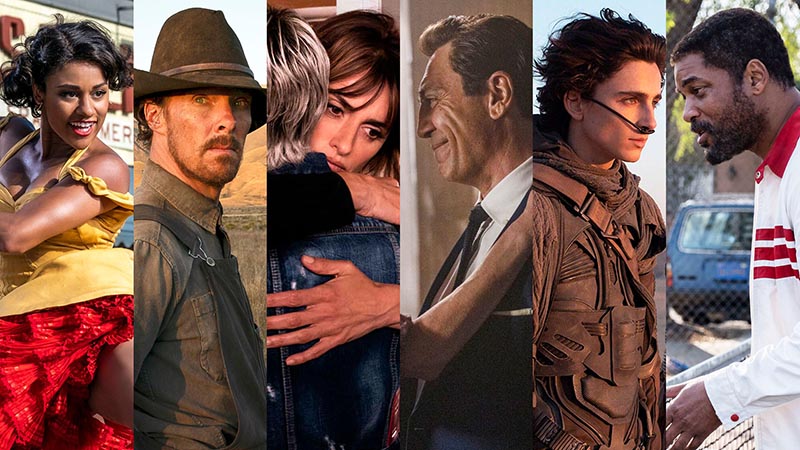 All the winners of the Oscars 2022
The great winner has been codawhich at the last minute snatched the award for best film from the power of the dog, the Netflix movie. It seems that films released on streaming platforms still have a lot of work to do to be recognized in the most important film competitions.
Dune, although it was clear that it would not win the award, has won very important awards such as production design, original soundtrack or photography. We will have to settle for that for what for me has been the best film of the year.
Drive my car has won the award for foreign film. An intimate and interesting film but with almost 90 minutes left over, in a footage that is very difficult to digest.
The good news is that the most intimate and personal productions continue to win awards in recent years, beyond the big productions that until recently swept everything away.
Among the Spaniards, only Alberto Mielgo has managed to go up to collect an award, for his excellent animated short Wipers. I'm very sorry, but Penélope Cruz's nomination already seemed like too big a prize for a film that I wouldn't highlight many things about, much less the work of our Pe, who I think doesn't do one of her best roles. .
Of course the ceremony of the oscars 2022 will go down in history for the open-handed slap that Will Smith tipped to Chris Rock, in reference to a joke that the presenter of the gala (Chris Rock) made about Smith's wife's haircut. Apparently, the actress wore her head shaved due to a serious alopecia problem, to which she is also trying to give visibility in the United States.
Chris Rock made a joke about Will Smith's wife, Jada Pinkett Smitharguing that she could star in the second part of Lieutenant O'neall, a film starring Demi Moore in which she wore a completely shaved hair to enter the army.
Will Smith came onstage impromptu and hit Rock. The public thought it was all part of the script, but things got more tense when Smith sat down and shouted several insults at the presenter.
It is a pity that Smith's performance tarnishes the gala and all the winners, especially in these times of armed conflicts in which we should not normalize that problems are solved by blows. Yes indeed, Will Smith He apologized when it was his turn to go on stage to collect his well-deserved award for best actor.
The show must go on…
Trailer Subtitled Coda
Incident between Will Smith and Chris Rock during the gala
Best moments and red carpet Oscar 2022
Complete list of winners Oscar 2022
OSCAR FOR BEST FILM
CODA – WINNER
Belfast Don't Look Up Drive My Car Dune The Williams Method Licorice Pizza The Alley of Lost Souls The Power of the Dog West Side Story
OSCAR FOR BEST DIRECTION
Jane Campion – The Power of the Dog – WINNER
Kenneth Branagh – Belfast Ryûsuke Hamaguchi – Drive My Car Paul Thomas Anderson – Licorice Pizza Steven Spielberg – West Side Story
OSCAR FOR BEST ACTOR
Will Smith – The Williams Method – WINNER
Javier Bardem – Being the Ricardo Benedict Cumberbatch – The Power of the Dog Andrew Garfield – Tick Tick Boom Denzel Washington – Macbeth
OSCAR FOR BEST ACTRESS
Jessica Chastain – Tammy Faye's Eyes – WINNER
Penelope Cruz – Parallel Mothers Nicole Kidman – Being The Ricardos Olivia Colman – The Dark Daughter Kristen Stewart – Spencer
OSCAR FOR BEST INTERNATIONAL FILM
Drive My Car – WINNER
Flee Was the Hand of God Lunana The Worst Person in the World
OSCAR FOR BEST SUPPORTING ACTRESS
Ariana DeBose – West Side Story – WINNER
Jessie Buckley – The Dark Daughter Judi Dench – Belfast Kristen Dunst – The Power of the Dog Aunjanue Ellis – The Williams Method
OSCAR FOR BEST SUPPORTING ACTOR
Troy Kotsur – Coda – WINNER
Ciarán Hinds – Belfast Jesse Plemons – Power of the Dog JK Simmons – Being the Ricardos Kodi Smith-McPhee – Power of the Dog
OSCAR FOR BEST ANIMATED SHORT
The windshield wiper, by Alberto Mielgo – WINNER
AffaisOfTheArt Beast Boxballet RobinRobin
OSCAR FOR BEST SHORT
The Long Goodbye – WINNER
The Dress Alakachuu OnMyMind PleaseHold
OSCAR FOR BEST ANIMATED FILM
Charm – WINNER
Flee The Mitchers Against The Machines Rayay The Last Dragon Luca
OSCAR FOR BEST DOCUMENTARY
Summer of soul – WINNER
Ascension Attica Flee Writing with fire
OSCAR FOR BEST DOCUMENTARY SHORT FILM
The Queen Of Basketball – WINNER
Audible LeadMeHome 3 Song For Benazir When We Where Bullies
OSCAR FOR BEST ORIGINAL SONG
No Time To Die – No Time To Die (Billie Eilish and Finneas O'Connell) -WINNER
Be Alive – The Williams Method (Beyoncé and Dixson) Two Little Caterpillars – Encanto (Lin-Manuel Miranda) Down to Joy – Belfast (Van Morrison) Somwhow You Do – Four More Days (Diane Warren)
OSCAR FOR BEST ORIGINAL SCREEN
Belfast – WINNER
Don't Look Up The Williams Method Licorice Pizza The Worst Person in the World
OSCAR FOR BEST ADAPTED SCREEN
Coda – WINNER
Drive My Car Dune The Dark Daughter Power of the Dog
OSCAR FOR BEST PHOTOGRAPHY
Dune – WINNER
The Alley of Lost Souls Macbeth West Side Story The Power of the Dog
BETTER VISUAL EFFECTS
Dune – WINNER
Free Guy No Time To Die Shang Chi Spider-man No Way Home
BETTER SOUND
Dune – WINNER
Belfast No Time to Die The Power of the Dog West Side Story
BEST ORIGINAL SOUNDTRACK
Dune – WINNER
Don't Look Up Parallel Mothers Charm The Power of the Dog
BEST COSTUME DESIGN
Cruella- WINNER
Cyrano Dune The Alley of Lost Souls The Williams Method
BEST MAKEUP AND HAIRDRESSER
The Eyes of Tammy Faye – WINNER
The King of Zamunda Cruella Dune The House of Gucci
BEST MOUNTING
Dune – WINNER
Don't Look Up The Williams Method Tick, Tick… ​​Boom! The Power of the Dog
BEST PRODUCTION DESIGN
Dune – WINNER
The Alley of Lost Souls The Tragedy of Macbeth West Side Story The Power of the Dog
Photo source: Ten Minutes