NYC: Woman Attacked and Groped in Broad Daylight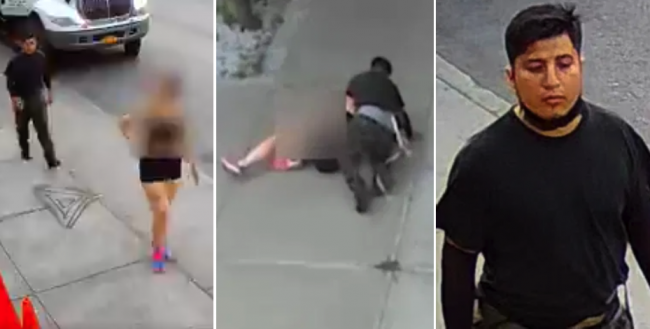 Brooklyn, NY – In a new shocking video released by the police on Thursday, a woman is seen being attacked and allegedly groped. Authorities say the suspect jumped her, touched her inappropriately without consent, and took off.
Footage Covers the Attack 
The woman, 35, was walking on the street at East Williamsburg in Brooklyn around 8 p.m. on Monday. Soon she noticed a man following her from a short distance. She turned around the corner along Stagg Street with hope to lose the man but he kept following her.
In the footage released by the NYPD, the stranger is seen maintaining a distance of a few feet behind the woman. She halts to let the man pass. The footage then cuts to the woman resuming to walk when the same stranger paces, attacks her and tackles her to the ground from behind. He stays on top of her for some time till she hits him with an object, causing him to flee away.
An Act of Forced Groping
According to authorities, the man reached inside the woman's shorts and grabbed her buttocks forcefully. Luckily the woman wasn't injured and didn't need any medical assistance.
Investigation is still going on to catch the attacker. He has been described as a male, black hair, 5'5″ in height, and about 165 pounds in weight. Zoomed images and stills from the footage are also being shared across social media to catch the culprit.
Anyone with any information regarding the incident can contact the NYPD or drop an anonymous tip at 800-577-TIPS.