Nuria Fergó and Juan Pablo Lauro speak for the first time about their unexpected love story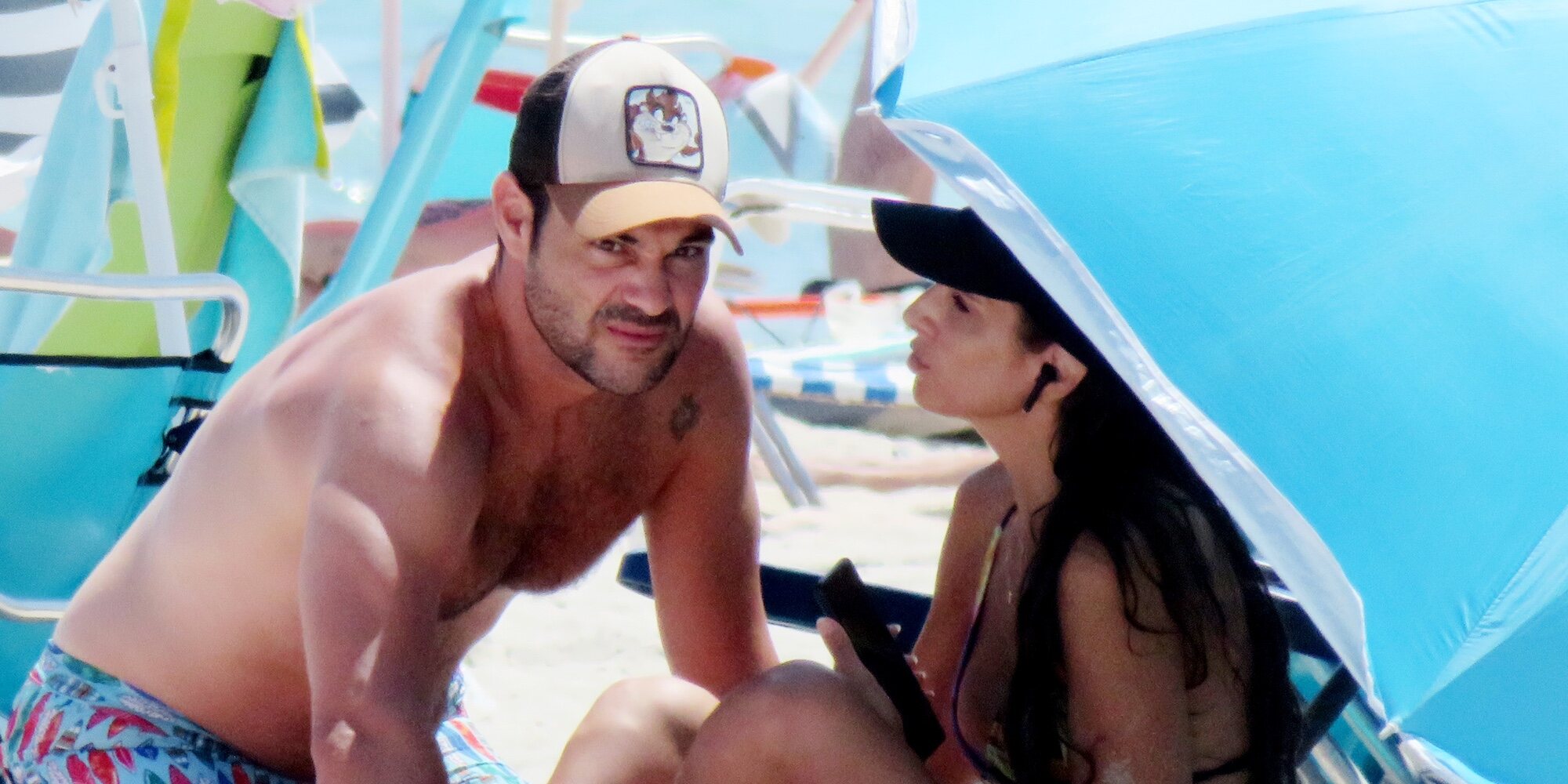 Nuria Fergó surprised with her new relationship with Juan Pablo Laura, ex-husband of Irene Villa. The singer shared several photos on her Instagram account of her enjoying the summer by her side, and now both have spoken about her courtship, telling how it came about to the magazine Hello! in an exclusive interview.
"I'm forty-three years old, I'm very familiar, I already wanted to have my partner and not always be alone", she said in this intervention, to continue: "I just can't erase it, I'm like this, happy and delighted" . The truth is that this attitude towards her personal life is very surprising, since since she became known in the first edition of 'Operación Triunfo', she has always been very suspicious, and little has been known about whether her heart has been busy or not in recent years.
Nuria Fergó kissing with Juan Pablo Lauro on the beach
The truth is that love story arose without planning it, as she has told: "The story is very curious. I was spending the weekend in Valladolid, a friend called me and asked me if I knew Juan Pablo Lauro. I run into a lot of people every day and, of course, all of a sudden, because I had no idea. 'I'm here eating with him, he saw your name on my mobile screen when you called me earlier and he asked me : 'Do you know Nuria Fergó?'. She told me to call you to see if you remembered her2, she explained. I still didn't fall for it. 'She says that a few years ago you crossed paths at an event,' my friend continued to explain, 'that Let's see if you remember that'. And at that moment I fell: 'I already know who he is, he's Irene Villa's ex-husband,' I said," he revealed.
For his part, Juan Pablo Lauro has told how this mutual friend inadvertently became Celestina: "Call her and ask her if she remembers me, because I would love to meet her. I wish we could meet for a drink and meet her," he told her, and so it was finally.
And despite the fact that the singer was open to love, she had not found the opportunity to look for it either, as she has continued to say: "How are things… Although you can believe the opposite, I don't go out much to be getting to know people. You don't have a partner and it's getting more and more difficult to have one. And it's just that this happens in this way, being, as it were, in my house, so unexpected, so casual… The story seems incredible to me, I've been amazed since minute one. And that you meet for coffee and from the beginning…".
Nuria Fergó and Juan Pablo Lauro on the beach in Mallorca
For his part, Juan Pablo Lauro has told how that first contact was when they finally met for a drink: "We met for a drink and it was super nice. He sat down and, right away, told me: 'I hope you don't have a girlfriend, because I'm not for nonsense." I told him that I was single and calm and there he began to change his gaze a little and relax. And, later, throughout the conversation, we caught up on our lives, the normal thing in two people who are getting to know each other. There was a feeling, there was a special chemistry. By the way, he also told me: 'I don't want to have more children, do you?'"
Convinced of their relationship
And the two of them are clear, they do not want to expand the family, because she is the mother of a girl and he of three fruit of his marriage to Irene Villa. The singer has told the reason why she has not wanted to hide her love as has happened other times: "I am very discreet, you know. But if I wanted to share this it is because I am very sure and very excited. I live in the moment , the day to day, and now I want to live this, that the people who follow me know that, in addition to professionally, on a personal level I'm great. That it's my turn too! There's nothing to hide ".