Mr. Paper Warns 50 Cent After He Clowned his Girlfriend, Lil' Kim's Looks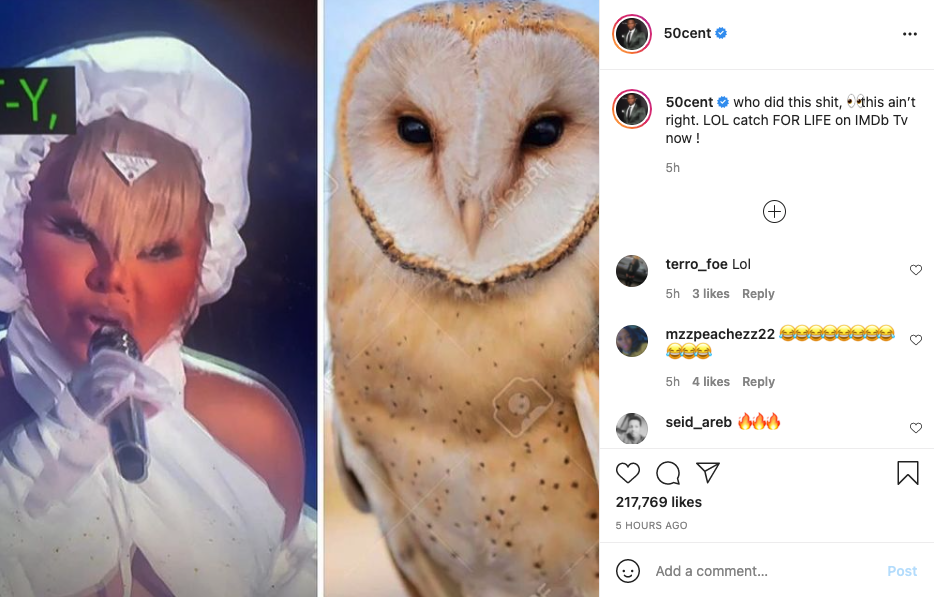 Mr. Papers, the musical artist has been very possessive of his girlfriend, Lil' Kim, who is also the mother of his daughter. The two of them went through a rocky relationship path for several years, however, now this seems to be close again. some sources are speculating that they are even planning for baby number 2 in the future.
Mr. Papers Defends his Girlfriend, Lil Kim!
The 33-year-old music artist defended his daughter's mother who is also his girlfriend, Lil Kim from some troll comments that were made by 50 Cent. 50 Cent trolled Lil Kim on his public Instagram page, where he decided to clown Lil Kim's look during his recent performance. 50 Cent posted a side-by-side comparison of Lil Kim's look along with an owl.
He told his followers that whoever did this shit, was not right and added an eyeball emoji. Mr. Papers saw 50 Cent's post and he was quick to take a stand for his girlfriend. He was quick to show the audience that he would not sit back and see his girlfriend get trolled by someone else. Mr. Papers commented on 50 Cent's post that he should keep Lil Kim"s name out of his mouth. He made it clear by commenting that he should keep his wife out of his silly jokes.
Did 50 Cent React to Mr. Papers Comment?
50 Cent has not yet reacted to the comments made by Mr. Papers, but his comment may serve as the fuel for the Power executive producer to keep going further. As we all know that he loves to be told what he should not do, and as now Mr. Papers warned him not to troll his girlfriend, Lil Kim, 50 Cent may become more curious to troll her in the future. However, this is not the only troll incident that 50 Cents did that day. The 45-year-old rapper also supported Bill Cosby by posting a positive message for him. In the message, he celebrated the fact that the disgraced comedian got released from Prison.