With 'Moon Knight' delving into dissociative identity disorder, Oscar Isaac plays at least two different personalities: unemployed Steven Grant and mercenary Marc Spector. Two characters for one actor, but this time from Marvel and Disney they wanted to loop the loop in this fourth episode.
And it is that it has been Michael Benjamin Hernández, Isaac's brother, who has acted as a double for the protagonist of 'Moon Knight' in some sequences. Despite the existence of CGI, the production team has found it convenient to return to some traditional methods of filming, such as the use of doubles to cleanly achieve the same actor and/or character in the same shot.
"I knew I was in talks about 'Moon Knight' a few months ago and once it happened it was big news. I had no idea I was going to be included in any way!" Hernandez told Marvel. "Two months before we started recording, [Oscar] he wrote to me. She told me 'Hey, I'm going to do this series, they're looking for a stunt double or someone I want to do these scenes with and I thought of you.' I thought: 'holy heavens'. It was very exciting that you wrote to me. I was crazy to join."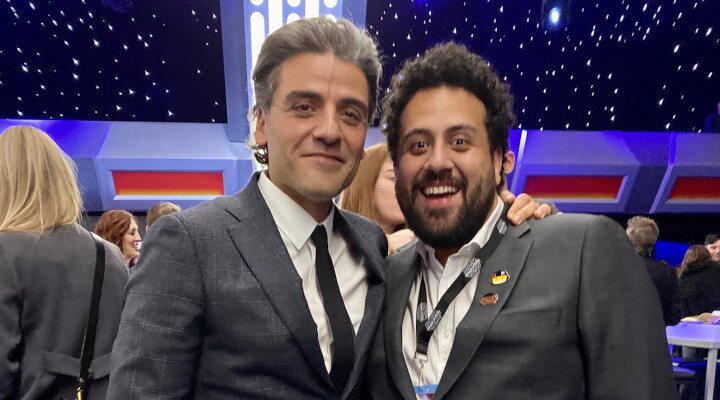 Hernández did not hesitate to accept the role and later realized that he too had to train, like his brother, and achieve a physique worthy of a superhero. "He was going to train and I was going with him. I prepared myself mentally in those two months thanks to intense training and a diet that allowed me to reach a certain physical level," he explained. "I was very determined and focused to get it done. I was very proud of myself for getting it done."
SPOILERS beware!
*Spoilers for 'Moon Knight' episode 4 are revealed below.
It had been common in previous episodes of 'Moon Knight' for the personalities of Steven and Marc to talk or discuss through the reflections that both characters met along the way. But it has not been until chapter 4 that both have met in person, creating a situation in which they had to physically interact with each other. Hernández makes his appearance here, embodying a role for which he had prepared himself in the case of both Steven and Marc.
"If Oscar was playing Marc at the time, I was playing Steven. Then we would switch roles," said Isaac's brother. "This meant that I had to be on set doing these scenes, or with headphones telling him the lines of dialogue. So it depended on how it was going to be recorded whether I appeared in front of or behind the cameras."
Hernandez calls the experience of working with his brother a "master class in acting." In addition, so that the difference in voice would not be too noticeable, Hernández worked with the 'Caballero Luna' dialect coach, Bárbara Berkery. "On my days off, I would work on Steven's accent to make it more real, more authentic. It was very important to make it as detailed as possible. Before a scene, I'd go with Oscar and we'd talk about what was going on in it and what the intention was." .He helped me act in a way that made sense to him, and so we were both on the same page."
From Mark Spector to Mark Sphincter
Hernández also had to go through makeup and hair to achieve the same look, it was not enough to put on the same clothes. Mark Sphincter was the name he ended up getting once he became his own brother. "It was weird, a mutant abomination of Marc with a fake nose," she laughed.