Mass of the Lord's Supper: Do not tire of asking for forgiveness, Jesus awaits us until the end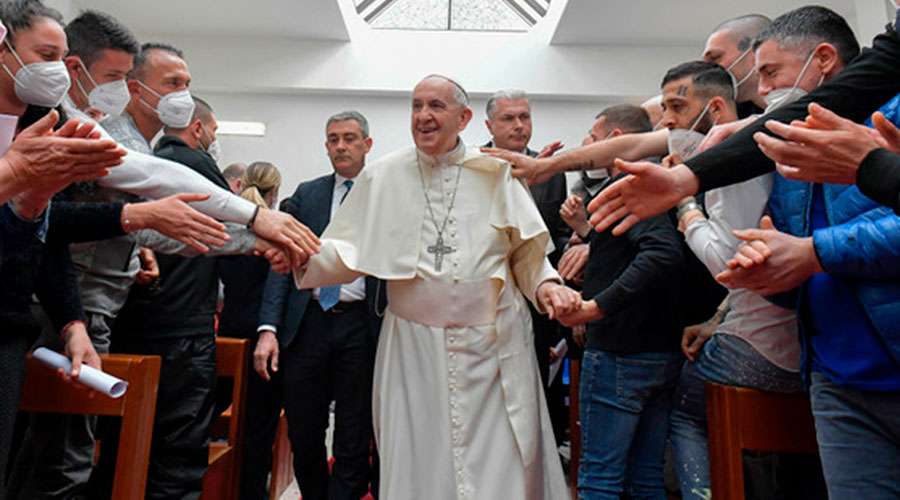 Pope Francis celebrated this Holy Thursday the Mass of the Lord's Supper in a prison in Italy, from where he exhorted the faithful not to tire of asking Jesus for forgiveness, because He forgives everything and waits until the end.
The Press Office reported that this April 14, before 3:00 pm, the Holy Father went to Civitavecchia (Italy), to celebrate the Mass in Coena Domini in the New Penitentiary Complex with the people detained there.
Francisco arrived at this place at approximately 4:00 pm and went to the chapel where he presided over the Mass. In addition to the prisoners, some representatives of the penitentiary agents and the Casa Circondariale, as well as local authorities and the penitentiary center were present.
As reported by the Vatican, in his spontaneous homily the Pope reflected on the sign of washing the feet of the apostles and said that it was a "strange thing", because Jesus also "washes the feet of the traitor, the one who sells him".
"Jesus teaches us this, simply: among you you must wash your feet (…) one serves the other, without interest: how beautiful it would be if it were possible to do this every day and to all people," he said.
#PopeFrancisco celebrated the #HolyThursday mass "in Coena Domini" at the Civitavecchia Penitentiary Complex #Rome. Washing the feet of 12 detainees: "God forgives everything and God always forgives" pic.twitter.com/SVCClNfmBU

— Vatican News (@vaticannews_es) April 14, 2022
To serve – the Pope continued – is Jesus who calls the traitor "friend", waits for him until the end, forgives everything. "God forgives everything and God always forgives! It is we who get tired of asking for forgiveness," the Pontiff said.
Pope Francis told the faithful that everyone keeps something in their heart for a long time, however, he encouraged them: "But ask Jesus for forgiveness." He later recalled that "there is a Lord who judges, but it is a strange judgment: the Lord judges and forgives". The Pontiff concluded his homily by exhorting us to continue with "the desire to serve and forgive."
At the end of his homily, the Holy Father washed the feet of twelve detainees, including men and women of various nationalities. In this way, he repeated the gesture of Christ, who at the Last Supper washed the feet of his disciples as a sign of love and service.
At the end of the Mass, the prison administration thanked the Pope and among the gifts he gave him were agricultural products that the prisoners grow in the garden. Then Francisco entered a room where he was able to greet and talk briefly with about fifty people who represented the detainees and prison officers.