Lost in Play, a wonderful children's game | Review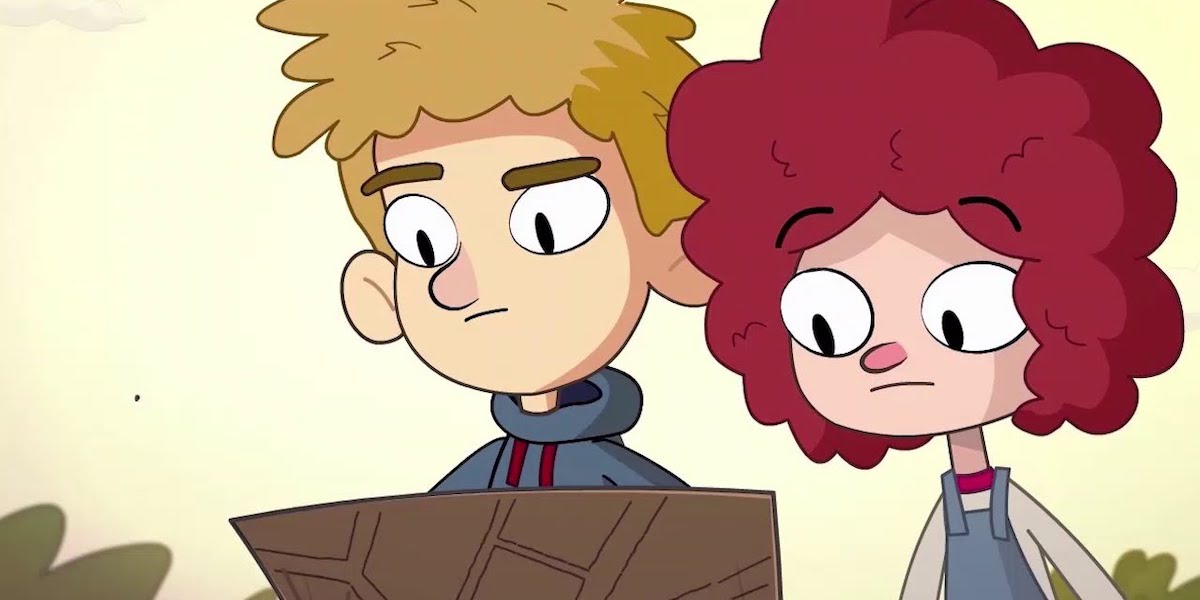 Lost in the game is a game that reminds us of simpler years. Years where fantasy alone was enough to have fun, facing epic feats and facing imaginary opponents. All of us, some more and some less, have imagined taking part in great adventures, escaping the monotony of everyday life. The boys of Happy juice games they must have remained very attached to those feelings, as they decided to give life to the crazy mission of Totò And Galtwo boys determined to do whatever it takes to be able to return home after a day of leisure.
Before going into detail, however, let's highlight how Lost in Play is a graphic adventure available for Nintendo Switch And PC at the introductory price of € 19.99. For all the details, we leave you to our review.
A CHILDREN'S GAME
As already mentioned, the title of Happy Juice Games puts us in the shoes of Toto and Gal, two children determined to enjoy a day together. After crossing the wooden door that separates their home from the outside world, the couple find themselves in the world of fantasy. While living great adventures surrounded by completely crazy characters, the two lose track of time and space, losing their way home. Their return journey begins, complicated by the presence of an annoying goblin intent on putting a spoke in the wheel for our heroes on more than one occasion.
We make it clear right away: Lost in Play does not have a particularly complex plot. The developers, however, managed to perfectly transpose the feeling of an imaginary story, made up of crazy situations, however, attributable to everyday life. Toto and Gal are two adorable protagonists, who speak an unknown language and who communicate through verses and images. The vocabulary used by narrative designers is straightforward, capable of being understandable to players of any age.
PUZZLES AND MINI-GAMES
Lost in Play is an old school graphic adventure, close in some ways to the never praised enough The island of the monkeys. In the title of Happy Juice Games, environmental puzzles alternate with minigames of different types. Sometimes it's a weird simplification of poker, other times it's a fight between crabs on a chessboard. The only certainty is that the adventures of Toto and Gal will hardly know how to bore you. This is also thanks to a reduced longevity, given that the title can be completed in about two hours.
We played Lost in Play on Nintendo Switch, appreciating the simplification of the controls, which are simple and intuitive despite the absence of the mouse. In general, the difficulty seemed extremely accessible to us, but let's not hide the fact that a couple of puzzles have been able to put us in difficulty. Nothing that could not be solved in ten minutes, but certainly able to squeeze our gray matter.
A LITTLE JEWEL IN 2D
It only takes a few moments of play to be amazed by the graphic style used by Lost in Play. The devs have in fact made the title through a design that reminded us of the cartoon several times Gravity fallscharacterized by a captivating 2D style and a refined and different color palette from area to area. We often felt like we were really playing a cartoon, demonstrating the goodness of the developers and their ability to create a visually flawless product.
The soundtrack is also good, which accompanies the story, but which always remains a bit on the sidelines. At the cost of sounding too childish, we also want to praise the verses made by the various characters in the game, which have often brought us a sincere laugh. Final gem: the game is entirely subtitled in Italian, making it accessible to anyone.
Lost in Play was a real surprise. A little gem that lovers of graphic adventures and animated productions should not miss. Of course, twenty euros could be a bit too much for the amount of hours needed to end the adventure, but it doesn't matter if the final experience is so pleasant. And trust me: accompanying Toto and Gal on this crazy journey is absolutely enjoyable.
VOTE 8
Type of game
Lost in Play is an old-school graphic adventure that mixes environmental puzzles and mini-games.
How it was played
The title was played on Nintendo Switch OLED thanks to a code kindly provided by the Publisher.