Kirby's Dream Buffet | Review – A blood sugar boost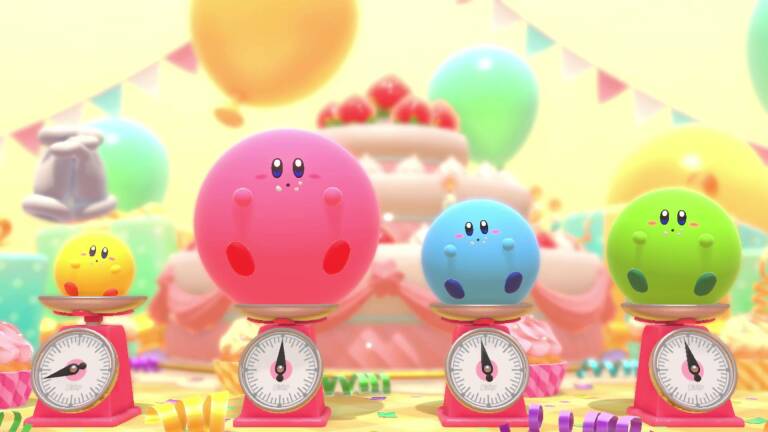 Anyone who knows Nintendo well knows that, every now and then, he does his utmost in actions like the one that led to the publication of Kirby's Dream Buffet. A video game that, in all likelihood, you are hearing about now for the first time.
Kirby's Dream Buffet

Platform: SWITCH Genre: platform Release date: August 17, 2022 Developer: HAL Laboratory Distributor: Nintendo
This is because the Big N announced the title a little over a month ago without too many preambles and a release date if not a "summer 2022". Said in the height of summer.
The inspiration for Fall Guys is pretty obvious, but we didn't really know what the title could offer again. At least until a few days ago when, with an almost textbook shadowdrop, Nintendo has made available Kirby's Dream Buffet exclusively on eShop.
Such maneuvers, especially made by large companies with such important brands, usually portend that the product in question is minoror certainly an output on which not to rely too much in terms of quality.
After the excellent Kirby and the Lost Land (which you can find on Amazon) comes the dream buffet with nice courses but quantities … so-so.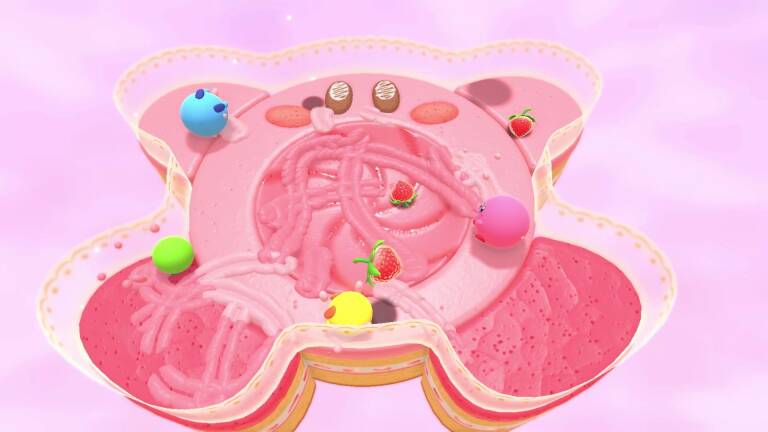 Kirby's Dream Buffet is the tastiest multiplayer there is
Kirby's Dream Buffet is a concentrated title southern only multiplayer. An interesting experiment in blending the aforementioned Fall Guys with a hint of Mario Party and Mario Kart.
There is no story or adventure to be undertaken this time around, just some fast-paced races and mini-games with the aim of eating more strawberries of all. Something that Kirby does well given his malleable and very tender body.
In fact, the title proposes the same idea as Fall Guys: a series of consecutive races from which then comes a winner. The only difference is that this is not a knockout show but, in fact, a series of minigames with different rules and structures.
The first race is always a race on different tracks every time who, using foods of all kinds, create obstacles and paths in which a group of Kirbys compete for the final trays full of strawberries that provide a bonus to points. The slides are made of churros, the trampolines are fried eggs, the barriers to be destroyed are crumbly and greedy biscuits, and so on.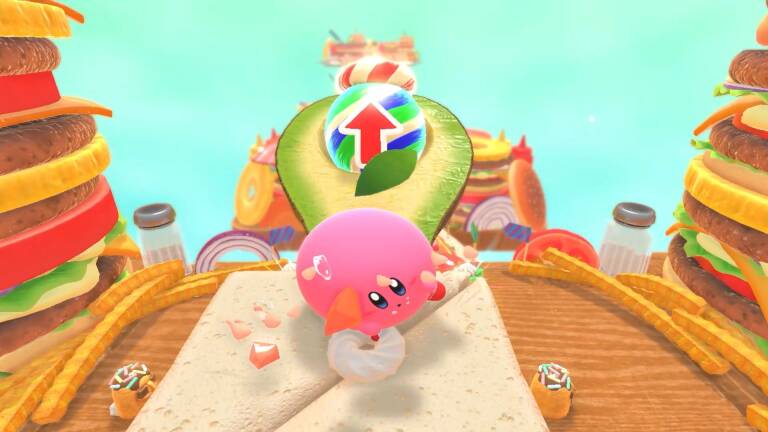 It must be admitted that, although the courses are naturally very similar to each other, the few differences given by the construction of ramps, obstacles and jumps of all kinds are built and positioned in such a way as to not result in a copy and paste.
I minigames that are interspersed until the final battle, a royal rumble in which to give a lot of reason with a full belly, they are quite funny even if not very complex. Basically it is always about picking strawberries (which often rain from the sky), pushing and annoying the opponents in every way.
In all of this there are some interesting ideas that demonstrate how effectively Kirby's Dream Buffet is clearly a minor project, but not for this treated with less care by the development team.
The more strawberries you pick, the more massive Kirby gets. This means more weight to push opponents and break down obstacles, but also difficult maneuverability and less time to be able to float in the air and return to the field after being thrown out.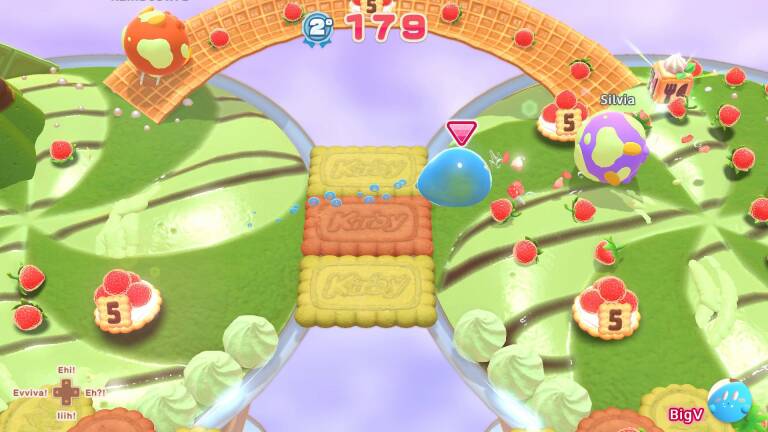 In addition, during the journey you can collect the Kirby's proverbial classic power-upsthis time declined in a gastronomic key. You can turn yourself into jelly to disappear into the ground, or into a solid chocolate bar to throw your opponents away, just to name two examples of the seven upgrades available now.
It is not from the point of view of game in itself that Kirby's Dream Buffet doesn't work, then.
While the game is inevitably repetitive due to the existence of this single game structure, that even in multiplayer venue (up to two players plus CPU) is slavishly replicated, one cannot but admit that the experience built by HAL Laboratory is fun.
The problem is that after the first games with a novelty effect and sincere fun, it is difficult to return with joy to take on the soft clothes of Kirby.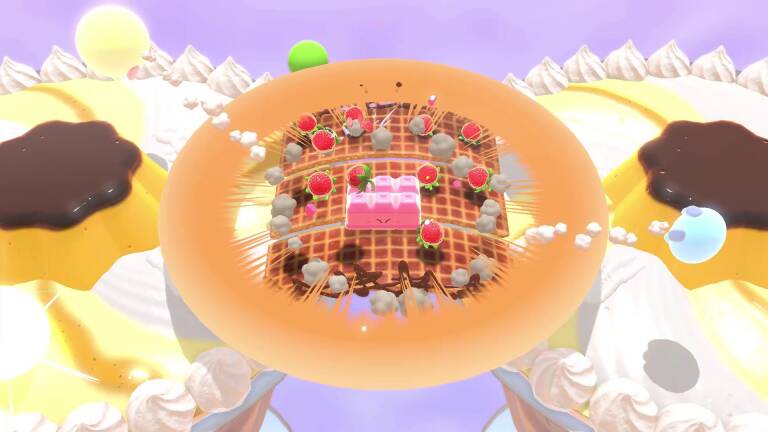 There would be the many collectibles between colors for the character, funny hats and cake decorations in the main game menu, but they can't be greedy enough (to stay on topic) to push a return to the game for a long time.
The strength of Fall Guys: Ultimate Knockout (review here), well before it became free to play, was the ability to always offer something new to players. A path with a variant they had not seen, or simply a new costume to unlock (and not buy, as now) in the rotating shop.
This type of formula is not currently adopted by Kirby's Dream Buffet, we do not know if and how much Nintendo will support it in the futurebut he would definitely need it.
Even because it's not even a free-to-play title. Although it is sold for a meager fifteen euros, it is still a purely multiplayer online video game with a high risk of emptying the servers, among other things.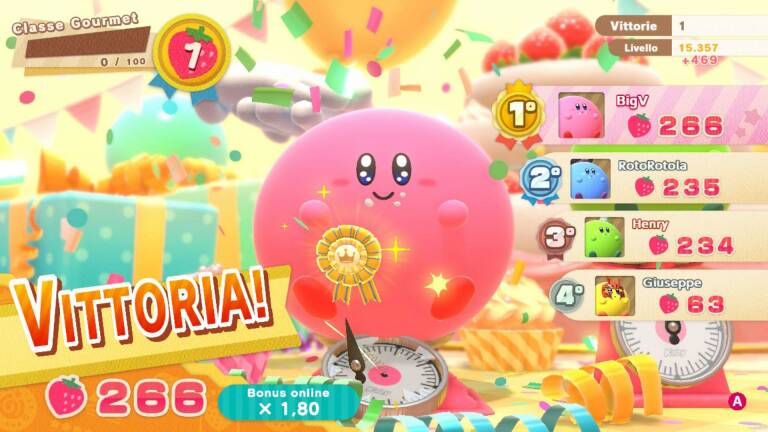 We see that this is it a well-kept title on the gameplay side. We can easily imagine the developers intent on understanding "the effect it has" trying the path of mass multiplayer with such an important intellectual property.
We imagine just as easily how this formula can be transferable with some other Nintendo brand. Imagine, I know, a multiplayer of Donkey Kong continuously updated free-to-play with minigames, costumes to unlock and timed activities.
In fact, the idea of ​​Kirby's Dream Buffet works. On paper, the title is a winner on every front, but pad in hand we find ourselves having very little motivation to ring one game after another.
More variety was needed in the routesvery strong attractions to make players come back every day, and maybe push further on the offline multiplayer component.
It has always been the strength of Nintendo's designers, and it is hard to think that there were no valid ideas for a series of exclusive mini-games to play in the company of friends (more than two possibly), from the same minds that produce the Mario Party series.