A dinosaur that "just wants to watch the world burn." This is how Colin Trevorrow introduces Giga, a new Jurassic creature that the director of 'Jurassic World: Dominion' compares to the Joker. We are not talking about a genetic hybrid like the Indominus or the Indoraptor, Giga is a scientifically documented giant from the Upper Cretaceous. "I wanted something that felt like the Joker," says the filmmaker of the new creature designed based on the recipe that Claire herself (Bryce Dallas Howard) cites in the saga to refer to an attraction worthy of selling tickets: "Bigger , scarier and with more teeth".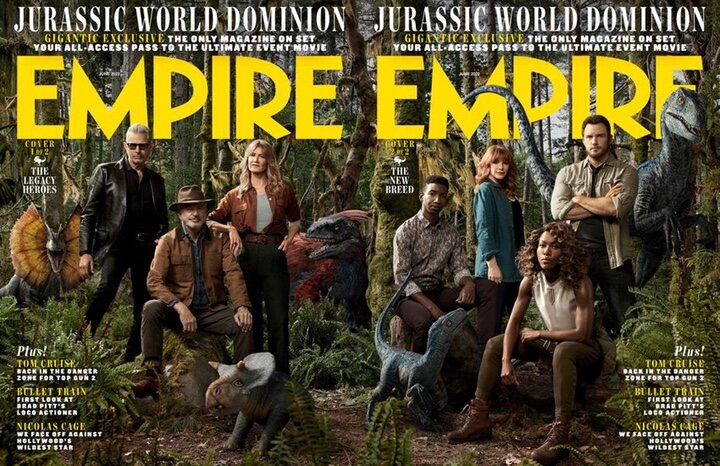 Thus, Empire magazine launches the first preview of the special dedicated to this film in its April publication, new information that it wanted to accompany with the premiere of its double cover and a first image of the Giganotosaurus, Giga for friends. And where does this dinosaur come from? Well, nothing more and nothing less than BioSyn, a rival company of InGen that paid Dennis Nedry (Wayne Knight) to obtain genetic material from the competition, well, that plot of industrial espionage built around a can of shaving foam that we saw in the first 'Jurassic Park'.
"BioSyn has been awarded the contract to house the dinosaurs that have been captured around the world," Trevorrow advances, giving details about the plot of 'Dominion'. "They claim that it is a research center where the pharmaceutical values ​​of these animals can be studied", but, of course: "other things are happening". The also co-writer of 'Jurassic World: Dominion', along with Emily Carmichael, also reveals that Mamoudou Athie, one of the new signings, plays Ramsay Cole, a "young, ambitious and forward-looking" BioSyn employee who begins to suspect of your company's intentions.
different and huge
Sam Neill, an original from the saga who returns with Jeff Goldblum and Laura Dern, has already advanced that 'Jurassic World: Dominion' is "unquestionably big" and "very ambitious", something that Trevorrow agrees with, adding that "he is a guy brand new film. Something I've waited a long time to pull off."
Of course, said third installment of the most recent trilogy, looks like a Giant not only because of that argument that explores for the first time the dinosaurs loose in the middle of civilization, and that is going to present numerous new species; but for the return of the aforementioned team that was present from the beginning of the road in that film directed by Steven Spielberg. Alongside Neill, Goldblum and Dern we will see Howard, Chris Pratt, Isabella Sermon and DeWanda Wise.
* On June 10, 'Jurassic World: Dominion' is released only in theaters, a film that promises to be the definitive Jurassic spectacle.