Johnny Depp's Angry Fans Want Justice While Amber Heard Starts to Film for Aquaman 2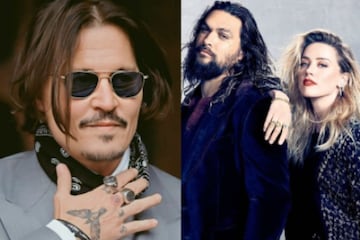 Fans of Johnny Depp fans are angry and shocked to hear that the studio that fired their favorite actor is continuing to employ Amber Heard.
Depp Lost his Role as Gellert Grindelwald
Johnny Depp was expected to make his acting comeback as Gellert Grindelwald in Fantastic Beasts 3, and his fans were very excited. However, recently Johny came under scrutiny because of his highly publicized divorce from actress Amber Heard. In addition, he was accused of domestic violence, for which he denied the allegations. Due to these allegations made against him, his role as Gellert Grindelwald was taken away by him. He also lost his most famous role as Captain Jack Sparrow in the Pirates of the Caribbean franchise. At the same time, his ex-wife is continuing to film for the Aquaman franchise.
Fans Get Angry at Warner Bros!
After finding out that Amber Heard has started to film for Aquaman 2, Johnny's loyal fans went angry and shocked at the same time. The fans are not happy to know that the same studio that fired their beloved actor continues to work with Amber Heard. The online hate for Amber is growing day by day, largely based upon many unproven allegations that have been levelled against her over the past years. Depp's lawyers also accused the allegations made by Justice League's actress against Depp as "a calculated and manipulative lie".
How Fans Tweeted their Anger
Depp's one fan wrote on Twitter that he would not spend even one dollar on Warner Bros as long as a will still be employed under them with the hashtag #JusticeForJohnnyDepp. Whereas another fan tweeted in a hashtag that Amber Heard is a liar. The fan expressed his frustration by adding why Amber was cast in the film when she physically and mentally abused her husband. One of the fans praised Depp and said he was a talented and profitable actor, and he shouldn't have been fired, especially when Amber, with no talent, is still employed.