Good Friday in Ukraine: Cardinal envoy of the Pope prays on his knees before mass grave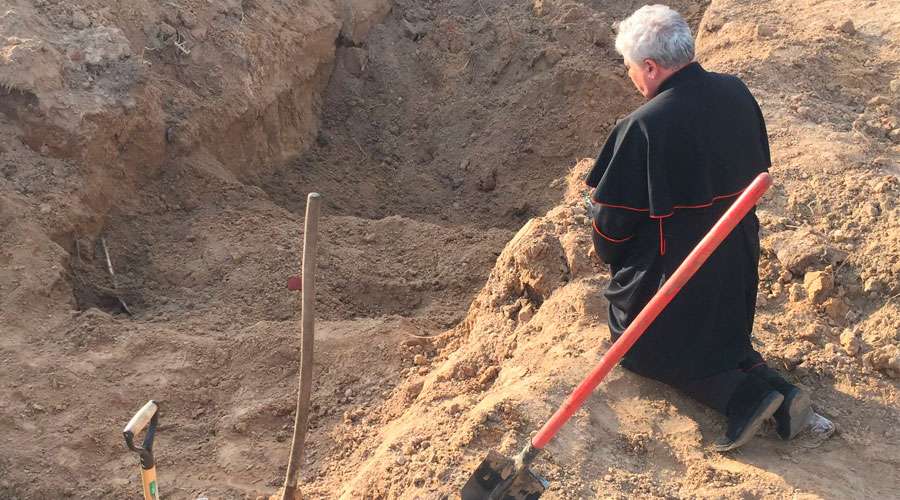 Polish Cardinal Konrad Krajewski, sent by Pope Francis to Ukraine to celebrate Holy Week, prayed on his knees this Good Friday before a mass grave near the capital kyiv, where at least 80 people "without a name or surname" are buried.
The Vatican Press Office reported that this afternoon, returning to Borodianka, north of kyiv, the Cardinal "came to pray before the graves and the bodies found, as in a Way of the Cross."
In an audio message, the Cardinal explained that "with the Nuncio we are now returning to kyiv, from these difficult places for anyone in the world, where we have still found many dead in a tomb of at least 80 people, buried without a name or surname. ".
"Tears are missing, words are missing," assured the Pontifical Almoner.
Cardinal Krajewsi commented that "it is a good thing that we have faith and that we are in Holy Week, Good Friday, when we can unite with the person of Jesus and climb the cross with Him, because after Good Friday, I know, we will have Sunday of Resurrection".
"Perhaps He will explain everything to us with his love and will change everything within us, this bitterness and this suffering that we have been carrying for a few days, but particularly on this day today," he concluded.
Cardinal Krajewski is on his third trip to Ukraine so far in the war following the invasion by Russian forces since February 24.
On this trip, the Polish Cardinal delivered on Holy Thursday the second ambulance donated by the Holy Father, this time to the cardiology hospital in kyiv.
The Cardinal told Vatican News that this ambulance, in addition to helping the hospital, is also "a symbol, not only to save lives, but also a symbol of the possible resurrection of Ukraine."